December 6, 2002
Column: Say It Ain't So, Joe
Last week, a visitor to this web site asked my opinion on the letter to the editor of the Potsdam Courier-Observer authored by American Hockey Coaches Association executive director and Hockey East commissioner Joe Bertagna. I'll check it out, I responded, and get back to you.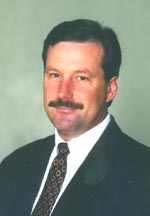 Nearly a month later, Mark Morris' dismissal remains a contentious issue.
Thanks to a friend, I tracked down the letter. In it, Bertagna railed against Clarkson president Denny Brown for the firing of hockey coach Mark Morris. Morris, you may recall, was relieved of his duties after getting in a physical confrontation with a player during a Saturday pre-game skate. Bertagna questioned Brown's motives for the move, claiming Clarkson administrators were looking for a reason to oust Morris. He called the firing a "slap at amateur coaches" nationwide, and questioned why the student-athlete involved in the incident wasn't punished for checking an unprotected Morris from behind during a game of shinny.
Understandably, Mr. Bertagna, you have a right to express concern regarding this issue. As the executive director of the AHCA, it's admirable for you to stand up for one of the people you represent when you think something is not fair.
But here's the problem. The manner in which you went about bringing your grievances to the forefront was all wrong. As Dustin Hoffman said to Robert Redford in "All The President's Men", it's not what you did, it's how you did it.
This was a matter between Morris and the school. It had been put to rest several days ago. But you brought it back to life.
Regardless of whether Morris was provoked or not, he broke rule no. 1 of coaching -- never, ever get into a physical altercation with one of your players. It cost Woody Hayes his job. It cost Bob Knight his job at Indiana. And it rightfully cost Morris his job.
Clarkson officials gave Morris the chance to tell his side of the story, and he refused. That doesn't mean the coach was guilty of the accusations, but if he felt he was clear of all wrongdoing, why didn't he take advantage of the opportunity with which he was presented?
Maybe the student-athlete who played a role in this unfortunate occurrence should be punished. But, once again, that's a matter to be resolved by the institution. Let them deal with it.
In a letter to the media, Brown asked for Bertagna to issue a retraction and apology for his comments. That's the least he deserves.
Let's take this one step further, Mr. Bertagna. In order to be fair, Brown should get to release a public statement criticizing a decision you make in one of your roles. Maybe if someone hundreds of miles away authors a biting indictment of your judgment based on his or her perception as opposed to reality, you'll realize the error of your ways.
It's only fair, Joe.
– Mike Eidelbes