October 12, 2006
Poll Position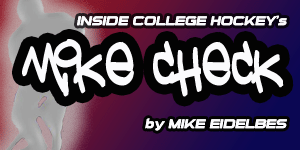 Even though INCH has a collective vote in one of the national polls – guess which one? – it's usually not a good idea to put much stock in them. All one needs to do is take a peek at this week's rankings for a reason.
Vermont had one of the best showings of the handful of teams that played for keeps last weekend, soundly beating two pretty good teams at the Ice Breaker Tournament in Oxford, Ohio. But in one of the polls, the Catamounts leapt from the middle of the "others receiving votes" mash-up to 10th. That's not a big issue; given the limited sample size at this time of year, teams are often rewarded generously for wins that appear bigger than they usually are.
What's completely astounding is that someone in this poll gave UVM a first-place vote. Are you freakin' kidding me?!?! I'm going to go out on a limb and say the voter in question didn't have the Cats rated too highly on his or her preseason ballot, since Vermont was outside of the top 20 with 41 points (teams get 20 points for a first-place vote, 19 for second, and so on). Based on this ballot, one of two things happened:
Stunt Double

Michigan senior forward
T.J. Hensick

East Great Falls H.S. alum
Steve Stifler
First, you should know this: there's no bias. It's a myth, people. As a group, we're like the United Nations, and all the competing opinions create a consensus. Take my role, for example. Like Tony Kornheiser, I think everyone stinks. Actually, there are two good teams, maybe six teams that could be good – everyone beyond that stinks.
Second, stemming the tide of critical e-mails polluting my inbox every Monday is one of my priorities for the 2006-07. That's why I'm organizing the first Mike Check Fan Poll, and I'm looking for a yet-to-be determined number of INCH readers to participate. I can, however, guarantee the following people will be among the vox populi:
There are criteria that will automatically result in exclusion from voting, but that list is too long to type out, so it'll remain in my head. If you're interested, fire me an e-mail at mike@insidecollegehockey.com. Include your name, the city in which you currently live, your favorite college hockey team, your e-mail address and a statement of less than 39 words (in honor of goalie Ryan Miller) explaining why you should be picked. Panelists will be announced in the Oct. 24 Mike Check.
LETTERBOX
At times I get the impression that you have a northeast bias in your coverage with the exception of Minnesota and Wisconsin. I generally enjoy reading your website but would like to see better reporting and stories about other teams in the WCHA. North Dakota has won seven national championships and looks to have a very promising run in 2007. – M.; Bryan, Utah
I grew up in northeastern Minnesota. Maybe that's where the bias comes from. As far as our Minnesota and Wisconsin coverage in comparison to North Dakota, though both the Badgers and Gophers have won national championships since INCH launched back in 2002, my feeling is that we've been fairly good in featuring the Sioux. As for this year, NoDak, along with Boston College, appear to be the class of the country at this point in time. And Jonathan Toews is my pick to win the Hobey – he's a year older, an inch taller, 20 pounds heavier, and I was extremely impressed with the way he handled himself at the NHL Draft and the ensuing negotiations with the Chicago Blackhawks.
How does one go about getting a job writing for INCH? I spend most of my time thinking and reading about college hockey. So the next logical progression seems to be making it my life's work. – Christian, St. Paul, Minn.
I'd love to help you make college hockey your life's work ... just as soon as I make it my life's work.
IT'S GOTTA GO SOMEWHERE...
A place for leftover stuff that needs a home. Or, as New Yorkers call it, Nassau Coliseum.
• North Dakota: I understand the logic behind suing the NCAA over the whole Fighting Sioux nickname/logo deal. And the logo is, in my opinion, quite flattering in its depiction of a young Native American. But this conflict can only end one way, and that's badly for the university. One of two things will happen – either the NCAA, which won't back down even if it takes years of appeals and millions of dollars, wins the suit, or North Dakota wins, in which case the NCAA storms back to Indy in a huff and looks for another way to put the screws to NoDak.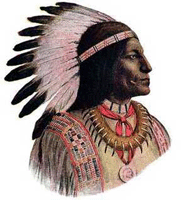 The NCAA won't let Native Americans represent your team, but selling you cars is OK.
To whomever is spearheading this effort on behalf of North Dakota, be it university president Charles Kupchella or the state attorney general, I suggest this compromise: North Dakota will drop the Fighting Sioux nickname and logo as soon as the NCAA repays the millions of dollars it's received from long-time "corporate champion" Pontiac, named after the 18th century Native American chief. Physician, heal thyself.
• Why is the NCAA putting all this effort into erasing Native American nicknames, yet the Idaho Vandals are left unscathed? Is Myles Brand soft on misdemeanor property crime? It probably stems from all those times Brand toilet-papered the trees in Bob Knight's front yard.
• Boston University put in place a policy last month prohibiting swearing and racist and sexist chants at its athletics events. When asked if his institution would consider a similar ban, especially in light of the foul-mouthed student section at Yost Ice Arena, Michigan athletic director Bill Martin said, "No f---in' way."
OK, he didn't really say that. But it would have been funny if he did, right?
• Kudos to Derek from Orono for his excellent question in this week's Inside College Hockey chat on ESPN.com's "The Show." He asked if anyone else thought this year's slate of non-conference games were uninspired. Traditionally, the first couple of weeks of the season are a great time to stop by the local rink and get a look at an unfamiliar opponent – in the past, I've made a point of catching a Boston College or a Cornell if they've been in the area.
This season? Blecch. Here's a sampling of the non-conference games in my neck of the woods this season (tournaments not included):
Seriously, you guys are killing me.