Nov. 24, 2006
Boxing Day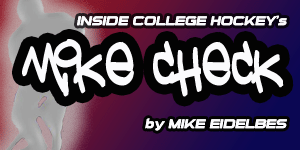 A couple weeks ago, I promised in this space to run through a list of people I thought would be mortal locks for the inaugural class of the college hockey hall of fame ... if such a thing existed. But then I got to looking at my e-mail inbox and thought, damn, there's a lot of crap in there. And by crap, I mean mail from you folks.
It's not that it's junk e-mail – well, some of it is junk and, honestly, those are the best ones to answer. It's just that it piles up and piles up and piles up some more. So like you're run-of-the-mill supermodel, I'm going to do a post-holiday purge and get rid of some of the excess baggage.
Why is Tyler Hirsch, who plays for a much better team, a Hobey candidate [yet] you ignore T.J. Hensick who [plays] for a sophomore-filled younger team? Why don't you guys ever credit T.J. with anything? Prejudice? Why? – Ed Smith; Ann Arbor, Mich.
Wait a second, Ed. In this very column last month, didn't I give T.J. credit for looking like Stifler from "American Pie?" Besides, we mentioned Hirsch in the Bull Market section of last week's Hobey Tracker feature, which highlights a player our staff feels has played well for an extended period of time and could crack our Big Board (e.g. Miami's Nathan Davis and Notre Dame's David Brown.) Now, I'm now going to systematically dismantle your argument like an Acura in a chop shop.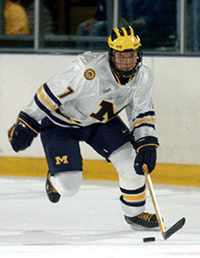 Michigan's T.J. Hensick gets no love from INCH – allegedly.
First, Hirsch, not Hensick, plays for the younger team. Of the players who've appeared in at least half of Michigan's games so far this season, three are freshmen, nine are sophomores, two are juniors, and six are seniors. A similar breakdown of Minnesota's roster – based on players who've seen action in at least half of the team's contests – yields eight freshmen, four sophomores, three juniors, and three seniors. I'd argue Michigan has the more experienced lineup.
Taking the thread one step further, Hensick (5-19—24 in 13 games) plays between junior Kevin Porter and senior David Rohlfs on the Wolverines' top line. Hirsch (3-14—17 in 10 games), meanwhile, is on a line with sophomore Ryan Stoa and freshman Kyle Okposo, and he should be credited for helping them develop into two of the team's leading goal-scorers.
Second, you state that Hirsch "plays for a much better team." Did it ever occur to you that the Gophers are better because of Hirsch's efforts? And could it be that Hensick, despite his offensive prowess, is dragging the Wolverines down in other areas? I'd argue that Hensick isn't even the best player on his line – Porter is a Swiss Army-knife player who can make an impact on the top scoring unit or shadowing the opponent's best player.
There's also the matter of Hirsch missing all of last season to get his house in order. Whether that should factor into the minds of Hobey voters is up for debate, but that he can miss a year of hockey and return to play at such a high level is admirable.
Not sure I understand your rankings. I will give you an example – Sacred Heart could not beat Northeastern on their best day. Place more emphasis on the goal [differential] and strength of schedule. Wins and loss realy [sic] seem to have too much emphasis in you [sic] poll. – Michael "Rico" Rossi-Capecci; New Milford, Conn.
I really hate comparing the relative strength of teams by wins and losses, but the other guys here at INCH seem to like it. And in NASCAR races, it chaps me when the finishers are determined by time of completion. I'd rather see drivers ranked by which car has the coolest paint job. Maybe Ty Webb had it right in "Caddyshack" when he said the way he measured himself against other golfers was by height.
And while you may not think Sacred Heart couldn't beat Northeastern on its best day – wait, is he saying Sacred Heart couldn't beat Northeastern on the Pioneers' best day, or is he saying Sacred Heart couldn't beat Northeastern on the Huskies' best day? – the Mike Check Law of Commutable Score Comparison proves otherwise.
You see, Sacred Heart beat Rensselaer, 4-3, last week. Rensselaer beat Merrimack, 4-1. Merrimack, meanwhile, scored its only win of the year in a 3-2 decision against Providence, a team which beat Boston College by a 5-3 count. And the Eagles opened the season with a 5-2 win against Northeastern. Based on those calculations, Sacred Heart would beat Northeastern 10-0 or 4-negative 6.
As a native of Michigan's Upper Peninsula, I can empathize with the comments of North Dakotan Scott from Bismarck. But … one wonders what [the University of North Dakota's] educational priorities are when they spend $100 million to build a hockey arena.
What if Ralph had invested that amount of money in academic scholarships, research funding, and professorial chairs? Perhaps North Dakota would have a few less blue chip hockey stars, but greater economic progress. – Bill Denning, Houston, Texas
This is the best e-mail I've received since we launched INCH in 2002. What if that money went to fund ethanol research, or to set up a small business incubator? How many North Dakotans would stay in the state if the university had $100 million to offer in the form of scholarships or no- or low-interest loans – provided the recipients stay in the state to work for five years following graduation?
Mike Check Fan Poll
Version 1.1
The first Mike Check fan poll as selected by 15 fans from around the world (ballots submitted prior to Tuesday's games.)
1. Minnesota
2. Maine
3. Boston College
4. Notre Dame
T5. Miami
T5. Miami
7. Michigan State
8. New Hampshire
9. Denver
10. North Dakota
11. Cornell
12. Massachusetts
13. Boston University
14. Colorado College
15. Yale
Yeah, I realize the North Dakota hockey team has put the state on the map, so to speak, and everyone who's visited the new barn says it's unbelievable. And I know the arena generates an economic impact when out-of-town visitors eat and drink at Grand Forks restaurants and bars or stay at the city's hotels. Besides, it's Ralph's money – he can do with it what he damn well pleases. I'm sure people will e-mail echoing similar sentiments. Wonder how North Dakota students would've chosen to allot a $100 million gift. Somehow, I don't think an arena would've been their top priority.
Not to raise anyone's hackles or anything, but I was trying to track down a comprehensive list of donations Engelstad made to the university during his lifetime, so I Googled his name. One of the first links is a biography from a web site run by an organization called National Vanguard. I know nothing about the group, but the bio includes what appears to be some disturbing editorializing regarding specific events of Englelstad's life.
In [the Nov. 13] Napkin, you say that Eddie Belfour will retire as the second-winningest goalie in NHL history. Last time I looked Martin Brodeur was about five games behind him on that list. You don't really think Eddie will hold that lead throughout this whole season, do you? I like Eddie, but let's be realistic. – Terry Rood; Midland, Mich.
You're probably right, Terry, but stranger things have happened. Maybe Eddie will offer Marty $1 billion to not pass him on the wins list.
I've been following ECAC hockey all season and the amount of penalties in each game so far has been absolutely ridiculous. But I accepted the new standard of play because I thought that it had been instituted for ALL conferences. Yet, I recently looked at a list of most penalized teams and found a very interesting trend. Eight of the 12 ECAC teams are in the top 20 most-penalized teams. What's more surprising is that there are only two Hockey East teams in the top 20 and NOT A SINGLE WCHA TEAM!
I grew up in Minnesota and attended my fair share of [Minnesota Duluth] games and by comparison there is a lot more clutch and grab in the WCHA than in the ECAC. Apparently each conference has completely different standards of officiating. Do you have any insight into why this may be? – Jeremy; Hanover, N.H.
Jeremy, I wish I could help you. I really do. Like you, I formed most of my opinions regarding college hockey based on the WCHA. Now, I'm not saying the league is the end-all, be-all of the college game, but I think there is a bit more of a "let players make the plays" mentality in the Dub.
Now that I live in middle of CCHA country, I feel the games are called extremely tight. I have no empirical data to support this, just my observations. But the conspiracy theorist in me believes that since CCHA commissioner Tom Anastos was the driving force behind the recent changes in the way games are officiated (i.e. cracking down on obstruction, automatic major penalties for checking from behind), that CCHA refs who don't call games by the book end up getting a lot of assignments in Marquette in the dead of winter.
How can Alaska Fairbanks [sic] be ranked 17th? They played Air Force, Ferris State, Northern Michigan, and Nebraska-Omaha. None of those teams are ranked. They failed to win either game against Alaska Anchorage. Anchorage, on the other hand, has beaten [then fifth-rated] Wisconsin, Nebraska-Omaha and just swept [third-ranked] North Dakota. And they don't get ranked? I don't know what you are smoking over there. – Sue; Eagle River, Alaska

Well, we look at losses, too, and Anchorage has four of 'em, while Alaska only has two. The Nanooks' losses were to the Seawolves in OT (the other game between the two teams in October was a tie, which hardly makes UAA stand head and shoulders above Alaska) and a one-goal loss at Northern Michigan. Alaska Anchorage, meanwhile, lost twice at Michigan Tech (one was a 9-0 pasting), lost to a below-average Minnesota State team in Mankato, and dropped a one-goal decision to Wisconsin at Sullivan Arena.
As has been stated earlier in this space, polls are nothing more than a collection of opinions, and INCH was not the only poll that came to the conclusion that Alaska is better than Alaska Anchorage. As far as what we're smoking, I can't speak for the other guys, but I ate smoked pheasant once. It was really good. I'd love to get my hands on some more.
Your podcast was really rough on the Badgers. I am so glad you get a big laugh out of the Badgers' misfortune this year. I hope the Gophers stub their toes just like last year. Having all the best recruits year after year and still not winning more titles than they have tells you a lot about the school, their rude fans, and their conceit. Don't count Bucky out. Maybe not this year but we will be back to the top level soon. – Jeff; Verona, Wis.
I'm not sure what "having all the best recruits year after year and still not winning more titles than they have" tells me about the Gophers' rude fans and their conceit, but I guess I can look into it. Sounds like the Frozen Four afterglow in Badgerland has faded. I don't know that we laughed at the Badgers' misfortune. I think we laughed at the fact that last season we wondered whether Wisconsin had enough offense to win, and this year's group makes that team look like the '81-82 Oilers. I wouldn't consider the Badgers unfortunate, however. After all, they do go to school in Madison, one of the top two cities on INCH's list of favorites.
IT'S GOTTA GO SOMEWHERE...
I might change the name of this section to Ocho Cinco