December 14, 2006
Fame: I Wanna Live Forever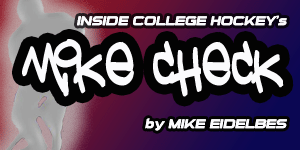 When I first kicked around the idea of coming up with a list of inaugural inductees for a fictional College Hockey Hall of Fame about a month ago, I arbitrarily set the number of honorees at 10, thinking the hardest part would be making the final few cuts.
Man, was I wrong. I didn't even come remotely close to reaching double digits.
There are a lot of great players, coaches, and administrators deserving of a spot in the College Hockey Hall of Fame – if such a place existed – but I felt the first inductees had to be absolute no-brainers. When you heard their name mentioned, you'd nod in agreement and say to yourself, "Well, of course."
After a couple hours of informal research and little success, I wondered if I was being a little too critical in my assessment. I checked out the early voting for the Baseball Hall of Fame, knowing there had never been a unanimous, first-ballot hall-of-famer.
(As an aside, how could Babe Ruth not be a unanimous pick? Even people who don't know the difference between baseball and "Base-ketball" know Babe Ruth. This would be like the Bible Hall of Fame selection committee not unanimously voting in Jesus on the first ballot. "Well, yeah, he was great, but his career was shortened.")
Still, some of totals baffled me. Granted, there were some early glitches in Hall balloting, but how was Cy Young not an inaugural member? Rogers Hornsby, who batted about .750 for his career and could hit a bullet out of midair with a wet noodle, then tell you the caliber of the gun from which it was fired, didn't get in until 1942, six years after the inaugural class.
Anyway, I decided I wasn't being too harsh, and I wasn't an idiot. So I stuck with my list. Here's what I came up with, in no particular order
• Hobart Amory Hare Baker, Princeton: Gee, ya think? An inaugural member of the Hockey Hall of Fame, there's a college hockey trophy of some import that bears his name. An exceptional athlete in terms of talent and character, he took one minor penalty in his college career. Heck, he's in the College Football Hall of Fame, he was a fighter pilot at a time when flying an airplane was roughly equivalent to piloting Doc Brown's tricked-out Delorean from "Back to the Future," and he's the only college hockey player on whom F. Scott Fitzgerald based a character (Amory Blaine in "This Side of Paradise.")

• Herb Brooks, Minnesota: Never mind that he coached the Gophers for seven seasons, making four trips to the Frozen Four and winning three national titles. And never mind that he coached the 1980 U.S. Olympic hockey team to the greatest upset in sports history – or at least the event by which all other upsets are measured. By guiding that team to the gold medal, Brooks did more to promote the quality of player found in college hockey (albeit indirectly) than anyone in the history of the game.

• Ken Dryden, Cornell: A three-time first-team All-American, his career winning percentage of .944 (76-4-1) is an untouchable record. As a sophomore, he backstopped the Big Red to a national title, posting a 26-0-1 record, a 1.46 goals against average, and a .945 save percentage. Additional cool Dryden note: He shared goaltending duties in the fabled 1972 Summit Series with another ex-collegian, Michigan Tech's Tony Esposito.

• Bob Johnson, Wisconsin: When INCH named Badger Bob its top college coach ever three years ago, we heard nary an objection. In 12 seasons, he guided the fledgling Wisconsin program to four Frozen Fours and three NCAA championships, and the players he recruited went on to win a national championship for the Badgers under Jeff Sauer in 1983. He further proved his coaching prowess by piloting the Pittsburgh Penguins to a Stanley Cup in 1991 and, for good measure, he's credited with giving us the phrase, "It's a great day for hockey."

• Bill Masterton, Denver: Remembered for the fatal brain injury he suffered in 1968 while playing for the Minnesota North Stars, Masterton led DU to NCAA championships in 1960 and 1961 – the '61 club was arguably the best team in college hockey history. The two-time All-American scored 196 points in three seasons. A testament to his skill – failing to crack the Montreal Canadiens' roster after two years in the minors, he left hockey, got his master's degree, worked a white-collar job for two years while playing semi-pro hockey, and spent one season with the U.S. National Team. When the NHL expanded in '67, he made the Stars' roster.

• John Mayasich, Minnesota: In 111 career games, he scored 144 goals and 154 assists, including 80 points in 30 games as a senior. He's still the Gophers' career points leader. Some credit him for pioneering the use of the slap shot. How good was he? John Mariucci called him a "bigger, stronger Gretzky." And though he was a forward by trade, he played defense on the 1960 U.S. Olympic Team because coach Jack Riley loved the way he could dominate both ends of the ice.
There. That's the list. And no pre-emptive strike to head off the complaints e-mailers are going to send about no North Dakotans, or those alleging Western bias. Hey, if the East is so wonderful, why isn't there an Eastern omelet?
YOU CAN PICK A TEAM, AND YOU CAN PICK YOUR NOSE, BUT YOU CAN'T PICK YOUR TEAM'S NOSE
With much fanfare, USA Hockey announced on national television (OK … it was on Versus) last week the 22 players who will represent the country at the 2007 IIHF World Junior Championship in Mora and Leksand, Sweden. The whole thing seems like a glorified homecoming ceremony – the players are coronated, there is polite applause, and various dogs and ponies congratulate themselves for a job well done.
Mike Check Fan Poll
Version 1.2
The Mike Check fan poll selected by 15 fans from around the world (ballots submitted prior to games of Dec. 8)
1. Minnesota
2. New Hampshire
3. Maine
4. Miami
5. Notre Dame
6. Boston College
7. Colorado College
8. Michigan
9. St. Cloud State
10. Cornell
11. Boston University
12. Vermont
13. Denver
14. North Dakota
15. Massachusetts
Sunday in Calgary, 30-odd players descended on Father Bauer rink for a six-day tryout camp to determine which skaters will represent the two-time defending champion Canadians at the same event. When the camp ends, Hockey Canada will announce its roster. The chosen will chuck their belongings in a bag, board an airplane, and fly to Sweden.
Now, I like the Americans' chances of doing well at the WJC, especially with Johnson and Johnson (a.k.a. the Band-Aid Brothers) on the blue line. But I like the way in which Canada selects its roster. What better way to ensure you've got the best 22 players on the roster that by summoning twice that number of players to a rink with bags packed for Europe, having them claw and scratch their way onto the team over the course of a six-day camp, and sending the losers home with a handshake, a sandwich, and a new tocque?
Were USA Hockey to consider such a process, they'd need the blessing of college coaches in order to make it happen. But let's be serious. Moving the camp to December wouldn't be that big of a deal. Forty-five participants attended USA Hockey's evaluation camp in August in Lake Placid. All but six were college players. Assuming there are roughly 1,500 Division I college players – 59 teams and 25 players per team, which is a conservative estimate – such a change would affect about 2.5 percent of college hockey players.
Of course, some teams would feel the impact more than others. For example, seven current Minnesota skaters attended the August camp. No problem. Just shut down college hockey after the second weekend of the month and don't start up until after Christmas. If that were the case this year, you know how many college games would be affected? Seventeen. And just four teams playing during that span this time around – Denver, Harvard, Minnesota Duluth, and North Dakota – had players at the summer evaluation anyway.
I think you'll find that you're going to get a better team. Evaluating players against their peers is far better than the current method – after the August camp, the candidates are scouted during regular-season play within their respective leagues, which means Joe College is skating against guys ranging in age from 17 to 26, while Joe Major Junior is butting heads with teenagers. Besides, can't we let these guys enjoy some time away from hockey in the summer?
Proponents of the status quo argue there's an academic element that comes into play – the week prior to winter vacation doubles as finals week at a number of schools – but that can be worked out. I'd like to see USA Hockey try the arrangement on a two-year basis and let the results determine the course of action. It works in Canada, where they've grown accustomed to saving the World Junior fanfare until after the tournament.
LETTERBOX
In the hockey polls, Minn. is getting it easy. If you look at their schedual [sic] and look at Maine's schedual [sic] in the hockey east where there are better teams to be playing against. Minn. isn't the best team in the country, their wins are aginst [sic] teams that aren't as talented. – Nolan Hall, Bar Harbor, Maine
Here's what chaps me about people who complain about other teams scheduals, I mean, schedules. Those things are set years in advance, especially when it comes to non-conference games. It's not like Don Lucia can call Jeff Jackson at Notre Dame and say, "Hey, coach … wanna meet up in Wisconsin Dells Wednesday for a game?"
I'm no genius, but when a team goes 18 in a row without a loss at any level of athletic competition, it's a pretty good bet that they're doing something right. And sure, none of the Gophers' wins are against teams as talented as they are, but that's because there isn't a team in the country that can match them in that category. Seems like every other kid in that lineup was taken in the first or second round of the NHL Draft.
Now, the most talented team isn't always the best team. But right now they are.
I am wondering how you all justify not putting Eric Ehn up on your Hobey Tracker? Granted, he plays for Air Force and granted, AF doesn't play huge teams like Minnesota or Michigan, but they do play Colorado College, Denver, and Notre Dame. – Abbey Craft, Colorado Springs
Ehn's had a nice year, obviously, as he leads the nation with 16 goals and 20 assists in 20 games, and he's featured in this week's Hobey Tracker under the Bull Market category. If he maintains his current scoring pace, he should be one of the 10 finalists for the Hobey, but he won't be one of the three top candidates (which our Hobey Tracker spotlights) when the finalists are pared in late March.
Air Force hasn't played a complete schedule of cupcakes, but Ehn's performance in games against baked goods is one reason he'll not be included among the Hobey Hat Trick. Compare his numbers against teams above .500 with those against foes at or below the .500 mark.
• Vs. +.500 teams (combined record 59-29-14): 8 games, 4-5–9; AFA record: 1-5-3
• Vs. teams .500 or below (combined record 28-63-3): 11 games, 12-15–27; AFA record: 8-3-0
Don't challenge me on these things, people. I'll spin numbers so fast you'll be curled up in the fetal position in the corner and I'll be waving my index finger at you a la Dikembe Mutumbo. Not in my house.
IT'S GOTTA GO SOMEWHERE...
I apologize for the quality of these columns. My old leather keyboard was replaced by a composite one during the off-season and I haven't been right since.
• Here's a lock for the 2007 INCH Freshman All-Name team and a guy with a great back story to boot. The Burlington Free Press reported that Wahsontiio Stacey gave a verbal commitment to Vermont last month. Stacey, who grew up just south of Montreal, is of Mohawk descent. His first name means "beautiful night" in Mohawk.
The 5-foot-9, 189-pound right wing, who skates for the legendary Notre Dame Hounds, was the Saskatchewan Junior Hockey League 2006 rookie of the year. Through 27 games, Stacey, who goes by Wahs – pronounced like the possessive for goalie Patrick – had 17 goals and 14 assists.
Mike Check will be very disappointed if a group of enterprising UVM students doesn't honor Stacey by dubbing itself Wahs' Zoo.
• Tip o' the cap to ex-Cornell great Joe Nieuwendyk, who announced his retirement last week. INCH made a case for his inclusion in the Hockey Hall of Fame on a Cocktail Napkin last month. He's one of three players in league history to win a Stanley Cup with three different teams, and he captured the 1999 Conn Smythe Trophy with Dallas. The 1988 Calder Trophy winner finished his career among the league's top 50 scorers.
As video game junkies can attest, Nieuwendyk was one of the great two-way players in Sega Genesis hockey history. Dude never lost a face-off.
• Maple Leafs fans are atwitter over a recent report indicating the team's logo will undergo a "modernization" when its new sweaters are unveiled next month.
Question: Is it possible to modernize a leaf? Seriously, since the first maple sapling sprounted from the ground millions or billions or trillions of years ago (I'm not sure when it happened and Google didn't seem to know, either), has there been many wholesale changes in the leaf structure? Did the leaves get together after falling from the tree and say, "Marketing says people are tired of the reds, yellows, and oranges in the autumn. So next year, we'll need more teal and pewter."
• In case you haven't seen it, here's video evidence indicating Kyle Okposo is good at hockey.
• In the spirit of the season, Mike Check presents a piece from the St. Louis Post-Dispatch that highlights 10 acts of good sportsmanship in youth sports. Credit where it's due – I found the article thanks to a link in the Gregg Easterbrook's terrific Tuesday Morning Quarterback column on ESPN.com. Easterbrook, whose real job is visiting fellow at the Brookings Institution, the Washington, D.C.-based policy and research think tank, is a Colorado College grad.