January 31, 2007
Good Times at Notre Dame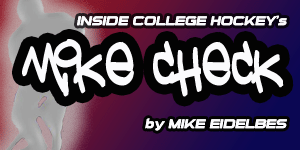 NOTRE DAME, Ind. – Judging from his facial expressions during a game, Notre Dame coach Jeff Jackson looks more like a guy getting a tetanus shot, not one coaching the best team in the CCHA. His stoic demeanor and matter-of-fact tone while discussing another win with reporters following a game better suits someone reading tax code aloud, not one whose squad has a terrific chance of earning a top seed in the NCAA Tournament.
Outward appearances notwithstanding, the man one veteran CCHA media member sarcastically dubbed "Mr. Happy" is having fun. Sort of.
"I think it was [Boston University coach] Jackie Parker who said, 'This would be a great job if it wasn't for the weekends,'" Jackson told a visitor to his office following the Fighting Irish's 2-2 draw with Miami.
Jackson's curmudgeonly demeanor was justified for most of Saturday's game against the RedHawks, the CCHA's second-place team. The Irish, who normally run their systems with clinical-like precision, treated the puck like Nick Saban does a job commitment. They had a five-on-three advantage for nearly three minutes – including a full two-minute, two-man advantage early in the second period – but couldn't convert. Miami scored its second goal when goaltender David Brown attempted to glove a shot ... only to have the puck clang off his mitt and onto the stick of Brian Kaufman.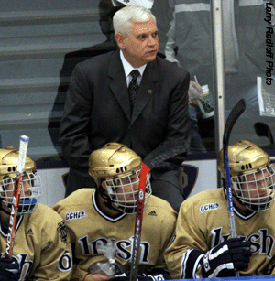 Jeff Jackson has Notre Dame on the verge of its first CCHA regular-season title.
But like nearly everything else during this magical season, Notre Dame's fortunes turned for the better. The Irish, who pressured Miami goaltender Jeff Zatkoff relentlessly in the third period, finally broke through with a little more than six minutes remaining in regulation when Mark Van Guilder scored off a face-off play. On a draw to Zatkoff's left, Jason Paige pulled the puck back to Wes O'Neill, who threaded a feed to Van Guilder for an easy redirect.
About four minutes later, freshman forward Kevin Deeth got to a loose puck about five feet in front of the Miami goal and lunged toward it, getting just enough of his stick on it to allow it to wobble past a tumbling Zatkoff for the tying score. Deeth's goal came during his first shift following a benching by Jackson – the coach sat Deeth, who became frustrated by scoring chances continually negated by Zatkoff, until he regained his composure.
"He's super intense," said Deeth, who was about six weeks shy of his seventh birthday when Jackson guided Lake Superior State to the 1994 national championship, "He's a straightforward guy who knows the game and teaches the game really well. That's how coaches earn respect from their players."
Jackson's done more than earn his players' respect. He's also turned the kooky Joyce Center into the place to be on winter weekends in South Bend. More than 2,700 boisterous fans crammed into the glorified intramural facility, including people lined three deep in standing-room only spots on the corners of the rink.
"It's an indication of what's to come," Jackson said. "We need a new rink, and we're getting a new rink. Like the saying goes, if you build it, they will come. We've waited for this moment."
So he's got Notre Dame on track for its first CCHA regular-season championship. The school's second NCAA Tournament bid is virtually assured. Brown, his goaltender, is a Hobey Baker Award candidate, and sophomore forward Erik Condra has All-American credentials. A boatload of high-end recruits are on board for next season and beyond. The rink's been packed all season long, and a new barn is likely on the way.
But is Jackson having fun?
"It's hard to have fun when you're involved in the day-to-day operations of running a program," he explains. "The most fun is being around the kids, the staff, and the people you care about."
LETTERBOX
*cry* If my beloved Gophs can win the whole darned NCAA tourney this year, can we please put the Holy Cross debacle to rest? *sniffle* – Brandon Lukach; Redondo Beach, Calif.
Cry? Sniffle? Are you Brian Gionta trying to draw a penalty?
The answer to your question, Brandon, is no. The loss to Holy Cross in the first round of last year's NCAA Tournament is so odiferous that no amount of success can eliminate the stench.
Listen, it's been more than a decade since the NCAA busted Maine for cheating, but the Black Bears will always be known as cheaters. New Hampshire has been one of college hockey's most consistent programs over the past 10 years, but the Wildcats are stigmatized as chokers because they've never won an NCAA title. Cincinnati could become overrun with supermodels, give everyone who moves there a free plasma TV and pass a city law mandating quarter taps all day, every day … but hockey fans will remember it as the worst Frozen Four host ever.
The bottom line, dude, is you're stuck with it. Tough.
With Jeff Jackson doing so well at Notre Dame this year, how well do you think he would have done with the Notre Dame team of a few years ago – the one that went to the NCAA Tournament? That year they had solid goaltending in [Morgan] Cey and [David] Brown, had a solid top four set of defensemen (two of whom are in the AHL, one is in the NHL, and the fourth is [Wes] O'Neill), and a solid set of forwards. – Mike; Los Angeles
Intriguing question. It's hard to say if he would've done better – Dave Poulin did a pretty good job with that club, especially considering Brown, then a freshman, was thrust into the no. 1 goaltender role when Cey hurt his knee early in the season. Other than a regular-season win here or there, would Jackson have made an appreciable difference? I doubt it. In retrospect, that Fighting Irish team probably reached its ceiling by making the NCAA Tournament.
If you're [sic] rankings reflect how teams are playing now, you've got the Sioux WAY too low. All phases of their games are falling into place and the impressive road sweep at Minnesota reflects that. They have the longest unbeaten streak right now in the country as well. No. 15 isn't where UND should be ranked, guys. – Virg Foss; Grand Forks, N.D.
Always nice to get a note from the former Sioux hockey beat writer. This is like getting an e-mail from Dick Cheney criticizing my stance on Halliburton. Anyway, Virg, you answered your question in the first phrase of your missive – our rankings don't reflect how teams are playing now. They encompass a team's entire body of work from the first game of the season.
Has North Dakota played extremely well in its last 10 games? No question. But they flat out stunk in the eight games before that when they went 1-7-0. Can't ignore that, either. Think of it this way: Is it right to judge Cuba Gooding, Jr.'s acting career based solely on his performance in "Jerry Maguire?" Nope. We've got to factor "Rat Race" and "Boat Trip" into the equation, too.
This is great. Whenever someone e-mails me asking why we ranked Hometown State so low, at least in his or her opinion, I can reply with three words: Cuba Gooding Factor.
IT'S GOTTA GO SOMEWHERE...
Like the NHL on Versus, you've gotta look for awhile before you find 'em.
• The NCAA, the organization continues to use one hand to stab its member institutions in the back while grabbing money with the other, announcing this week that the title sponsor of the Frozen Four Skills Challenge is – tada! – Pontiac, the automobile manufacturer named after a 19th century Indian leader. The bottom line here is the NCAA is opposed to Native American names and imagery it deems "hostile and offensive," except when cash accompanies said names and imagery.
• Memo to Fighting Sioux fans: Since I purchased a North Dakota toque during the holidays, your team snapped a four-game losing streak and pulled out of a 2-7-1 skid by going 8-1-1 over the last 10 games. Of course, I've had a Merrimack sweater for five years and it hasn't helped them a damn bit.
• The Jan. 18 San Francisco Chronicle reports that the NCAA is tinkering with the idea of moving the women's basketball tournament back one week, putting its semifinals and finals on the same weekend (or in the same vicinity, at the very least) as the Frozen Four. The NCAA feels that the overlap with the men's hoops tournament hurts the women's tournament – highly improbable, since the audience for March Madness isn't likely to turn its attention to women's basketball after the Final Four. If the NCAA thinks making a move is necessary, that's fine, as long as it doesn't mess with Frozen Four broadcasts on ESPN2 and ESPN. College hockey needs to vigorously protect its limited time on the national stage.
• The Hockey Commissioners' Association (which is just a formal name for the six league commissioners) announced this week they'll hand out two national awards in April. One honors the country's best freshman – in an inspired bit of branding, it's called the National Rookie of the Year Award – while the other is the Unsung Hero Award, presented to the "consummate team player and team builder" according to the HCA press release.
It's a nice idea, but there's one problem: Once a player is announced as the Unsung Hero Award winner, he's no longer unsung. So by accepting the award, does he become ineligible because his unsung status has been compromised? In order to embrace the notion of being an unsung hero, the award winner should never be made public – no press releases, no ceremony, nothing. The commissioners should just send the trophy to the winner's house. Then if he has visitors or something, he can tell them about it.
"Hey, man … nice trophy. What's it for?"
"Oh, I was the national Unsung Hero Award winner in college hockey a couple years ago."
"Really? I'm a big college hockey fan and I never heard about it."
"That's because it was the Unsung Hero Award."
• The aforementioned question regarding Jeff Jackson and Notre Dame brings to mind another hypothetical situation posed recently by Kevin Gordon of the Bowling Green Sentinel Tribune. Gordon remarked that a couple CCHA coaches bumped into each other on the recruiting trail and began talking about how many points Sidney Crosby would score in one college season. The consensus was that Sid the Kid would reach the century mark, which would require averaging 2.5 points per game over the course of a 40-game season. As a passenger on the Alexander Ovechkin bandwagon – up near the front, too – I speculated the 2006 NHL Rookie of the Year would score 60 goals playing a college schedule.
• This certainly pales in comparison to Beer Darts, the official leisure-time activity of Inside College Hockey, but this version of air hockey played on actual ice is interesting nonetheless. I have neither the stick-to-it-iveness nor the carpentry skills to carry out such a project, but good luck to anyone who can. And if you manage to pull it off, let me know how it goes. Also, thanks to Melanie in San Diego for sending the link.
The Meaning-list
Everyone likes lists. Sometimes, the Meaning-List will be relevant to college hockey. Other times it'll be, well, meaningless.
Last Five Albums I've Purchased
The Shins – "Wincing the Night Away": When's the last time a good band came out of Albuquerque? Anyway, the dudes who gave us "New Slang" (which appeared on the soundtrack for the movie "Garden State") are back. Solid effort all around.
The Beatles – "Love": Purists won't like this disc because producers Sir George Martin and son, Giles, were given free reign to remix 25 classic tracks as they saw fit. There are some gems and some duds, but it certainly attests to the timelessness of the group's music.
Modest Mouse – "We Were Dead Before the Ship Even Sank": This is one of those iTunes purchases where you don't get the full album for another two months, but you are allowed to grab the first single. In this case, it's called "Dashboard."
TV on the Radio – "Return to Cookie Mountain": The song "Wolf Like Me" is one of those you can listen to about 10 times in a row and not get tired of it.
Gym Class Heroes – "As Cruel as School Children": A hip-hop act out of Geneva, N.Y. (much love Hobart and William Smith Colleges), GCH's best-known tune to date is "Cupid's Chokehold," which is on this album but originally appeared on the group's "Papercut Chronicles" disc from two years ago. These guys worry me, though, because the last time I latched onto an emerging hip-hop group, it was the Black-Eyed Peas (pre-Fergie) in 2000.