October 18, 2007
Not This Again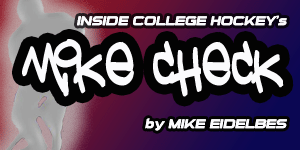 If you've been a regular reader of this site for a decent length of time, you know that I'm fairly critical of repeated efforts to call more penalties. The crackdown on obstruction that went into effect prior to the start of the 2004-05 season was supposed to give talented offensive players the room to be creative without foes draped all over them like a bad Oscars dress. Instead, it led to a flurry of whistles, an endless parade of supposed miscreants to the penalty box, and uneven, disjointed games with no flow. More power plays yields more scoring opportunities, but it also leads to endless sequences in which the attacking team chips the puck deep into its end and the defending team retreats to fire the puck the length of the ice.
The following year, an emphasis was placed on assessing major penalties for checking from behind. In theory, the goal was to ensure the safety of the players. Checking from behind is among the most dangerous plays in hockey, and the risk of serious injury is great. And sure, the effort worked to a certain extent, but it among the unintended side effects was players turning parallel to the dasher boards when sensing the presence of an opponent in order to draw the five-minute major, exposing themselves to the exact dangers the rule was supposed to eliminate.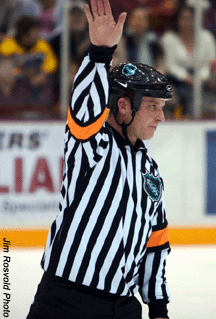 The NCAA believes the thing you like best about hockey is guys in striped shirts repeatedly raising their arms.
This year's proposal to make the game better involves experimenting with the NHL officiating system, which utilizes two referees and two linesmen. The plusses of this system seem dubious at best. Theoretically, adding another referee will lead to more penalties being called, which means more whistles and stoppages in play, and the further elimination of the natural flow of five-on-five hockey. Besides, wouldn't you think there's a better way to opening up the game than by putting an additional body — and that of a lumbering official, no less — onto a playing surface of finite area?
(As an aside, last weekend's games officiated by two referees and two linesmen on the index card-sized ice sheet at the DECC in Duluth must've been like skating on the Rockefeller Plaza rink on an afternoon the weekend prior to Christmas.)
Through the first weekend of the season, the two-referee arrangement was utilized in 13 games, and the traditional system was used in 21 games. As is my modus operandi, a breakdown of statistics provides the best method of evaluating the differences.
| | | |
| --- | --- | --- |
| | One referee | Two referees |
| PIM per game | 24.5 | 29.2 |
| PPs per game | 9.9 | 10.7 |
| PPG per game | 1.24 | 1.46 |
At first glance, it doesn't appear that the addition of another referee makes a significant impact in the quality of play. In fact, the quality of play could actually decrease if the extra official needed for the two-referee system lacks experience or isn't very good. There were two referees on the ice for last Friday's Rensselaer-Minnesota game at the Ice Breaker Tournament, but it didn't prevent the Engineers' Andrew Lord from getting whistled for a sketchy — and by sketchy, I mean horrible — checking-from-behind major with less than five minutes remaining in regulation and the score tied at 3.
This initiative should be scrapped upon completion of this experimental phase. It's needlessly superfluous and, most importantly, doesn't make the game any better.
LETTERBOX
When are you clowns gonna learn? Every year you say Minnesota is going to be terrible because they lost three starters. There's no way freshmen could possibly be good, even though [Minnesota] freshmen are always the cream of the crop. Fourth in the WCHA? Eighth in the nation? I can't wait until halfway through the season when the Gophers are ranked no. 2 and they fall to no. 3 because they tied Wisconsin once and the team below them got swept by Canisius. Say something good about them for a change … they are the premier college hockey program in the country.
Jonathan
Chicago
Minnesota has a very nice rink. Frank Mazzocco is my favorite television play-by-play guy in the game. And the fight song is catchy. Are those enough good things?
In his season preview, WCHA beat writer Jess Myers predicted the Gophers would finish fourth in the league. I probably would've pegged them at third behind North Dakota and Denver, and I think we gave the Ground Squirrels the benefit of the doubt by ranking them eighth in the Great 58+1.
I'm still not sold on the freshman defensemen, nor am I convinced that Jeff Frazee is a no. 1 goalie. But they'll be fine, so sit back and relax.
I would like to have seen a new poll this week. Just because some teams didn't play doesn't mean the polls can't change.
Luther
Vadnais Heights, Minn.
Yeah, I guess. But it seemed a touch ludicrous to rank each of the country's 59 teams — a process that takes longer than you would think — only to completely shuffle the top 20 less than a week later. We'll definitely have new Power Rankings this Sunday night, but I wouldn't be opposed to waiting until the first Sunday in November to post our first regular-season ratings.
I'M JUST SAYING ...
* that the five-minute major Andrew Lord received late in the third period of Rensselaer's loss to Minnesota wasn't the worst call I've seen. Except that it was. Based on the way the momentum had shifted, chances of the Gophers eventually getting the go-ahead goal before the end of regulation seemed likely. For the game-winner to come during an extended power play that was the by-product of an inexplicable call put a damper on what was a pretty entertaining game.
* that in its first two games without goaltender Jon Quick, who signed with the Los Angeles Kings during the off-season after a breakout sophomore campaign, UMass got fine performances from its netminders on last weekend's difficult road trip to the North Country. Freshman Paul Dainton stopped 31 of 33 shots he faced in a 2-1 overtime loss to a very good Clarkson squad, and sophomore Dan Meyers turned aside all but one of the 23 shots he saw in a 3-1 win at St. Lawrence the following night.
* that this weekend's Miami-Ohio State series carries an extra dollop of intrigue. Not only are the heated rivals kicking off the CCHA schedule against one another, but both are coming off impressive debuts last weekend. Miami stifled Vermont on back-to-back nights in Oxford, while the Buckeyes topped Mercyhurst and Wisconsin to win the Lefty McFadden title. The RedHawks have established themselves as one of the nation's fastest-starting teams — factoring in the two wins against UVM, Miami's record in games prior to New Year's Eve since the start of the 2005-06 season is 30-9-3. The RedHawks' Nathan Davis is out with a bum shoulder, by the way.
* that based on the way he's played for the Colorado Avalanche so far this season, a lot of college hockey fans who saw Paul Stastny play a couple seasons under George Gwozdecky at Denver are telling their friends, "I knew he was gonna be special when I caught his act down at (insert name of local rink here.)"
* that I can't believe someone asked me to speak to college students without prefacing the presentation by saying, "Don't make the mistakes this guy did."
Upon an invitation from a friend who's an adjunct professor at Grand Valley State University in Allendale, Mich., I talked to three business classes last week about starting your own business. The parents of these children will be thrilled to learn that the three major points I made were 1) don't be afraid to quit your job if you don't like it, 2) Mike Judge nailed the life of the average American white-collar employee in "Office Space," and 3) nobody throws a Frozen Four party like Inside College Hockey. I learned that Grand Valley has a female-to-male student ratio of 7-to-1 (or so I was told) and that the Lakers really should add a Division I hockey program.
The Five Hole
New Music That's Gotten Me Through the Preseason
1. Foo Fighters — Echoes, Silence, Patience & Grace: No one screams like Dave Grohl.
2. Jimmy Eat World — Chase this Light: "Big Casino," the first single, rules. I heard these guys live on KROQ.com last week and they were outstanding. A really underrated band.
3. Motion City Soundtrack — Even If It Kills Me: They're good ol' Minneapolis boys, but I worry about them turning into another Good Charlotte. This album kind of straddles the line between indie and pop punk. I don't really like to go near that line.
4. Radiohead — In Rainbows: This is the free download you've been hearing about. Well, you're supposed to pay whatever you feel like giving. Kind of an honor system thing, I guess. If this is how we'll get our music in the future, I'm all for it.
5. Wilco — Sky Blue Sky: What were you expecting, Rihanna?