November 14, 2007
Mannino's the Man ... Finally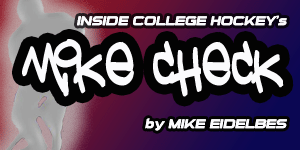 Of the six players named to the 2005 Frozen Four All-Tournament Team, three are currently in the National Hockey League (North Dakota's Travis Zajac, and Denver's Matt Carle and Paul Stastny), a fourth has had a cup of coffee in the NHL (DU's Gabe Gauthier played five games with Los Angeles last season), and another, the Pioneers' Brett Skinner, has just started his fourth season in the American Hockey League.
The final name on that list is Denver goalie Peter Mannino, who as a freshman was named most outstanding player of the Frozen Four that year. It's hard to believe Mannino, who turns 23 in February, is still hanging around while the others are playing for pay. Even harder to fathom is that the senior from Bloomfield Hills, Mich., is in the midst of his first season as the Pioneers' full-time starter.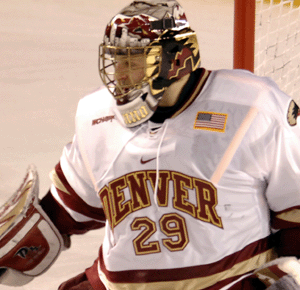 Peter Mannino, 2005 NCAA Frozen Four Most Outstanding Player, is finally a full-time starter in goal for Denver.
Despite some extremely solid career numbers — a 44-20-4 record, 10 shutouts, a 2.29 goals-against average, and a .920 save percentage — the 6-foot, 195-pound Mannino hasn't made more than 22 starts in a season. And after patiently biding his time in a platoon with the departed Glenn Fisher for three seasons, Mannino has responded favorably to being "the man" for the Pioneers as evidenced by his 6-2-0 record, 1.54 GAA, and .940 save percentage in eight starts this season.
"I didn't really do anything different [to prepare], other than doing a little more conditioning in the summer," said Mannino. "My approach is the same. Every game you have to step up, be prepared, and work hard."
The cart-before-the-horse scenario isn't anything new to Mannino or his senior classmates. After all, he explains, the first lesson they learned as freshmen was what a team needs to do win a national championship. Having failed to qualify for the NCAA tournament in each of the last two seasons, the group learned how hard it is to win a title.
"It's weird to have success right away," Mannino admitted, "We would've liked to have been in the tournament the last two years, but we wouldn't trade that national championship just to be in the tournament. This is the seniors' last year to show people what we've got."
With Mannino in goal, that show could include a grand finale at Denver's Pepsi Center in early April.
BECAUSE YOU ASKED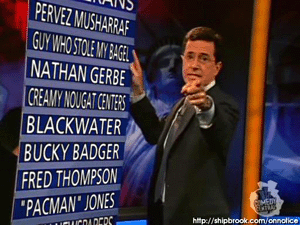 "Don't say I didn't warn you, Gerbe."
Blast a couple of authority figures over the years and all of a sudden you're Che Guevara. So it was no surprise when an e-mail tumbled into the inbox Saturday after Hockey East commissioner Joe Bertagna announced that Boston College forward Nathan Gerbe would be suspended for a game for … well, for doing something he was told not to do. In a nutshell, said e-mailer implored me to write something about the reaction to Gerbe's act that dare not speak its name.
First, I won't come to Gerbe's defense because according to the Hockey East press release on the matter, he was warned not to do whatever he did — "put on notice" was the phrase used in the league's statement, which makes me wonder if the initial warning was issued on the Colbert Report. What I don't like is the secretive nature regarding the suspension; Hockey East needs to tell us what he did to warrant the punishment. I'm OK with coaches falling back on the "unspecified violation of team rules" defense, because there are times when it's important to keep those matters within the confines of the locker room. This case has too much of a Dean Wermer double-secret probation vibe hovering over it.
LETTERBOX
How can you guys sit there and say that teams like Michigan State [and its] CCHA brethren are taking control of college hockey when they played North Dakota to start the year and got absolutely demolished? The only loss that Michigan has this year came at the hands of Minnesota, a team that has struggled against other WCHA teams. If you haven't noticed, the WCHA is taking almost all of its beating from teams within the conference because of the depth that the conference has.
Brendan
Minneapolis
To steal a phrase from Chris Tucker, do you understand the words coming out of my keyboard? My recollection is that we asked a rhetorical question about whether the CCHA is poised to assert itself as the next axis of power in college hockey. We can't be too far off base — we've got Miami, Michigan State, and Michigan in the top five in this week's INCH Power Rankings. Those teams comprise the top three in the USA Today/USA Hockey Magazine poll, and reside in the top four in the other poll.
I know it's a little bit early to be discussing RPI, but I know that it has something to do with teams that are in the top 15. Does that mean teams that are in the top 15 when they play each other, or is that by the end of the year if they are in the top 15?
Pete
Orono, Maine
The RPI to which Pete refers is Ratings Percentage Index, not Rensselaer Polytechnic Institute. It's not a little bit early to discuss RPI. It's WAYYYYY too early to discuss RPI. You're scaring me.
Mike, I'm with you on the Foo Fighters' new CD. Fantastic CD, and it's maybe their third or fourth best album. Still an underappreciated band by most. They need to get Pat Smear back full time. Then they will crank like they did early on.
Name, hometown withheld
Who knew Dave Grohl was the best musician in Nirvana? And if there's a better album than 1997's "The Colour and the Shape," I haven't heard it.
This e-mail is not only a case of me gratuitously pumping my own tires, but allows me to ask a question of you, the reader. Who or what is the college hockey equivalent of the Foo Fighters, that is, an entity that is so solid in every phase but fails to get the appreciation he or it richly deserves? My gut instinct was to roll with Michigan's Kevin Porter — I think most people are aware of his talent, but haven't scratched the surface to examine the subtleties of his game that make him a premier player.
If you don't know who Pat Smear is a) look up his bio on Wikipedia and b) shame on you. He's probably best remembered for his role in the goofy "Big Me" video, the hilarious send-up of those old Mentos commercials. When I saw Smear jamming with the Foos on "Saturday Night Live" last month, I was positively giddy.
I'M JUST SAYING ...
· that McKeen's Hockey Prospects released its preliminary list of the top 30 prospects for the 2008 NHL Draft, and at first glance the first round could be a slow one in terms of players with college connections. Only four such prospects appear in McKeen's top 30 – Shattuck St. Mary's forward, North Dakota recruit, and brother of you-know-who David Toews is 16th; Boston University forward Colin Wilson is 20th, Minnesota high-schooler Jake Gardiner, who'll suit up for Wisconsin in 2008 or 2009, is 26th, and USHL defenseman John Carlson, slated to attend Massachusetts in 2009, is 29th.
· that you've gotta see the video clip of Wisconsin goaltender Shane Connelly's amazing save against North Dakota at the Kohl Center last Saturday. Even after you see the thing 10 times, you still have no idea how he stopped the puck. The accompanying "Ice Ice Baby" music bed was a tad much, however.
· that former Michigan State All-American goaltender and Friend of INCH Joe Blackburn brought an excellent trivia question to our attention. He noted that the game earlier this month pitting Michigan State against Alaska featured two goaltenders (MSU's Jeff Lerg and the Nanooks' Wylie Rogers) who also serve as alternate captains for their respective teams.
Blackburn, now a corporate type with General Electric in Virginia, wants to know when the last time — if ever — two goalies wearing the "A" faced one another. In typical Blackburn fashion, he doesn't have the answer. Nor do we. If you know, send an e-mail our way. We'll post the correct answer in the next Mike Check.
· that Chris Dilks' Western College Hockey blog is quickly becoming a daily must-read for me. A line from a weekend preview earlier this month questioning Axl Rose's decision to stay in Los Angeles following the breakup of Guns 'N Roses instead of moving to a certain WCHA community is freakin' hilarious. And the song from the iPhone commercial is "Music is My Hot Hot Sex" by Cansei de Ser Sexy, Brazilian group that looks like the South American cast of "Degrassi: The Next Generation."
· that wishes for a speedy recovery are in order for Fred Pletsch, the CCHA director of communications, and his wife, Kelly. Their car was broadsided by another motorist two weeks ago as they made their way to watch their son officiate a hockey game. Their injuries, though numerous and serious, are not life threatening.
The Five Hole
Cool Games/Series Between Now and Christmas
1. St. Cloud State at Clarkson (Nov. 23-24): I love these intersectional matchups. SCSU rolled in a two-game series at the National Hockey Center last season. Will be more entertaining than the College Hockey Showcase.
2. North Dakota at Denver (Nov. 30-Dec. 1): Miami and Michigan State provide a No. 1 vs. No. 2 matchup this weekend. It wouldn't be a surprise if the Sioux and Pies hold similarly lofty rankings two weeks from now.
3. Boston College at Harvard (Dec. 12): Last season, when the Eagles were really good and the Crimson was average, Harvard blanked BC. What'll happen this time around now that Harvard appears to be improved and the Eagles have taken a step backwards?
4. Ohio State at Alaska (Dec. 14-15): The series isn't all that intriguing. I just want to know how the Buckeyes will adapt to the long trip and 45 minutes of daylight while they're in Fairbanks.
5. Miami at Rensselaer (Dec. 15-16): It's the battle of former Denver assistant coaches as Enrico Blasi's RedHawks meet Seth Appert's Engineers. Another series that has the potential to be fairly entertaining.