January 31, 2008
... And We're Back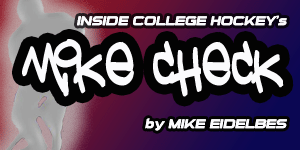 Earlier this season, someone told me via e-mail that this column should appear on a more regular basis. Obviously, I took that message to heart because it's been two freakin' months since the last Mike Check. A lot has happened between then and now, so here are a few bullet-point thoughts.
• As was mentioned in this space less than a year ago, I opined that Bemidji State put the WCHA in a bad spot by pinning the viability of its men's hockey program on becoming a future member of the league. The recently announced scheduling agreement the school and the WCHA hammered out is a terrific solution that meets the needs of both parties. Bemidji State is guaranteed visits to its new rink (slated to open in 2010-11, which coincides with the first year of the pact) by marquee opponents. The WCHA and its member schools, meanwhile, get the positive karma that comes from effectively saving a college hockey program without having to tinker with its current 10-team alignment.
• It's not all rainbows and pink lemonade for the WCHA, however. There's still a pall hanging over the league from referee Randy Schmidt's blown video-replay call that cost Wisconsin a chance for a tie or win at Denver earlier this month. We'll likely never know where the breakdown that resulted in the nullification of Badgers' apparent game-tying goal with less than a second remaining in regulation occurred, and few — if any — will argue that video replay isn't a useful tool when used properly.
But there's the rub. When used properly. State-of-the-art technology is worthless if the people using it to make the correct call don't follow protocol. The league needs to determine the factors that led to the critical error, and make sure it never happens again.
• This is a call to the powers that be in college hockey (whoever that may be): do whatever is necessary to help Canadian institutions such as the University of British Columbia, Simon Fraser University, and the University of Alberta on the path toward NCAA membership.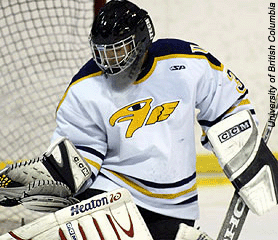 If the University of British Columbia is granted entry into the NCAA and if your favorite team gets a road series to face the Thunderbirds, you'll want to make that trip.
At its annual convention in Nashville this month, NCAA member institutions voted in favor of letting Canadian schools into the club. The prospective newcomers, who must notify the NCAA of their intentions by June 1, would join at the Division II level. Of course, there is no Division II hockey, which means the Canadian programs could enter the Division I fray.
Is there a better scenario for the growth of college hockey? While we've all dreamt about the possibility of Division I programs at schools like Syracuse, Penn State, or Iowa State, the prospects of the game expanding to campuses in major Canadian cities such as Vancouver or Toronto is even more tantalizing. Sure, college hockey wouldn't be a consistent front-page item in any of those locales, but the publicity generated by, say, Jonathan Toews and North Dakota facing the University of Toronto would easily trump anything that places like State College or Ames might bring to the table.
Besides, wouldn't it behoove the NCAA to bring the college game to areas that provide it with large quantities of players? According to INCH's States of the Game feature from last year, only Minnesota produced more Division I players than Ontario. Alberta and British Columbia also ranked among the top six states/provinces in that category. Certainly, some coaches might not be thrilled about competing with Canadian universities for Canadian players, but maybe more kids north of the border opt for the college route with increased exposure to the game, thereby deepening the talent pool.
This opportunity could also save the CHA, a league teetering on the brink of extinction since Wayne State announced its intention to fold its varsity program at the end of this season. In a perfect situation, the circuit could tread water next season and then re-emerge in 2009-10 as College Hockey North America — perhaps with as many as eight teams, depending on how many Canadian institutions make a membership bid.
And who will line up for that chance? Current speculation focuses on the University of British Columbia and Simon Fraser (both based in the Vancouver area) and the University of Alberta, located in Edmonton. These are not small schools – with around 45,000 undergraduates, UBC would rank among the 10 largest universities in the U.S., on par with Michigan State; Alberta has an undergrad enrollment of 28,000 students, just a shade smaller than Wisconsin; and Simon Fraser has about 20,000 undergrads, or roughly the size of UMass.
MASTERTON MEMORIES
In an INCH Podcast earlier this month, we briefly touched on this week's 50th anniversary of Willie O'Ree becoming the NHL's first black player. On a much more somber note, this month is also the 40th anniversary of the death of Bill Masterton, the only NHL player to die as a result of injuries suffered in a game.
As a graduate student and hockey sports information director at the University of Denver, where Masterton was a two-time All-American and a member of the Pioneers' 1961 national championship team, I learned a great deal about both the player and his legacy – to the point where I'll argue that Masterton is among the five best players in college hockey history. One of his red wool game-worn sweaters sat neatly folded in my office for months after I rescued it from a non-descript cardboard box in a storage closet. The last I knew, the sweater is still on display somewhere in Magness Arena, though his No. 9 should hang from the rink's rafters.
If you're lucky enough to bump into Jim White, a WCHA off-ice official in Denver for many years and a guy whose memories of Pioneer hockey go all the way back to when Murray Armstrong first started bringing kids from the Canadian prairies to the Mile High City, ask him about Masterton. You'll be glad you did.
Incidentally, Masterton and O'Ree were briefly teammates with the Eastern Professional Hockey League's Hull-Ottawa Canadiens during the 1961-62 season .
LETTERBOX
Your staff must have been very impressed with Minnesota's loss and tie
against Wisconsin this past weekend to move them up three spots in your poll.
Eric
Fargo, N.D.
This topic was covered at length in this week's INCH Podcast, but in case you missed it, here's a quick recap:
Sure, the Gophers only took one of four points from Wisconsin last weekend. But everyone around them in the rankings — and by that I mean nearly every team ranked 11th or lower — didn't do any better. Games are not played in a vacuum. I cannot stress this enough.
Honestly, I felt like stopping the rankings at about no. 12, but was wisely talked out of it.
Let me see if I got this right. On your Hobey Tracker, you list Nathan Gerbe ahead of Kevin Porter because "he does as much as the players listed above, with just a little less to work with." After reading that tripe, I got a little curious, so I went to each teams homepage:
Boston College's roster lists 6 FR, 4 SO, 8 JR and 5 SR
Michigan's roster lists 12 FR, 5 SO, 7 JR and only 2 SR
In case you didn't get the math, that's 17 freshmen and sophomores on a 26-man roster. Now, you wanna run that crap by me one more time because I obviously must be missing something. [A]nd please don't give me the B.S. about injuries, suspensions, yada, yada, yada. ALL teams deal with these issues in a given season.
Hey guys, I've got a novel idea — try putting the 'ludes and cough syrup away.
Bill
Hilliard, Ohio
Quaaludes and cough syrup is the house specialty at the Reef Bar in Duluth, Minn. But you have to refer to it by its proper name — the Sleepy Conquistador — to order it. And leave the pickle in the glass when you drink it.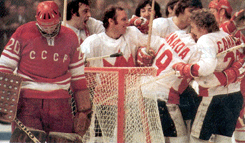 After this Summit Series game, Gerbe reattached Tretiak's arm using gauze, fishing line, and an acupuncture needle.
What is up with Kevin Porter [ranked] second in Hobey consideration? Because Gerbe had a 10-game hot streak and got in trouble, you're "rewarding" him?!?! Unreal. What happened to consistency over the entire season [like Porter's team?] Is this a little biased on your part?
Dave
Manchester, N.H.
Nathan Gerbe was not suspended for one game earlier this season. He missed the game because he created a ripple in the space-time continuum, went back to 1972 to suit up for the Canadian team in the 'Summit Series, and scored seven goals in one game. One of his shots sheared Tretiak's right arm completely off.
How can you not possibly have Peter Mannino in your Hobey rankings?
Jordan Hahn
Denver
Wow, that's a compelling argument. Well played.
Leave it to one member of Ron's JV to answer a question posed by an alum of Ron's JV. If I am not mistaken, when Bowling Green faced off against Michigan in the 2004-05 season you would have seen two letter-sporting 'tenders, Alvaro Montoya and Jordan Sigalet, going at it.
Teddy
East Lansing, Mich.
That's why we're here — to bring people together. By the way, Ron's JV is the intramural hockey team at Michigan State comprised of people associated with the Spartan hockey program (named in honor of former coach Ron Mason, natch.) Nate Ewell was on that team, as was I. At Denver, two of my JV teammates were All-Americans — ex-DU goalie Ron Grahame and former Colorado College defenseman Shawn Reid. Still didn't win the championship.
I was at the DECC on [Dec. 8] for the UMD-UAA game. In the third period, something happened that I'm sure doesn't happen very often. UAA sophomore Paul Crowder scored a natural hat trick that consisted of a power play goal, even-strength goal, and a shorthanded goal. He was aided, of course, by a UMD defense that could best be described as uninspired and statuesque. Nonetheless, this achievement was quite impressive. He even had the chance to make it a natural "Iginla cycle" when UMD pulled their goalie if he could have found a way to score on the empty net. (He did assist on their empty-netter, but that came after UMD scored to pull within one.) Of course, there is the even more rare "Lemieux cycle" if he could have found a way to get that empty-netter and score on a penalty shot! But that's asking a little much, isn't it?
My question: Does anyone there know when the last time someone scored a natural hat trick of this nature in college hockey?
Bret B.
Duluth, Minn.
I don't. Anyone else have an answer?
I'M JUST SAYING ...
• that the University of British Columbia could be a college hockey power should the school join the NCAA. UBC has a staggering number of factors working in its favor – a breathtaking setting in one of the world's most beautiful cities on a spit of land that juts into the Pacific Ocean; its proximity to the British Columbia Hockey League, one of the prime sources of Division I talent; and a 7,000-seat campus arena scheduled to open this summer. The rink will serve as a venue for the 2010 Winter Olympics.
• that ex-Providence Friar star Brian Burke had a really cool idea that should be embraced by future Stanley Cup winners. In Toronto last week, the Anaheim general manager gave a Ducks' championship ring to the Hockey Hall of Fame hoping to set a precedent for NHL champions from here on out.
• that former Michigan Wolverine defenseman Mike Komisarek is in the midst of a breakout season with the Montreal Canadiens. In fact, his name was mentioned as a potential all-league candidate by one media outlet. The 6-foot-4, 240-pound Komisarek leads the NHL in blocked shots and paces the league's rearguards in hits. His improvement is a big reason the Habs are among the NHL's pleasant surprises thus far.
• that the title for coolest video game ever is about to be claimed by Hudson Entertainment when it releases Deca Sports for the Nintendo Wii. Expected to debut in early March, the game will include a number of interactive competitions including ... wait for it ... curling! Who's ready for the online version of the Brier?
• that Mitt is a stupid name. What the hell is a Mitt? And who named him, Brick Tamland? "Mitt! I love lamp!"
• happy birthday to Michael Ontkean. The former New Hampshire skater — he's a member of the Wildcats' century club — and "Slap Shot" co-star turned 62 last week.
The Five Hole
Five Ex-Collegians Who Could Move Prior to the NHL Trade Deadline
1. Jason Blake, Toronto: The Leafs stink. The organization is a mess. The team hasn't drafted well and has made few shrewd moves in the free agent market. Blake, the ex-North Dakota forward, has 10 goals in 52 games. That's not enough for a guy getting $4 million per through 2011-12.
2. Rob Blake, Los Angeles: The Kings stink. Blake, the former Bowling Green standout, is an unrestricted free agent at season's end and would make for a fine rental.
3. Dan Boyle, Tampa Bay: The Lightning stinks. Even worse is the team's salary cap situation. There's no way the 'ning can pay Lecavalier, Richards, St. Louis and Boyle what they're due. Boyle, a premier offensive defenseman, has fresh legs, too — he just returned to the lineup after missing 45 games with a wrist injury.
4. John-Michael Liles, Colorado: Liles, who was an All-American at Michigan State, is another skilled offensive defenseman in the last year of his contract. The Avs, whose forward depth has been gutted by injury and other ailments, might have to move him for help up front.
5. Dwayne Roloson, Edmonton: The Oilers are young, and Roloson, a former UMass Lowell netminder, is in the last year of his contract. He's also stuck on the bench behind Mathieu Garon. He'd be a nice insurance policy for a playoff club with unproven goaltending.