November 13, 2005
Check, Please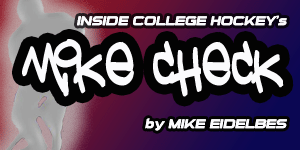 Noted hockey observer Ice Cube (hey, the boys in N.W.A. used to rock the Gretzky-era Los Angeles Kings gear back in the "Straight Outta Compton" day) once rapped, "Check yo'self before you wreck yo'self." Not to be an alarmist, but the forces behind this season's crackdown on checking from behind – transgressors are issued a five-minute major and a game misconduct or game disqualification for their misdeeds – would be wise to heed Cube's flow.
Before you go on a "Won't somebody think of the children?" tirade, follow the logic. No one opposes ensuring players' safety which, in theory, is the intent of this point of emphasis – their term, not ours. But unlike last season's focus on ridding the game of obstruction, this most recent effort carries a severe punishment.
(Checking From) Behind The Numbers

Week of

Penalties assessed

Games

Frequency

Oct. 3

13

21

1 per 1.62 games

Oct. 10

25

39

1 per 1.56 games

Oct. 17

18

41

1 per 2.28 games

Oct. 24

25

49

1 per 1.96 games

Oct. 31

26

56

1 per 2.15 games

Totals

107

206

1 per 1.93 games
Coaches, though it wasn't their preference, could manage the extra special teams situations that accompanied the obstruction crackdown. Dealing with a bench shortened when one of your guys gets tossed for checking from behind is a bit different. In the roughly 200 games played through the first five weeks of the season, players have been whistled for checking-from-behind majors 107 times (see chart, right). In layman's – or for you Union fans out there, Leaman's – terms, if you've got tickets for both games of Backyard State's series against Out-of-Town Tech this weekend, you'll see one kid get the heave ho.
The aforementioned forces aren't likely to have an epiphany based on an argument formulated by an antiestablishment hack in Michigan armed with little more than anecdotal evidence gleaned from box scores and a handful of eyewitness reports. "We expect some growing pains, but at the end of the day, it's the responsibility of the pursuing checker not to hit anybody from behind," CCHA commissioner Tom Anastos told INCH's James Jahnke last month.
Minnesota coach Don Lucia offered a simple compromise, last week telling Dean Spiros of the Minneapolis Star Tribune he'd like to see a minor penalty and 10-minute misconduct doled out for non-violent offenses, not unlike football's separate punishments for facemasking based on severity.
Of course, tinkering with the rules during the season isn't an option. That said, I would keep the following in mind as the current point of emphasis continues.
MIKE WALLACE WOULD BE IMPRESSED

Congratulations to KMSP-TV in Minneapolis for last week's hard-hitting, undercover expose on – gasp! – underage drinking by members of the University of Minnesota men's hockey team at a local bar.
Are you serious? College kids younger than 21 consuming alcohol and possessing fake IDs? This is what counts as news in the Twin Cities? I can't wait for the series on people who allow their pets to deuce in their neighbor's yards and don't clean it up.
The most unfortunate outcome of this entire episode is that these kids – and you can find out who was singled out on your own – were exploited by a bunch of unscrupulous, no-talent hacks during November sweeps. For the uninitiated, local broadcasters use the viewership numbers collected during sweeps to set advertising rates for the rest of the year, and it's why we get stale three-hour sitcom finales and the sixth Cher retirement concert in November, February and May.
Anyway, the story wasn't about underage drinking. It was about the underage drinkers. Why feature the 19-year-old business student who's in danger of flunking out of school because he stays out until 2 a.m. every night and has maxed out two credit cards for drinking money? We can secretly videotape a couple hockey players having a beer!
On college campuses nationwide, binge drinking has reached epidemic proportions. KMSP could have tackled a serious social problem among college students. Rather, it chose to turn it into the journalistic equivalent of junior high students passing a folded piece of notebook paper back and forth in history class. Don't bother waiting by the mailbox, KMSP, because that Peabody Award ain't coming.

IT'S GOTTA GO SOMEWHERE…
Kind of like "Fries at the Bottom of the Bag". But instead of fries, the bottom of this bag has a Jolly Rancher, a token for the batting cages, a bottle cap and a losing Mega Millions ticket.
• Dany Heatley apparently took a few marketing classes during his two years at Wisconsin. The current Ottawa Senator appeared on "Hockey Night in Canada" a couple weeks ago following his team's 8-1 rout of Toronto. Heatley kept tugging at the hat he wore backwards on his head, making sure the camera got a good look at the cap's embroidered Easton logo.
• Lake Superior State scored 10 goals in its win at Western Michigan earlier this month. Wow. I remember the last time the Lakers scored 10 goals. It happened last season…but it took all of October and most of November.
Stunt Double

Cornell coach, voice of
reason Mike Schafer

Movie sidekick, Jedi mind trick purveyor Silent Bob
• While compiling data for the checking-from-behind piece, we learned that Boston University's John Laliberte received a minor penalty in the Terriers' game against UMass Lowell for spraying the goalie. Feel free to insert your own Whizzinator joke here.
• All but one member of the U.S. team competing in last week's TUI Nations Cup in Germany is an ex-collegian who now plays in Europe (former Providence standout Jon DiSalvatore, who plays for the St. Louis Blues' AHL affiliate in Peoria, is the lone exception). The Americans dropped a 7-2 decision to the host Germans Wednesday. Maybe Jeff Sauer, the U.S. coach, shouldn't have given the start in goal to erstwhile North Dakota star Karl Goehring. Like Sgt. Shultz in "Hogan's Heroes", we see nothing.
• Speaking of the U.S. entry at the TUI Cup, former Maine Black Bears Chris and Peter Ferraro are on the roster. The twin brothers also play for the same team in the German Elite League, which got us to thinking – do you think there's ever a time when one of the Ferraros says to the other, "Dude, do we always have to play for the same team?"
• In his CCHA Notebook this week, INCH scribbler James Jahnke used the Theory of Transitive Victory – I just made up that term – to show Penn State's club hockey team is better than Ohio State. The Nittany Lions posted an exhibition win against Robert Morris, which in turn beat Western Michigan, which swept Ohio State two weekends ago. Nice, but taking the theory one step further, Ohio State beat Colorado College, the third-ranked team in INCH's Power Rankings, last month. Guess we need to tweak those rankings a bit, eh?