December 12, 2005
Mailin' It In at Midseason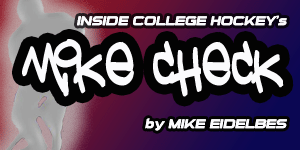 You know what's great about the halfway point of the college hockey season? It's wonderful for idiots like me who a) can't come up with an original story idea and b) come up with an original story idea every so often, like the INCH Dream Team, but the message sails over everyone's head like a Brett Favre deep ball.
In that spirit, it's time to hand out the first-ever Mike Check Mid-Season Awards. Winners, when you hear your name called, proceed to the front of the room to receive your $5 Hardee's gift certificate and a signed copy of "How to Win Friends and Influence Officials" by Jim Roque. Please hold your applause until the last name has been announced. North Dakota fans, you may begin sending angry e-mails now.
(Seriously, NoDak-ers, is it a requirement for you to lambaste anyone who doesn't agree with your view of the college hockey landscape? Are you members of a genetically engineered sect whose primary physiological advancement is an extra bile duct? If I were asked to pick a celebrity to represent every team's fan base, I'd choose Dennis Hopper to be your proxy. Or maybe post-motorcycle accident Gary Busey.
Whoa. That sounds like a future story idea. I'd better move on before I forget what it was I set out to accomplish in the first place.)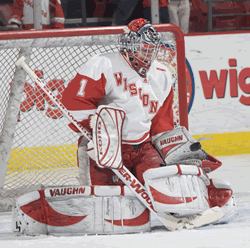 Halfway Hobey: The Hobey Baker Award is presented annually to the most outstanding player in college hockey. You can read that any way you'd like. I prefer to determine the top candidate by asking, "Which team would be totally screwed without Player X in the lineup?"
That list, in my opinion, boils down to one player: Wisconsin goaltender Brian Elliott. OK, OK, so the Badgers subscribe to Mike Eaves' defense-first philosophy. Big whoop. Besides, one slight misplay in that vigorous forecheck of theirs and it's an odd-man rush the other way.
Despite Elliott's impressive spot-duty play in previous years, was there a bigger question mark for the Badgers than the goaltending situation? No. And now that weakness has become the team's unquestioned strength, the primary constant during Wisconsin's 13-1-2 start.
Second in line: Matt Carle, Denver
Partial Penrose: Being recognized as the coach who's done the best job thus far is a double-edged sword. On the one hand, it's nice to be seen as someone who has molded a group of players into a unit that exceeds expectations. The flip side is that it usually means before the season started, everyone thought your team would stink.
There are a number of worthy candidates for this honor – Eaves, Miami's Enrico Blasi, Vermont's Kevin Sneddon, half the ECACHL bench bosses – but first-year coaches Tim Army of Providence and Lake Superior State's Jim Roque stand out. The Lakers (9-5-4) have already equaled their total number of wins from a year ago, while the Friars needed just 11 Hockey East matches to surpass the 16 points they amassed in 24 league contests in 2004-05. The edge goes to LSSU's Roque, who not only had to get a stagnant program moving forward, but also had to put the messy divorce with former coach Frank Anzalone in the past.
Second in line: Tim Army, Providence
First-Half Freshman: Minnesota's Phil Kessel has 22 points in 18 games. Still, some feel he's underachieved. Sure, he's had a few lapses, but he's also been subject to ridiculously high expectations and scrutiny more intense than any freshman in the history of the game.
Best at the Break

The first half all-Mike Check Team

G

Brian Elliott
Wisconsin

D

Matt Carle
Denver

D

Andy Greene
Miami

F

Chris Collins
Boston College

F

T.J. Hensick
Michigan

F

Brett Sterling
Colorado College
(This reminds me of an e-mail a friend sent shortly after watching Kessel play in person for the first time, a long missive chronicling his many perceived shortcomings – trying to make a jillion one-on-one moves, failure to create scoring opportunities, lack of defensive awareness. My first reaction was, cutting on Kessel for not playing defense is like panning Peyton Manning because he can't run the option.)
Michigan defenseman Jack Johnson looks ready for the NHL with his physical presence and contributions offensively. Johnson's teammate and fellow first-round draft pick Andrew Cogliano is as good as advertised. North Dakota's T.J. Oshie deserves mention – the move he made this weekend, slipping the puck between the legs of a Minnesota defender and picking it up on the other side as he drove to the net, was filthy. Forward Shea Guthrie (Clarkson) and goaltenders Jeff Zatkoff (Miami) and Ben Bishop (Maine) also belong in the discussion.
That said, Kessel, Alex Goligoski and Ryan Potulny (another player who merits Hobey consideration) have been the three constants in an otherwise uneven first half for the Golden Gophers. Phil Kessel gets the nod here with former U.S. Under-18 Team compatriot a close second.
Second in line: Jack Johnson, Michigan
Semi-Season Surprises: In no particular order:
1) Wisconsin has allowed 20 goals in 14 WCHA games thus far. In those seven league series, which team has scored the most goals against Bucky? Not Colorado College, Minnesota or North Dakota. Why, it's Michigan Tech – the Huskies scored four at the Kohl Center in a split last weekend.

2) Miami leads second-place Michigan by six points in the CCHA standings. The Wolverines, meanwhile, are six points ahead of Bowling Green and Western Michigan, who share 10th place in the conference.

3) Boston College is killing penalties at a rate slightly worse than Manny Ramirez's fielding percentage.
Midway Mysteries: Which doesn't examine how the Chicago Bears have nine freaking wins with Kyle Orton at quarterback.
1) What's happened to Cornell goalie David McKee? Though the 2005 Hobey Baker Award finalist says he's the same guy – "I feel really good about myself," he told INCH's Joe Gladziszewski recently – his numbers (namely, an .883 save percentage) say he feels more like former Wisconsin goalie Jim Carey the year after he won the Vezina Trophy.

2) On the topic of the ECACHL, when did the top half of the league get pretty darn formidable? Teams one through five in the conference standings – Harvard, Colgate, Clarkson, St. Lawrence and Cornell – each harbor legitimate NCAA Tournament hopes. It wouldn't be a shock to see four on that list get bids.

3) Did Michigan State really have a 323-game home sellout streak that stretched for nearly two decades? It sure did, but you wouldn't know it based on recent turnstile counts. There were roughly 1,500 empty seats at Munn Ice Arena (capacity 6,470) for both of the Spartans' College Hockey Showcase games against Wisconsin and Minnesota, and the announced attendance for the team's most recent home match was 4,438, but closer to 3,500 fans were in the building that night.
Prognostications at the Part-way Point
1) Don't write off Ohio State just yet. The Buckeyes have had a disappointing first half of the season (swept by Western Michigan, home loss and tie against Alabama-Huntsville). OSU has a favorable second-half schedule, however – its toughest matches are two with Miami, a series at Michigan and the Frozen Tundra Classic at Lambeau Field against Wisconsin. John Markell's team could win 15 of its last 20.

2) Wisconsin could wrap up the WCHA by Valentine's Day. Seriously. If the Badgers, who currently lead second-place Minnesota by six points in the league standings, can go 4-2-0 or better in their first three conference series of the new year – at Colorado College, vs. Denver and vs. Minnesota – they should coast to the MacNaughton Cup and hold the inside track on becoming the top overall seed for the NCAA Tournament.

3) Vermont might just have the right set-up to win the Hockey East crown in its first try. The Catamounts have been better away from Gutterson Fieldhouse thus far, and their two toughest remaining series are at New Hampshire and at Boston College.

4) Want a Frozen Four prediction? OK, but first, here's a stab at the top seeds for each of the four regions. Wisconsin goes to the Midwest Regional in Green Bay, Vermont heads to the East Regional in Albany, Miami gets shuttled to the Northeast Regional in Worcester and Minnesota is sent to the West Regional in Grand Forks. As the No. 1 seed, Don Lucia will not exercise his option to evict the Fighting Sioux from their locker room, but stakes exclusive rights to the giant hot tub.

Meeting in Milwaukee the first weekend in April: Boston College, Colgate, Minnesota and Wisconsin.

(Use these predictions at your own risk. Like Sweet Jimmy Apollo on "The Simpsons", I'm right about 52 percent of the time.)
IT'S GOTTA GO SOMEWHERE…
If this piece was tiered like bowl games, you'd be in Motor City Bowl country right now.
• Two fantastic newspaper pieces from the past couple weeks were brought to my attention. They don't stand out because of the writing or a particularly compelling story, however.
The first item was a Dec. 1 Los Angeles Times piece about former Michigan standouts Mike Cammalleri and Jeff Tambellini reuniting with the Kings. Sort of.
Stunt Double
"When I was trying to recruit him to come to Michigan, I kept telling him we'd play together," Cammalleri told the Times' Chris Foster. "I told him we'd be on the same line and how great that would be."
"Then he took off," recalled Tambellini.
Indeed, Cammalleri bolted before Tambellini enrolled at Michigan, but he says he doesn't harbor any ill will about the circumstances.
"I did the same thing to Andrew Cogliano," Tambellini said.
Red Berenson must be so proud.
A couple days later, Cornell Daily Sun columnist Christopher Mascaro took the Lynah Faithful to task for the vitriol commonly directed at opposing teams and its fans, berating the use of vulgarity and the group's general behavior.
"I just don't understand," Mascaro wrote, "why do these dorks that don't know the difference between a two-line pass and a line change think they have the right to be obnoxious a**holes?"
The two asterisks were supplied by me. The profanity appeared in the Daily Sun uncensored.
Here's what I don't understand? How does an Ivy League-educated young adult call out other students for their lack of discretion by dropping swear words, calling them dorks and "have-no-life morons" and comparing saying the Faithful "scream like orangutans in a jungle?" Doesn't your editorial do the exact same thing? Isn't this like Barry Bonds saying Terrell Owens would be a bad teammate?
There are people who think the shtick at Lynah and Yost is tired. But for the love of Pete, if you're going to rail against the behavior of a particular group, don't admonish them by using the same tactics. Glass houses, dude.
• Religious viewers of the Fox teen drama "The O.C." know that sweethearts Seth and Summer have chosen Brown and Providence, respectively (the latter opting for the Home of the Skating Friar over Arizona to be closer to her boyfriend) as their top college choices. We can only hope for some sort of Mayor's Cup-themed episode next year.
• Maybe it's due to the influence the WCHA and, to a lesser extent, the CCHA has on my college hockey experiences, but does anyone else have trouble keeping track of those midweek games teams in the ECACHL and Hockey East routinely play? It's like trying to figure out when the new "Chappelle's Show" episodes are going to air.
• It was right after Halloween while perusing the NHL standings over a bowl of Lucky Charms when I thought to myself, "You know who could keep Edmonton from sliding into oblivion this season? That goalie from Maine playing in the ECHL, Mike Morrison."
Not bloodly likely that thought crossed anyone's mind. Morrison's, maybe, but I'd like the under on that action. Since being summoned from the Greenville Grrrowl, the Medford, Mass., product who won an NCAA title with the Black Bears in 1999 is 5-1-0 with a 1.79 goals against average and a .927 save percentage.
• Minnesota Duluth, which closes out the first half of the season this weekend with a pair of games against visiting Denver, has eight losses. Seven of them have come at the hands of teams whose predominant color is green (two to Bemidji State, two to Vermont, two to North Dakota, one to Alaska Anchorage).