January 10, 2006
Yo, Canada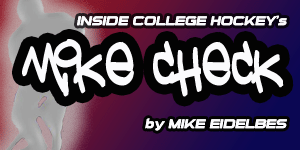 Had I written this piece on the Canadian fans' treatment of the U.S. team at the World Junior Championship last week, you would've read a diatribe so full of ill will and vitriol you could have tasted the bile. But I sat on it, thought about the jeers, catcalls and anti-American chants in Vancouver and came to a realization.
Isn't that what happens when you play in an opponent's rink?
Now, booing "The Star-Spangled Banner" was extreme. I don't remember an incident where Americans booed "O Canada." Of course, 90 percent of this country couldn't name the Canadian national anthem if you spotted them the "O". Heck, ask 10 Americans to find Canada on a map, and six would point to Montana. Besides, "O Canada" is a catchy tune and, unlike "The Star-Spangled Banner", you don't need Mariah Carey's vocal range to sing it.
(Since we're on the subject, is there a word in our language less versatile than "spangled"? Have you ever heard it used anywhere other than between the words "star" and "banner"? No one ever says, "Caitlin drank a bunch of Goldschlager and spangled the bathroom floor" or "My windshield got spangled when I hit Richard Simmons with the car.")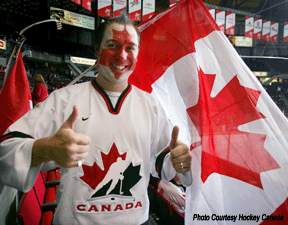 Canada fans were all smiles after their team won a second straight World Junior Championship.
Outside of the national anthem, what did the Canadian fans do? Boo? Chanting things like "U.S. sucks?" Are you kidding? Ask Tom Fritsche which he'd rather face: 15,000 people yelling "U.S sucks" in unison or a couple thousand fans at Yost questioning the lineage of his female relatives in not-so-subtle terms. The conditions the U.S. team faced at the WJC weren't any more daunting being the road team on a Saturday night in Orono or Ithaca or Duluth. In fact, the atmosphere was tame compared to what occurs at some college rinks.
What was mildly amusing, however, was the logic hockey fans on this side of the world's longest undefended border used to vilify the actions of the crowds in Vancouver. They're just kids, said the critics. True, but they're probably some of the same kids you've taunted with a stream of obscenities or lobbed various species of fish toward when they visited your place.
In the same vein, it's downright laughable when Michigan fans – pound for pound, Wolverine hockey fans are the most vulgar congregation in American sports – chastise the Canadians for the abuse directed at defenseman Jack Johnson after he leveled forward Steve Downie with a vicious elbow to the head (more on him later). This would be like Courtney Love cracking on Robert Downey, Jr. for his erratic behavior.
If you've got a beef with the Canadians for the way they acted toward the U.S. at the WJC, fine. Just don't condemn actions in Vancouver that you condone at your local arena.
PLEASE EXPLAIN
The NCAA Executive Committee on Monday postponed its ruling on appeals of three member institutions – including North Dakota – seeking to retain Native American nicknames.
"To do it justice, we needed to give it more time," said committee chair Walter Harrison, who doubles as president of Hartford (the university, not the insurance company) to USA Today.
Besides the Fighting Sioux, the other schools appealing the NCAA's policy banning Native American nicknames deemed "hostile and abusive" are Indiana (Pa.) and Bradley. IUP's athletic teams are called "Indians"; Bradley's are "Braves".
Whoa. I'm no linguistics expert, but how is the nickname "Braves" considered hostile and abusive? Look up the definitions for "brave" – the noun, not the adjective or verb. The first two listings:
WORLD JUNIOR JAMBALAYA
A handful of loose ends from the WJC and international hockey:
• In retrospect, Jack Johnson got off pretty easy when IIHF officials decided not to suspend him following his elbow to Downie's globe (he wouldn't have been punished for the viciousness of the hit, but for the premeditated nature of the action.) He'll pay the price for his actions down the road, however. At some point during his NHL career, count on a member of that Canadian team to insist he drop his gloves and settle the score. Hockey never forgets.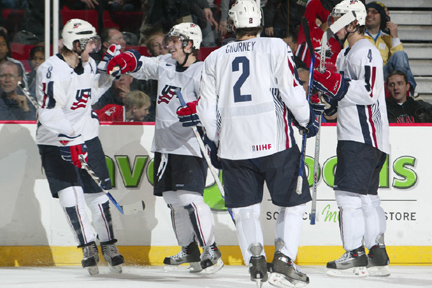 "Maybe if we all stand close together, no one will notice how ugly these uniforms are."
• Is Nike so powerful that no one can step in and tell them, "Hey, we appreciate the uniforms and all, but they're really ugly?" Did you see the get-ups the Swoosh provided for the U.S. at the WJC? Vertical striping on the socks? Those goofy jerseys that fit like Spiderman's costume? I don't know what Nike has in store for Torino, but I'd advise the U.S. to leave that motocross gear at home.
• Speaking of unfortunate fashion statements in Vancouver, the bright blue blazer and black mock turtleneck U.S. coach Walt Kyle sported for his team's semifinal match with Russia was, uhh, luminescent. I can't find a picture of the ensemble, but it looked like something from the "Night at the Roxbury" collection.
• Did you know that the three goalies the U.S. is planning to take to Torino – John Grahame, Robert Esche and Rick DiPietro – rank 34th, 35th and 36th in the NHL, respectively in save percentage and 23rd, 32nd and 43rd in goals against average? Can't see where they'd have any use for Ryan Miller, who ranks fifth in save percentage (.922) and sixth in GAA (2.33).
IT'S GOTTA GO SOMEWHERE...
If INCH was required reading at USC, Matt Leinart could've taken this section for credit.
• Ah, the exciting life of an NHL rookie. Former Michigan State standout Jim Slater, now in his first year with the Atlanta Thrashers, recently discussed the crazy days and wild nights he and roommate Michael Garnett, a rookie goaltender, share in Hotlanta.
"He likes the computer, he likes the TV, we watch the NHL package," Slater said. "I cook, he eats. I pay the power bill, he turns things on."
• One pleasant by-product of the NHL's new collective bargaining agreement is that hardly a day goes by in the NHL without a former collegian making his debut in the bigs. In case you're curious – OK, I was curious, so that means you're curious by association – here are the top 10 scorers among ex-NCAAers in their rookie year:
| | | | | |
| --- | --- | --- | --- | --- |
| Player (Team) | College | GP | G-A–P | +/- |
| Thomas Vanek (Buffalo) | Minnesota | 42 | 12-16–28 | -4 |
| Rene Bourque (Chicago) | Wisconsin | 38 | 6-12–18 | -2 |
| R.J. Umberger (Philadelphia) | Ohio State | 33 | 6-9–15 | +6 |
| Keith Ballard (Phoenix) | Minnesota | 42 | 4-11–15 | -11 |
| Ryan Whitney (Pittsburgh) | Boston U. | 30 | 1-14–15 | -7 |
| Chris Kunitz (Anaheim) | Ferris State | 30 | 7-7–15 | +5 |
| Grant Stevenson (San Jose) | MSU-Mankato | 19 | 7-7–14 | -4 |
| Zach Parise (New Jersey) | North Dakota | 42 | 6-8–14 | -9 |
| Brandon Bochenski (Ottawa) | North Dakota | 18 | 6-7–13 | +7 |
| Jim Slater (Atlanta) | Michigan State | 37 | 7-5–12 | Even |
• This note was mentioned in this week's Power Rankings, but it bears further explanation: In four games between the two teams this season, Lake Superior State outscored Western Michigan by a 23-2 margin. Last season, the Lakers scored 64 goals over its entire 28-game CCHA regular season schedule.
Then there are the Broncos, who may not be the country's worst team but are playing like it. WMU is 0-6-1 in its last seven games and has been outscored during that span 28-7, an amazing feat for a unit that has to its credit a sweep of Ohio State and a win and tie against Michigan State. No way should coach Jim Culhane be retained after this season; if he is, it speaks volumes about the school's commitment to hockey.
• OK, so I haven't exhausted the World Junior Tournament notes, but this item is exhausting. Boston College goaltender Cory Schneider stopped 45 shots in the U.S. loss to Finland in the bronze-medal game that ended at 5:28 p.m. EST. Approximately 49 hours, 32 minutes and 2,525 miles later, Schneider is back in net for the Eagles and makes 43 saves in a 4-1 win over Providence, a victory that propelled BC into sole possession of first place in the Hockey East standings.