January 24, 2006
Give Me Liberty...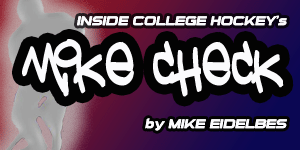 Hey, College Hockey America! Still looking for a sixth, right? Well, your prayers may be answered…by Jerry Falwell.
You read right. The same Falwell who put the fun in religious fundamentalism, questioned the sexuality of the purple Teletubby, called Muhammad (the founder of Islam, not the boxer or Bears wide receiver) a terrorist and accepted a $3.5 million loan from South Korean wingnut Sun Myung Moon also founded Liberty University in Lynchburg, Va., more than 30 years ago.
Liberty, which sponsors 18 NCAA Division I sports, opened a new on-campus ice rink earlier this month, and the school's club hockey team played to standing-room-only crowds of 1,500 fans in its inaugural games at the facility. Previously, the team commuted 50-plus miles to Roanoke for practices and home matches. The sparkling digs and local support has Liberty officials contemplating a varsity hockey program.
"No question, that's the goal," Liberty vice chancellor Jerry Falwell Jr. – wonder how he got that job? – told Lynchburg News & Advance sportswriter Chris Lang. "It won't be in the immediate future. I'm not sure how far down the road it will be. One thing that has to be considered is the potential revenue a hockey program can bring."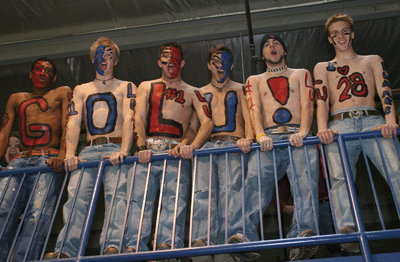 They may not have Division I hockey yet, but Liberty fans already make more noise than those at Michigan State's Munn Ice Arena.
The CHA, which is slated to lose Air Force to Atlantic Hockey once this season ends and will wave goodbye to its automatic NCAA Tournament bid if it doesn't find a sixth member by 2008-09, has a $250,000 incentive package on the table to entice a program to join the league. The compensation would be paid out over a three-year period, which seems like a decent amount of seed money for a startup.
"We didn't just build a building to stay where we're at," the club team's coach, Kirk Handy, said to Lang. "If we wanted to stay at the same level, we might as well have stayed out in Roanoke and not spent all that money on the facility that we've got."
In order for this to happen, a few issues would have to be hashed out – Would the CHA send Liberty a check or would the university pass a plate among the other member schools? Would Falwell pal Pat Robertson clear time on "The 700 Club" for a weekly Doug Woog chalk talk? Would Falwell's political action group change its name from Moral Majority to Moral Odd-Man Rush? – but the hurdles are minor, and expansion to completely uncharted territory can't hurt the sport.
Besides, adding Division I hockey would help Liberty diversify its student body. There'd be at least one place on campus you'd be guaranteed to find a left winger.
REMEDIAL MATH
We get quite a bit of e-mail from readers throughout the course of a week. And most of it is pretty good – people presenting thoughtful arguments why their team should be higher in the Power Rankings, offering recruiting updates, asking for our opinion on various topics.
Of course, we've also got a small minority of e-mailers who, judging from their comments, write in crayon when they're not banging away at the keyboard. Consider the following responses to last week's WCHA notebook Bench Minor criticizing a group of Minnesota fans for their behavior toward visiting North Dakota.
• "Hmm...no mention of the Sioux goalie taunting the Gopher crowd. Interesting."

• "Was surprised to see that nothing was mentioned about the North Dakota goalie shooting a puck into the crowd after the Friday night game, or the same goalie going over to the student section at the end of the game taunting the students."
Now, I wasn't at the game and I don't remember seeing any of this stuff on TV. But I'm going to speculate that a few Mariucci Arena denizens were on Sioux goaltender Phillipe Lamoureux's junk four of the six periods played that weekend. And I'm fairly confident that whatever gestures Lamoureux made didn't warrant flinging of garbage at the goalie and his teammates.
Still, the reaction from the handful of Minnesota e-mailers was quite interesting. Wonder what they'd have written had North Dakota fans chucked debris at, say, Danny Irmen after his memorable "jersey pop" after scoring a goal against the Sioux at Engelstad Arena in December?
(For the record, I thought Irmen's "jersey pop" was pretty cool, a genuine display of emotion. And I liked the antics of legendary Denver goalie Sinuhe Wallinheimo, NFLer Chad Johnson and Deion Sanders. Fun stuff. The granddaddy of 'em all, in my opinion, was the ol' "chicken neck" of 49ers defensive back Merton Hanks.)
In mathematics, multiplying two negative numbers results in a positive product. Not in life, however. Unfortunately, too many people subscribe to Homer Simpson's theory that purchasing a ticket gives them the right – no, the duty – to make complete asses of themselves.
IT'S GOTTA GO SOMEWHERE...
This section is to the rest of this column what participants in "Skating With Celebrities" are to Hollywood stardom.

• In the most recent installment of this column, Mike Check touched on the wild times at the bachelor pad of former Michigan State standout and current Atlanta Thrasher Jim Slater and his roommate, goaltender Michael Garnett. This time around, the Akron Beacon-Journal presents a candid glimpse into the life of Columbus Blue Jacket forward Dan Fritsche, an Ohio native who shares a pad with his brother, Buckeye forward Tom, and OSU skaters Dominic Maiani and Tom Goebel, MSU transfer.
This excellent feature story, written by Tom Reed, includes an extensive discussion regarding the cleanliness of the foursome's living quarters. Take this gem of a quote from Mary Fritsche, Dan and Tom's mother.
"We went down to visit on Sunday before Christmas and there was not a roll [of toilet paper] in the place,'' said Mary Fritsche. "They were using paper towels.''
Stunt Double

New Hampshire's Brian Yandle

ABC's Jimmy Kimmel
• Viewers in the Eastern Time Zone who stayed up late enough to watch Monday's Anaheim-Los Angeles tilt on OLN were treated to an insightful rinkside report (courtesy of former Michigan letterwinner Billy Jaffe) on former Princeton Tiger-turned-Kings tough guy George Parros.
As a Princeton grad with a degree in economics, the Washington, Pa., product knows the value of education and the importance of maximizing one's earning power while in his or her salad days. That's why the 6-foot-5, 232-pound Parros, who has been involved in 10 dustups so far this season, spent time being tutored on the finer points of pugilism by one of the all-time greats, former Wayne Gretzky escort Marty McSorley.
• Earlier this month, The Hockey News released its list of the game's 100 most powerful people. As expected, Cornell alum and NHL commissioner Gary Bettman topped the chart, and CCHA commissioner Tom Anastos made the cut at no. 81. On its list of up-and-comers, former Michigan State standout was mentioned, as was Minnesota wunderkind Phil Kessel. Former Notre Dame coach Dave Poulin was also tabbed in that group with the tagline, "NCAA coach has eye on NHL." I'm a big Dave Poulin fan, but THN may want to take a mulligan on that one.
• As mentioned in this week's INCH Podcast, Ferris State coach Bob Daniels made a heady coaching move that may have been the difference in the Bulldogs' 2-1 win at Michigan State Tuesday. With the game tied in the third period and his team on a 5-on-3 power play, Daniels signaled for a timeout after his top power play unit came up empty during a furious flurry of activity in front of Spartan goaltender Jeff Lerg that included a blast that clanged off the post. FSU's main quintet regrouped during the break, won the ensuing faceoff and held the puck in the zone. The Bulldogs didn't score during the two-man advantage, but freshman Dan Riedel wired a shot from the left point over Lerg's shoulder during the 5-on-4 for the eventual game-winner.
By contrast, MSU had a draw to the right of Ferris State goalie Mitch O'Keefe with a little more than two minutes left in regulation. Though the game was a free-flowing affair with long stretches of action without stoppage and the Spartans had controlled play prior to the whistle, coach Rick Comley didn't use his timeout, ostensibly figuring there would be another break in that end. The Spartans eventually took it during the next stoppage – with six seconds left in the period and a faceoff in the neutral zone.
Don't read the comparison as a criticism of Comley, since most coaches would've done the exact same thing in that situation. See it as an anecdote about two coaches and their perceptions regarding their "last best chance" to win.
• Let the record show that Jan. 24, 2006, as the day middle age officially settled into my brain after stumbling upon the biography of Ferris State defenseman Adam Welch in the team's media guide. When asked which moment in history he wished he could've witnessed, the sophomore chose the Miracle on Ice. Pretty soon we'll have players who know Madonna as the author of terrible children's books.