The Dean's List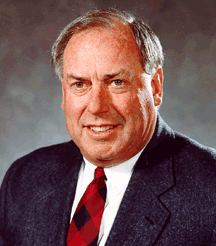 Jeff Sauer – the fifth-winningest coach in college history – writes a bi-weekly column for Inside College Hockey.com. "The Dean" was the head coach for 31 years at Colorado College and Wisconsin, where he won two national titles. Sauer retired at the end of the 2001-02 season.
Previous Editions of The Dean's List
On early departures for the pros
On this year's rule changes
For your listening pleasure, find The Bud Song on Wisconsin's official site.
thedean@insidecollegehockey.com
Part of the fun in doing this column is the opportunity to interact with you, the hockey fan. Please send your questions or comments to thedean@insidecollegehockey.com.
This Week's Question
If you could institute one rule change to improve college hockey, what would it be?
– A college hockey fan in Duluth, Minn.
That's a tough one, but the answer would have to be to come up with something to put the skill back in the game and open it up for more scoring. We've come up with a point of emphasis to call penalties for obstruction, but basically that's another word for interference. We've got to eliminate the clutching and grabbing.
So if I only get one change, let me say I'd revert back to something we've experimented with before: let's leave a penalized player in the box for two minutes and give out two-minute power plays whether teams score or not. Make a penalty count for more than it does now and maybe that would discourage the number of obstruction penalties and increase the scoring in the game.

October 31, 2002
The Dean's List by Jeff Sauer
I was sitting in Matthews Arena in downtown Boston the other night and I started getting sentimental. It was before the Wisconsin-Northeastern game and I stared up into the rafters in that beautiful old rink and I got thinking those haven't changed since I was playing. Heck, they haven't changed since 1909 when the place was built. It still is a great rink, one of my favorites.
And I started thinking about how the game of college hockey had changed and how far the buildings had come. Just the night before, right before the Wisconsin-Boston College game, I had stopped down to visit with Joe Bertagna, the Hockey East commissioner, and Jerry York, the BC coach, in Jerry's office. We got talking about how much rinks have improved over the years.
I played in the old rink at BC, which was on the same site as the current beautiful facility. The old place had chicken wire and a lot of character.
I always remember my first game in Boston with Colorado College. We were losing to BC, 5-3, and then one of our big defenseman made a big bodycheck at center ice and turned the whole game around. We won, 7-6, and I remember going up to Snooks Kelly after the game. The old BC coach had served with my dad in the Navy, but I was still nervous when I shook his hand and told him about my father. He said, "Sure kid, I remember your dad." I was always impressed by him for that.
Then the next night we'd go crosstown and play Harvard in the old Boston Arena.
Now you drive around Boston and they have all sorts of great rinks. I watched Harvard's women play in a neat rink (and does Katey Stone ever have a good women's team at Harvard!). BU is building a new rink, BC has that great Conte Forum and Northeastern has the tie to the past, in the fixed-up Matthews Arena.
Matthews Arena is one of the few old buildings left, though. And it's been hard to replicate the character and tradition that went with those old barns.
I was thinking last year on my last go-round in the WCHA, there isn't even a building left that I played in. Even Duluth, where the DECC is the oldest building in the league, doesn't have the old Curling Club left from when I played.
Someone asked me my favorite rink. I have to admit it's the old Williams Arena, later named Mariucci Arena. It was always special to play there and to coach there. But I can tell you stories about the old rinks at Michigan and Michigan State, the old potato barn in North Dakota which was nothing more than a Quonset hut, how cold it could get at Dee Stadium in Michigan Tech and lots of stories about the Broadmoor World Arena in Colorado Springs, where I coached and played.
I think of what great college rink the old Ralph Englestad Arena was. It always had the best ice for a fast-skating game, just like Tech has great ice at its current place in Houghton.
There is no question there are some great new buildings for college hockey. The new Ralph Englestad Arena in Grand Forks is a palace with all its amenities. Denver and Colorado College have nice rinks. So does Minnesota and I think the Kohl Center in Madison is a nice building.
But I think a lot of these new buildings lack the character and charm of the old places. A lot of the buildings are comfortable, but they come across as antiseptic.
It's a tough challenge to retain the tradition and incorporate all the frills like replay scoreboards, luxury boxes and padded seats. I don't think fans are as close to the action as they used to be in some of the new buildings. And from a coach's standpoint, they certainly aren't as intimidating for the visiting team.
Part of the reason for that is some of these buildings are dual purpose facilities that house basketball games and concerts as well as hockey. And part of it is that there are safety codes and restrictions that tell you how wide seats and aisles have to be and how steep the stairways should be. I wouldn't be surprised, in the future, if there are protective nets just like the National Hockey League mandated in its buildings this year.
And while it's nice to look back at the old rinks, it still is amazing to see the crowds that now come to college games in these new buildings. Both Wisconsin and North Dakota averaged over 11,000 fans per game last year. Minnesota regularly fills the new Mariucci at 10,000 per game. And I'll always feel fortunate to be part of the record crowd of 76,000 that filled Michigan State's football stadium last year for the outdoor game between Michigan and Michigan State.
The college game has changed – and grown – but it's still nice to remember the places it was born in.