The Dean's List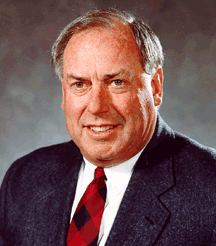 Jeff Sauer – the fifth-winningest coach in college history – writes a bi-weekly column for Inside College Hockey.com. "The Dean" was the head coach for 31 years at Colorado College and Wisconsin, where he won two national titles. Sauer retired at the end of the 2001-02 season.
Previous Editions of The Dean's List
On early departures for the pros
On this year's rule changes
On rinks, old and new
On major junior eligibility
For your listening pleasure, find The Bud Song on Wisconsin's official site.
thedean@insidecollegehockey.com
Part of the fun in doing this column is the opportunity to interact with you, the hockey fan. Please send your questions or comments to thedean@insidecollegehockey.com.
This Week's Question
Does the style of play change when a team goes from one ice surface to
another?
– Rufus, Waupun, Wis.
The style of play can be much different when going from an NHL rink (200 feet by 85 feet) to an Olympic style rink (200x100). It is more difficult to forecheck on a bigger rink, because the opponent has more time and space to operate. On a smaller rink, things happen more quickly, the puck moves more quickly because there is less time to react and there is more contact. My preference? A rink somewhere in between the two. A 200x90 rink would be optimum.
November 28, 2002
The Dean's List by Jeff Sauer
One of the nice things about writing this column has been the feedback it's gotten from readers online and fans who have been nice enough to acknowledge it from time to time this hockey season.
Earlier this year, one of the questions I was asked was: Who was my favorite player I've coached? I always tells people it was Patrick Flatley from one of my first Badgers' teams. It got me thinking, in this time to give thanks, of the people and things I've been lucky enough to observe in the college game.
So this has nothing do with raindrops on roses or whiskers on kittens, as the song says, but here some of my favorite things in college hockey ...

Favorite opposing goaltender: The biggest name is Ken Dryden, who was unbeatable in his days at Cornell before heading to his National Hockey League Hall of Fame days in Montreal. I always remember Chris Terreri standing on his head when I watched Providence in the NCAA tournament inDetroit in the mid-'80s. You may never have heard of Jerome Mrazek, but he was a guy who I recruited for Colorado College in the early '70s. He had long hair and played the guitar and he was really a talented goaltender, but I didn't get him. Minnesota-Duluth did and he played awfully well on some teams that didn't have good records. My favorite guy when I coached at CC was Eddie Mio, who went on to become the best man in Wayne Gretzky's wedding and one of the top 50 all-time players in the Western Collegiate Hockey Association. He was so good that he had a cough one year and they checked his locker and found he was taking pills before the game. People thought he was on drugs. They just found he was taking sugar pills, instead. Typical goalie.
My favorite: Robbie Moore, the acrobatic Michigan goalie in the mid-'70s. He had antics that the crowd loved, but he backed up the show with great performances and almost won a national championship against Wisconsin
in 1977.
Favorite rinks: I wrote a few weeks back how I love the old rinks like Matthews Arena in Boston with the lore and history. I felt the same way about the Broadmoor World Arena where I coached and played in Colorado Springs, and the old Mariucci Arena in Minneapolis. Architecturally I loved the old Appleton Arena where St. Lawrence played in Canton, N.Y., and Hobey Baker Rink at Princeton. But for atmosphere there was nothing more intimidating than on a cold night at the old Englestad Arena in North Dakota with the student section screaming before warm-ups.
My favorite: Call me a homer, but I'll take the Dane County Coliseum in Madison. There was nothing like it when the place was rocking and the Badgers were rolling.
Favorite opposing coach: I always considered it an honor to coach against so many guys like I did. So characters like Michigan State's Amo Bessone and Notre Dame's Lefty Smith stand out as do legends like Denver's Murray Armstrong, Minnesota's Herb Brooks and Bob (Johnson). It was always challenging going against (Boston University's) Jackie Parker and Mike Sertich (of Duluth and Michigan Tech), who wasn't afraid to help me coach from the other bench.
My favorite: Michigan Tech's John MacInnes, who was always well-prepared. His teams were always well-coached and he respected everyone.
Favorite pizza: I've been encouraged to put this on the list because I do enjoy my post-game pizza to break down a power play. And I have my special spots like the Ambassador in Houghton, Mich., Campus Pizza in Minneapolis, and The Italian Moon in Grand Forks, which gets special mention for its cheese dip.
But my favorite: Sammy's in Duluth. Just the right crust. And I know the owner.
Editor's note: Before the next category let it be noted that Sauer is the only coach to ever receive a penalty while at a urinal. Between periods. Bill Brophy writes In "Shot and a Goal: A History of Wisconsin Hockey" (buy it online at amazon.com) that The Dean received his unorthodox bench penalty while coaching at CC. "We were at Michigan,'' Sauer recalls in the book, "and there was an altercation after the period. I thought a Michigan guy started it and we had (Michigan coach Dan) Farrell and I separating 40 guys. So we get back to the locker room and I talk to my team and then head for the bathroom. Now at the old Yost Arena, there was a vent over the bathroom in our locker room and I
could hear the officials in the next locker room saying I was right, that a Michigan guy started the fight. So I banged on the wall and yelled through the wall, 'if you see the bleeping penalty, call it.' So I go out on the ice and find out I got a two-minute bench penalty while in the men's room."
Favorite referee: I've dealt with enough of them, but I always have said I didn't have a problem with referees. I had a bigger problem with the impact that linesmen and assistant referees had on the game on calls like offside and icing. But referees are more noticeable. My list of favorites has to include Greg Shepherd — who seemed to work so many games one of our championship years that he should have been in the team picture — and Dewey
(Duane Markus) and Dickie (Haigh) who seemed to be in every fight during the '70s and '80s when there was a different era in college hockey. Red Wilkie was memorable, if for no other reason than the Badgers' fan chant once heard at a game in South Bend, Ind. ("A horse's tail is long and silky, lift the tail and you'll find Wilkie"), and Eastern officials like Ned Bunion and Steve McBride stand out, too.
My favorite: Buzzy Christansen. It's like I used to always tell my players when Buzzy was working our series: "Boys you will see something called this weekend that you will never see again.''
Thanks for letting me reminisce and Happy Thanksgiving.