The Dean's List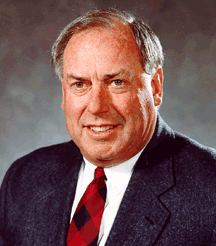 Jeff Sauer – the fifth-winningest coach in college history – writes a bi-weekly column for Inside College Hockey.com. "The Dean" was the head coach for 31 years at Colorado College and Wisconsin, where he won two national titles. Sauer retired at the end of the 2001-02 season.
For your listening pleasure, find The Bud Song on Wisconsin's official site.
thedean@insidecollegehockey.com
Part of the fun in doing this column is the opportunity to interact with you, the hockey fan. Please send your questions or comments to thedean@insidecollegehockey.com.
This Week's Question
Other years you have had to nominate players for the Hobey Baker Award. Who would you nominate this year from the players you have seen?
– Elizabeth, Denver, Colo.
In the WCHA without question Peter Sejna of Colorado College is a finalist. He's got all the tools and is having a great year. North Dakota's Zach Parise is very talented and while people may say freshman shouldn't be considered, I feel he is worthy to be nominated.
I only saw the goalie from Cornell (Dave LeNeveu) at the world junior tournament – and there it was mostly during practice – but obviously he is having a wonderful year. I think Ben Eaves of Boston College should be on the list and Chris Higgins of Yale is a very good player. Tom Preissing, CC's defenseman, has had quite a year for what I think is the best team in the WCHA. Although I haven't seen him, the kid from Ferris State, Chris Kunitz, has also had a year worthy of making him a finalist.
February 28, 2003
The Dean's List by Jeff Sauer
Many of you are getting excited over the final weeks of the college hockey season and speculating on who will play who and where in the playoffs. Meanwhile, I have spent the week going through customs at Newark Airport and crossing the Atlantic in preparation for an event I am very excited about: coaching Team USA in the 15th annual Deaflympics in Stockholm, Sweden.
It isn't often that you get to participate in international hockey and I feel very privileged to get to coach this team just months after being at the World Junior Championship in Halifax, Nova Scotia. This is particularly exciting for me because I have got to know most of players and seen them grow up over their careers while working at Stan Mikita's Hockey School for the Hearing Impaired in Chicago during the last 24 years. It's great to finally get to coach them in a tournament such as this.
It is gratifying work. These kids are wonderful to work with and there are some very good hockey players. I feel we have a pretty good team. Much of that is due to the dedication of the people who have worked at the hockey school – people like David Lassonde, the University of New Hampshire assistant coach, Darren Pang of ESPN and many of the Chicago Blackhawks' alumni like Cliff Koroll, Keith Magnuson and Reggie Kerr. Tony Granato, the coach of the Colorado Avalanche, and his sister, Cammi, have helped us in the past. So while I am coaching behind the bench, these players have received lots of good instruction.
All are hearing impaired. Some are stone deaf. Others have impaired hearing. No hearing aids during competition are permitted. Any player found wearing a hearing aid is disqualified and the team would lose any medals awarded.
So how do you communicate with players, people always ask? I have limited knowledge of sign language. We have people on the bench who are much more adept at it than me. And there are some modifications to the game. For instance at all stoppages of play, instead of a whistle, lights go on around the rink – like a stop light – to signal a stoppage.
As a coach, the biggest problem is making line changes. Instead of shouting, "so-and so's line is up," you use numbers to signify whose line is on the ice next. You can't call guys back if someone jumps on the ice by mistake, so your team has to be disciplined.
But communication is better than you think. Hockey players are athletes who instinctively know the game, where their teammates are and when the stoppages in a game should occur. It is intuitive in good athletes. We have a lot of them. We have a quite a cross section of accomplished players.
Some of them have played in the Deaflympics before (the U.S. has won one gold medal and two silvers in previous competitions). We have high school players and a a guy who is 32 years old.
One of our defensemen, Ryan Krajewski of Duluth, Minn., is an assistant coach at Proctor High School. Three of our forwards left their high school teams in Minnesota to join us. They are Steve Wangberg and Jon Dickson of Bemdji, Minn. and Kyle Sontag of Maplewood, Minn.
Many of our guys played college hockey. Forward Tony McGaughey played two years at Northeastern, defenseman Matt Holmes played at Mercyhurst and Michael Filardo was a goalie at New Hampshire. Forward Rick Poppe played at Wisconsin-Stout, and forward Curt Selander played four years for Hamline University. Defenseman Mike Drew was an all-city high school defenseman in Chicago, Ben Johnson played at Duluth East High School and then major junior hockey in Western Canada and Jim Siciliano, our captain from Boston, is a veteran of two of these tournaments.
You can see it is a diverse group. I think it's a pretty good team and we have a good chance to win a medal in an intense tournament.
We arrived Tuesday morning in Stockholm and practiced Tuesday night. After practice one day we toured Stockholm, and one of my former players at Wisconsin, Jan-ake Danielson, arranged a scrimmage against a Swedish junior team Thursday.
Our first game is Saturday, March 1, in Sundsvall against Germany and the opening ceremonies of the Deaflympic are Saturday night. It is supposed to be much like the opening ceremonies at the Olympic Winter Games, as athletes from alpine skiing, downhill and Nordic will join snowboarders, curlers and hockey players in the start of the games that run for eight days.
In the round-robin tournament, we play Finland March 3, Russia March 5, Sweden March 6 and Canada March 8. Hopefully we'll be involved in the medal ceremony after the Canada game.
It always is a privilege to wear the USA colors. It will be especially exciting for me to get to coach these talnted young men in this tournament.
Follow Coach Sauer and the team throughout the tournament at Deaflympics.com.