The Dean's List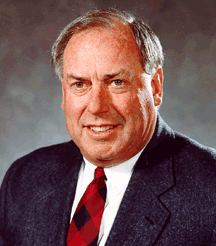 Jeff Sauer – the fifth-winningest coach in college history – writes a bi-weekly column for Inside College Hockey.com. "The Dean" was the head coach for 31 years at Colorado College and Wisconsin, where he won two national titles. Sauer retired at the end of the 2001-02 season.
For your listening pleasure, find The Bud Song on Wisconsin's official site.
thedean@insidecollegehockey.com
Part of the fun in doing this column is the opportunity to interact with you, the hockey fan. Please send your questions or comments to thedean@insidecollegehockey.com.
This Week's Question
What would you recommend for a young hockey player to use for a stick?
– Troy Howard, Minneapolis
The days of the all wood sticks passed by a long time ago. The new fiber and metal shafts have changed the hockey stick. As a coach I would suggest that a young player start with a stick that has good feel. Hockey is similar to what has happened in baseball – the metal bat has helped with costs, but has also changed the game because the ball travels farther. In hockey the new composite sticks may give the younger player more speed on a shot, but the feel for the puck is not the same as with a wood stick. In saying this, a player may have to search far and wide to find the type of stick I'm talking about, that he or she feels comfortable with. The game is still about finesse and feel if you are to be a good stickhandler.
March 13, 2003
The Dean's List by Jeff Sauer
It's the most wonderful time of the year if you are a fan, player or coach in college hockey.
March Madness is a basketball term. But playoff time is the period that hockey fans live for.
It's showtime. As a coach, your focus has always been to play your best hockey at the end of the season, when trophies are on line. You prepare for this time of the year.
I know it's a cliché, but for teams that didn't have a good regular season, it is a second season, a time for redemption. And for teams that have done well during the regular season, it's a time to prove they are for real.
As a coach and player, there is pressure at this time of year. Teams like Ferris State, Cornell and Colorado College this year know that they are going on the NCAA Tournament, but they want to keep playing well and get as high a seed as they can.
For teams that didn't do so well in the regular season, the pressure is much more real. They know they have to win now to keep their season alive for another weekend.
Home ice is a major advantage during the playoffs, both from the advantage of sleeping in your own bed and playing in front of home fans to the bigger edge of having the last line change.
The higher seed allows the coach the last change so he can match lines or make sure he has the defensemen he wants out against the opponent's top line. This year this may be a little different, though, with the new 15-second faceoff rule. A coach is going to have be very prepared to make sure he can anticipate and get the right people on the ice at the right time.
It is a time when a coach tends to shorten his bench and play his best players. I saw this first-hand recently while coaching the U.S. team in the Deaflympics. We played a Russian team that had two five-man units that were better than anyone else. They kept playing the same four defensemen and two lines and won the tournament.
Some people may think you don't shorten your bench until late in a tournament, but it depends on the circumstances. If you have to win the game to go on, you have to coach to win that day. You can't worry about the next day.
In a best-of-three series, obviously the first game is the key. You win that first game, you put a lot of pressure on the other team – because it's tough to win two games in a row. A win in the first game of a series really affects the psyche of the opponent's coach and players.
Just as obviously, goaltending is a key. You can ride a hot goalie a long way in the playoffs. If a goalie is playing well, oftentimes players play more relaxed. For a coach who rotates his goalies during the season, making the decision on who to start is a big one. And make no mistake: often it comes down to a gut decision by the coach. You know who's playing well. You know how players perform in big games. You know how the team reacts in front of different goalies. You make your choice and live with it.
Depending on what your team's situation is in the playoffs, this is the time to pull out all stops. You watch more video to determine an opponent's tendencies. You reinforce that you get your top defensemen out against their top forwards or get the line matches you feel best about.
During the regular season, you might try to play six defenseman and roll four lines or try different line combinations. By this time of year the experimenting is usually over. You want your best players out there as much as you can.
Discipline is critical. You need to keep out of the penalty box because power plays take on added significance in the playoffs. And often you tire your best players out killing penalties. You want them fresh if you need a big goal.
My observations is that referees pull back on the reins at this time of year. The veteran officials want players to determine the outcome, and to me, that's a good thing.
Experience is vital at this time of year. You know what to expect if you have been through it before. That way you don't get rattled. People don't realize it, but players and coaches aren't the only ones who benefit from experience. It's the support people, too – the ones who take care of the logistical things like travel and tickets so that players and coaches can concentrate on what's important: winning games.
We always tried to keep the same routine as during the year. Practices weren't different. Our day-of-game routine stayed the same. You tried to keep players from getting rattled and uncomfortable. You wanted them to avoid hassles and concentrate what is most important during the playoffs – winning games.
Enjoy the most wonderful time of the hockey season.