June 24, 2006
NHL Draft Notebook
Banner Day for the Red, White and Blue
Draft offers further evidence that U.S. NTDP is coming of age
By Mike Eidelbes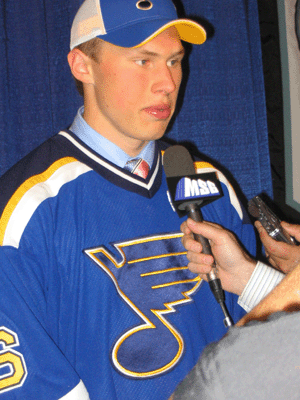 First overall pick Erik Johnson was one of six players selected in the first round of the 2006 NHL Draft to have played for the U.S. National Team Development Program in Ann Arbor, Mich.
VANCOUVER, B.C. – As one drives south from downtown Vancouver, the hazy visage of Mt. Rainier, though more than 200 miles away, looms majestically in the distance. A similar scene played out at Saturday's 2006 National Hockey League Entry Draft as U.S.-born players dominated the landscape at GM Place much like the volcanic monolith across the border.
The run on the boys in red, white, and blue started as expected when U.S. National Team Development Program defenseman Erik Johnson, who'll be a freshman at Minnesota in the fall, was chosen by St. Louis with the first overall pick. Another Gopher, forward Phil Kessel, was taken by Boston at No. 5. Two spots later, the new-look New York Islanders tabbed Gopher No. 3 – incoming freshman forward Kyle Okposo – with the seventh selection.
By the time the first round drew to a close, a record 10 U.S. citizens had heard their names called. Heck, Jefferson H.S. in Bloomington, Minn., produced as many top-30 selections – Johnson and former Minnesota recruit Peter Mueller, who opted to continue his career with Everett (Wash.) in the Western Hockey League – as the Czech Republic and Russia.
Just as impressive was the number of players chosen who had ties to the U.S. National Team Development Program, the centralized training program for the country's top junior-aged players launched by USA Hockey nearly a decade ago. A dozen prospects who had participated in the Ann Arbor, Mich.-based program were selected in the draft's first three rounds. On occasion, there were so many former NTDP alums congregated in the GM Place interview area the place looked like a family reunion, with everyone exchanging congratulations, handshakes and hugs.
"The development program is one of the things that shaped me into the player that I am," said Johnson, responding to one of the first questions asked by a member of the media shortly after he was drafted by the Blues.
"I always knew there was a path to success in hockey," said Boston University-bound defenseman Brian Strait, who captained the U.S. team to a gold medal at the World Under-18 Championships in Sweden this spring. "The [NTDP] was on that path."
The path wasn't always smooth. When USA Hockey first hatched the national team concept, it was met with skepticism by a number of observers and resistance from others who believed plucking the top teen skaters from across the country and bringing them to Ann Arbor would hurt the traditional developmental routes (the United States Hockey League and prep circuits in Minnesota and New England). A valid concern at the time? Perhaps, but USA Hockey president Ron DeGregorio theorizes the opposite may be true.
"In some ways, maybe [creating the NTDP] enhanced it," he explained. "It provided another option, and that made those other options like the USHL and high school leagues improve their product as well. That's the American way.
"The National Team Development Program is the West Point of hockey in the United States. There's a standard and every player how comes through is held to that high standard."
To a man, the NTDP alums in Vancouver credited the program's focus on strength and conditioning as the biggest factor for their continued growth as players.
"We'd always have a set schedule for training up there every day," goaltender Joe Palmer, who'll attend Ohio State, said. "With the intensity and the pace, it's definitely an advantage compared to what you'd normally do as far as conditioning."
Despite all the successes of the past decade, there's still room for growth – DeGregorio says the need for developing goalies and players with better one-on-one skills remains unfulfilled – but if Saturday's draft is any indication, options like the NTDP have allowed U.S.-born players to gain equal footing with prospects from around the world.
"The program exists to win medals and develop players," said defenseman Mike Ratchuk, a second-round pick by Colorado who'll attend Michigan State this fall. "They've been doing their job, because it seems to have worked pretty well so far."
SEEN AND HEARD AT GM PLACE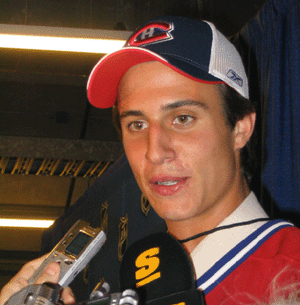 Welcome to the show: The Montreal media put defenseman David Fischer, who will play at Minnesota this fall, on the spot early.
• Toews Loves Grand Forks – It's a difficult question for any 18-year-old to field, let alone one who was a high pick in a professional sports draft. But so often, the first question a prospect hears upon meeting with the media is, are you going to sign with (insert team name here) and start your pro career next season?
Credit to North Dakota's Jonathan Toews for handling that grenade like a White House spin doctor by turning it into a soliloquy on the virtues of life in Grand Forks.
"I loved my year this year. It was awesome playing for the Sioux," said Toews, who was grabbed by Chicago with the third overall pick. "If I don't feel I'm ready and I can't be an impact player and not bouncing up and down between the minors and stuff, the place I want to be is at North Dakota. Until I feel I can make the next step appropriately, I think I'll have a great time [at North Dakota] working and improving my skills."
Fighting Sioux coach Dave Hakstol, who was at GM Place Saturday, says he doesn't harbor hard feelings toward those who immediately throw out the jump-to-the-NHL-immediately ice breaker.
"Those are questions you have to deal with both as an athlete and with your program, and those are things that we talk about throughout the year," said Hakstol. "This is a pretty special day for Jonathan and his family and it's something for them to enjoy and take it in for all that it's worth."
• Kessel Avoids the Crusaders – Outside of Johnson and perhaps second overall pick Jordan Staal, the brother of Carolina Hurricane Eric Staal, Kessel generated the most media interest. But as reporters from various outlets ringed him two or three people deep at times, this year's WCHA rookie of the year spoke in hushed tones, perhaps relieved that the constant swirl of expectations, speculation, rumors and innuendo that's followed him for the better part of two years will now finally die down. At times, he was barely audible.
He did manage a wry grin, however, when a reporter asked if he'll swing by the campus of Holy Cross in Worcester, Mass., the next time he visits Boston. The Crusaders, of course, bounced Kessel's Gophers from the first round of this year's NCAA Tournament.
"I'm gonna steer clear of that place," Kessel said. "They did a number on me."
• Four for Diving – Diving may be verboten in today's NHL, but swimming is obviously allowed. Four prospects mentioned that they spent time prior to the draft in the pool, but it was anything but a relaxing soak.
"My little cousins wanted to go swimming," Kessel reported, "so I went swimming with them."
At another Vancouver hotel, Johnson, Minnesota freshman-to-be Kyle Okposo and Toews engaged in a friendly competition that involved throwing a quarter into the water.
"We all go underwater with goggles and try to catch it before it hits the bottom, and we fight for it." Okposo, a foward who chosen by the New York Islanders at No. 7, said. "There might have been a few bruises here and there, but it was all in good fun."
• Supporting with Sweaters – In an arena dotted with fans wearing sweaters from a gaggle of NHL teams and clubs from the major junior ranks, a couple teenagers clad in the Columbia blue jerseys of the Jefferson H.S. Jaguars (located in the Minneapolis suburb of Bloomington) stood out, especially when they cheered loudly after Erik Johnson's name was announced. Turns out the pair – one of whom, Ben Roberts, is the son of former NHLer Gordie Roberts – are friends of Johnson's from Minnesota
"They were coming out here to visit their grandparents, so they decided to stop by the draft and I gave them a couple of my old Jefferson jerseys to cheer me on."
• Funny Fischer – He may not have been the most talented player in the draft, but Apple Valley (Minn.) H.S. defenseman David Fischer, another Minnesota-bound prospect who went to Montreal with the 20th overall pick, might have been the funniest. Among the gems unleashed by the guy who says his nickname is "Fishdaddy:"
• Summers' Position? – Future Michigan defenseman Chris Summers, another U.S. NTDP product, was asked whether he saw his future with the Wolverines as a forward or on the blue line. Summers, selected by Phoenix with the 29th overall pick in the first round, played well up front in fill-in duty at the World Under-18 Championship in Sweden in April, an event won by the U.S. team.
"I heard a rumor I was going to play goalie," Summers said, drawing laughs from the half-dozen or so reporters surrounding him. Given the travails Michigan experienced between the pipes last season, more than a few Yost denizens might encourage him to strap on the pillows.
• Pass the Mic – Prior to the draft's start, a roll call is conducted to ensure the teams are in place and their communications systems are working. Anaheim, the first team to check in, did so accordingly. During the ensuing silence, a lone voice from the GM Place rafters shouted, "We love you, Brian Burke," a paean to the ex-Providence Friar and former Canucks general manager. Similar bouquets were not directed toward the team's current GM, Maine alum Dave Nonis.
• Ex-College Avs on D – Suddenly, Colorado has become an unofficial haven for ex-college offensive defensemen. Provided the Avalanche resigns former Bowling Green standout Rob Blake, who is an unrestricted free agent, the team will boast an impressive triumvirate of Blake, ex-Michigan Stater John-Michael Liles and Jordan Leopold. The 2002 Hobey Baker Award winner and former Minnesota captain was dealt to Colorado by Calgary along with a pair of second-round draft picks in exchange for wing Alex Tanguay.
The Avalanche also holds the rights of recently graduated Wisconsin All-American rearguard Tom Gilbert and Saturday added a pair of incoming college freshmen to their stable by taking Nigel Williams (Wisconsin) in the second round and adding Kevin Montgomery (Ohio State) in round four.