June 22, 2007
NHL Draft Notebook
Committed to College
Top prospects van Riemsdyk and Turris sticking with college plan
By Joe Gladziszewski and Mike Eidelbes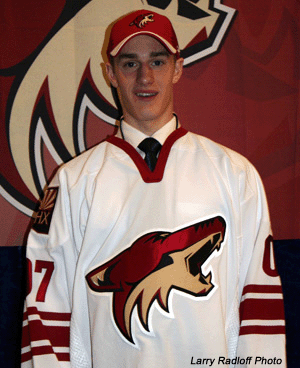 He wore Phoenix colors Friday, but come fall, forward Kyle Turris will wear the red and white of the Wisconsin Badgers. (Larry Radloff photo)
COLUMBUS, Ohio – It's good for college hockey when the second and third overall selections at the NHL Entry Draft are college-bound, but only if those players follow through with their commitments.
Fortunately for New Hampshire, Wisconsin, and college hockey in general James van Riemsdyk and Kyle Turris will honor their commitment to play college hockey this fall.
van Riemsdyk, a New Jersey native, was selected by the Philadelphia Flyers with the second overall pick. Turris, from British Columbia, went to the Phoenix Coyotes with the third overall pick.
Both players made certain statements that they will play in the NCAA and are excited about the upcoming opportunities, and confident that they will be well-served by playing college hockey.
"I felt that UNH had the best offering overall from the coaching staff to the atmosphere at the rink, and the guys on the team seemed like a great group of guys," van Riemsdyk said.
Turris, who was rated as the top North American skater by the NHL's Central Scouting Service, is eagerly anticipating his time at Wisconsin.
"Mike Eaves and Mark Osiecki and Kevin Patrick are great coaches," Turris said. "There is a very professional atmosphere and they make sure they get the best out of their players. I think they're really going to prepare me well."
College hockey has proven itself as an excellent place for prospects to develop, and the Flyers and Coyotes confidently endorsed that fact by taking future collegians with their prominent draft picks.
van Riemsdyk and Turris may not play college hockey for four years, but will play this upcoming season. It's good for college hockey, and good for these marquee players.
SEEN AND HEARD AT NATIONWIDE ARENA
• Riley Nash will be a freshman at Cornell in the fall and embraces the opportunity to walk into a program where excellence is demanded. He was selected 21st overall by the Edmonton Oilers. The Big Red set their sights on championships every year. Nash is excited about the challenge.
"I think that's a good thing, having to go out there and perform every night is something I look forward to and having the pressure put on me, I really don't mind that at all. I think it'll make me get better and better each practice and each game. Hopefully we can bring a championship back there," Nash said.
• NHL team colors were prevalent as each of the first-round picks wore sweaters of the teams they were selected by. Max Pacioretty (Michigan) and Patrick White (Minnesota) also represented their future colleges with neckwear, as Pacioretty donned a maize and blue tie, while White sported a maroon and gold tie.
• Patrick Kane, who entertained offers from several colleges before ultimately joining the Ontario Hockey League's London Knights, and James van Riemsdyk made history Friday by becoming the first two Americans to go 1-2 in the draft. Kane hails from Buffalo, while van Riemsdyk calls Brick, N.J. – the hometown of former Lake Superior State standout and longtime NHLer Jim Dowd – home.
• According to the official first-round summary the NHL handed out to the media upon completion of the first 30 picks, U.S. NTDP defenseman Ian Cole, who'll be a freshman at Notre Dame this fall, hails from Ann Arbour, Mich. Isn't Ann Arbour the sister of former New York Islander Al Arbour?
• Vancouver general manager Dave Nonis said he wasn't tipped off about the abilities of future Minnesota Gopher Pat White by former 13-lined ground squirrel Trent Klatt. Apparently, the White family and the Klatt clan are acquainted. Klatt, an Osseo, Minn., native who retired from the NHL following the lockout, enjoyed some of his best years in the league with the Canucks.
• Speaking of White, it wasn't his choice that he was announced as having played for Tri-City of the United States Hockey League. White did play for the Storm — a dozen games. He spent the bulk of the year playing high school hockey for Grand Rapids (Minn.).
"That's kind of a tough thing," White said. "I'd like to have Grand Rapids get credit. If anyone's reading this, I'd like to get a lot of credit to everyone back there. It's really fun to have all those people back there supporting me."
• Boston University-bound Kevin Shattenkirk of Greenwich, Conn., was drafted by the Colorado Avalanche with the 14th overall pick. The defenseman will have the opportunity to make an impact on the Terriers right away, since three of their regular defensemen last season graduated. The coaching staff and city drew Shattenkirk to Boston University.
"I love the coaches there. I worked with David Quinn in the recruiting process and he was just a great guy and has a lot of knowledge of the game. Obviously coach (Jack) Parker is a famous coach and you can't really go wrong there. I love the city of Boston and felt in the end that it was the best fit," Shattenkirk said.
• van Riemsdyk, a native of Middletown, N.J., will eventually play for the Flyers and have plenty of support in the area. Many of his childhood and high school friends who were in attendance are headed to St. Joseph's University and Villanova.
• Several trades were made during the first round of the draft, and many of them involved trading picks that were previously acquired from other teams. It made for some humorous language in the transaction sheet. An example: Washington traded Buffalo's pick to San Jose for Carolina's pick.
• Defenseman Ryan McDonagh, a future Wisconsin Badger, told reporters that he emulated former Wisconsin defenseman Chris Chelios and admired his leadership qualities and the respect that he commands from opponents.