June 23, 2007
NHL Draft Notebook
My Name is Luca
Swiss star, Tampa Bay pick will choose between Clarkson, St. Cloud State
By Joe Gladziszewski and Mike Eidelbes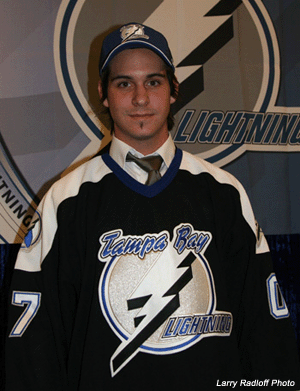 Tampa Bay draft pick Luca Cunti, a native of Zurich, Switzerland, will land at either Clarkson or St. Cloud State this fall.
COLUMBUS, Ohio – Luca Cunti isn't a college hockey player. Yet.
He was the 75th overall pick in the draft by the Tampa Bay Lightning and hopes to play college hockey this fall. Cunti, a native of Zurich, Switzerland is having his academic paperwork processed by the NCAA Clearinghouse and if he is eligible to play, he plans to enroll at Clarkson or St. Cloud State.
Cunti played with Dubendorf of the Swiss League last season. The 6-foot, 190-pound center was rated by the Central Scouting Service as the 12th-best available European skater in both the mid-term and final CSS rankings. He played for Switzerland in the IIHF Under-18 World Championship and led the the team with three goals.
Central Scouting described Cunti as "a skilled forward with an excellent stride and speed … has very good on ice awareness and soft hands … controls the puck well and scores highlight reel goals." Those are attributes that would obviously be welcome at Clarkson or St. Cloud State, but two decisions remain – one by the NCAA, and another by Cunti.
HOMETOWN HONOR
| | |
| --- | --- |
| | |
| Boston College recruit Tommy Cross, a Connecticut native chosen by the Bruins in Saturday's second round. | Colorado College forward Bill Sweatt, a Chicagoland native chosen by the Blackhawks in Saturday's second round. |
The early part of Saturday's second round included two teams swapping picks and making a pair of college players very happy to be selected by their regional favorites. The Boston Bruins moved up from 38th to 35th and selected Tommy Cross, a native of Connecticut and childhood fan of the Boston Bruins. Cross will enroll at Boston College in the fall of 2008 after heading back to Westminster Prep for the upcoming season.
"I grew up watching the Bruins, watching NESN, and I'm going to BC in a couple of years," Cross said. "It's great to have the Boston connection and it's a great day."
The team that Boston exchanged picks with, the Chicago Blackhawks, went three spots later and selected Colorado College forward Billy Sweatt with the 38th overall pick. Sweatt was born in Lombard, Ill. and raised in Elburn, Ill. Like Cross with the Bruins, Sweatt was a fan of the Blackhawks as a youngster.
"I was really happy the Blackhawks took me. It's a hometown team. I love the city of Chicago, so it's a great day," Sweatt said. "It's definitely an honor and it's definitely a dream come true to play in the greatest city alive."
Waiting until the second day of the draft was not a problem for these players, who now have the opportunity to pursue a professional career with franchises and in cities that they've admired throughout their lives.
SEEN AND HEARD AT NATIONWIDE ARENA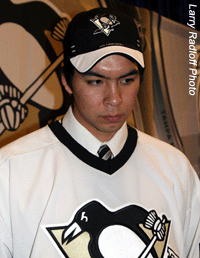 Michigan Tech recruit Casey Pierro-Zabotel
• Michigan Tech fans are naturally excited about forward Casey Pierro-Zabotel, the program's most highly anticipated recruit in ... well, in a long, long time. There's a stumbling block that could keep him from donning a Huskies sweater, however.
Earlier this week, INCH learned that Pierro-Zabotel, who played for the British Columbia Hockey League's Merritt Centennials and was selected by Pittsburgh Penguins in Saturday's third round with the 80th overall pick, has yet to achieve a qualifying score on his SAT.
"I think I'm just going through the [NCAA] Clearinghouse right now, and I should be fine," Pierro-Zabotel said. "I got my ACT and SAT scores in last week."
If Pierro-Zabotel fails to qualify academically, he'd have to wait until October to retake both the ACT and/or the SAT
• While most of the cheers from the crowd attending the draft were reserved for picks made by the Columbus Blue Jackets, the Calgary Flames drew a nice round of applause after announcing the organization was taking "future Ohio State forward C.J. Severyn" with the sixth pick in the seventh round (186th overall). The Nationwide Arena deejay, picking up on the Buckeye connection, quickly flipped the McCoys classic "Hang On Sloopy" onto the rink's public address system. "Sloopy," the state of Ohio's official rock song — this is not a joke — is a favorite at OSU athletic events when performed by the Bucks' bands.
• And speaking of Columbus residents … Former Buckeye David Steckel, a likely NHLer for the Washington Capitals for the 2007-08 season, was on hand Friday night for the first round at Nationwide Arena and hung out at the Caps' suite, greeting first-round pick Karl Alzner and socializing with team officials. Steckel was a first-round pick of the Los Angeles Kings in 2001.
• T.J. Galiardi enjoyed a successful freshman year at Dartmouth, finishing second on the Big Green in scoring only behind Hobey Baker finalist David Jones. Galiardi will not return to Dartmouth next year, and expects that he'll sign a pro contract and play in the American Hockey League for the Avalanche's affiliate in Cleveland, the Lake Erie Monsters. "My plan is to play next year in the AHL and if that doesn't work out I'll go wherever they want me," Galiardi said.
• Back in the day, the NHL granted the Montreal Canadiens exclusive rights to players within a 50-mile radius of the city, allowing Les Habitants to stockpile Francophones such as Maurice and Henri Richard, Jean Beliveau and the like. Toronto had a similar arrangement. One must wonder if Dallas has such rights to skaters from Virginia, a small town on Minnesota's Iron Range. Two years after taking Matt Niskanen, the former Minnesota Duluth defenseman who hails from the city, in the first round, the Stars tabbed Nico Sacchetti, a Minnesota-bound forward from Virginia, in Saturday's second round.
• Fans attending this year's draft could sound off on just about any topic via instant messaging. Texts sent to a special number scrolled continuously along the bottom of the Nationwide Arena scoreboard. Among the more memorable college-themed notes were "Hey Darcy, don't trade Drury" and "Hey Darcy, sign Jason Blake," directed at Buffalo Sabres general manager Darcy Regier and referring to Chris Drury, the ex-Boston University star, and Blake, the former North Dakota standout and New York Islanders free agent.
The best, however, was a message that read "Congratulations Chris McAlpine on being selected by the NJ Devils." McAlpine was drafted by the Devils ... in the seventh round of the 1990 NHL Draft. The former Minnesota Golden Gopher played in 289 NHL games with nine different teams over the course of his 10-year professional career. He currently runs a Twin Cities-based strength and conditioning program.