February 7, 2006
From The Heights to NHL Bright Lights
Former BC star Alberts making an impact with the Hub's pro hockey team
By Jeff Howe
He walked out of the FleetCenter on March 19, 2005, clad in maroon and gold. He was a college student, responsible for going to classes, taking tests and writing papers. But at the same time he had just been crowned a conference champion, and he was barely one night removed from unleashing an ungodly double-overtime slapshot that blistered through the Maine defense and ended Jimmy Howard's Hockey East career.
The next time Andrew Alberts walked through that building's doors – about seven months later, on Oct. 5 – he wouldn't be suiting up against UNH. Rather, it would be the Montreal Canadians; his teammates weren't fellow undergrads, but co-workers with names like Joe Thornton, Brian Leetch and Sergei Samsonov. Even the name of the building had changed, as the FleetCenter fell victim to corporate America, and the mass of concrete adjacent to I-93 was now the TD Banknorth Garden.
Alberts' life was certainly different, but he was living his boyhood dream. He was a Boston Bruin.

Taking it all in
When Boston College's season came to an end as the result of a 6-3 NCAA quarterfinal loss to North Dakota on March 26, the 6-foot-4, 218-pound defenseman made the short ride south to join the Providence Bruins, the AHL affiliate of the Boston club that selected him in the sixth round of the 2001 NHL Entry Draft, for the remainder of their season.
Alberts played in eight of Providence's regular season games down the stretch and all 16 of the Baby B's postseason contests, in which he added a goal and four assists – his first professional points. And he did all of this while finishing up his degree in Chestnut Hill.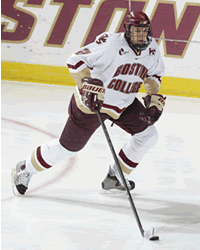 Outside of a handful of games with the AHL's Providence Bruins, Andrew Alberts made the leap from Boston College directly to the NHL.
"It was a weird transition," Alberts says. "The commute back and forth to go to school to finish up my degree and to go down to Providence to play in the playoffs was a big change for me. But it was exciting to play pro hockey and to be playing at the highest level at that point."
It was an equation the normal college student shouldn't have been able to solve. He kept up with his coursework while making the adjustment to an advanced league where the players were bigger, faster and stronger. And two-thirds of the games in which he played were in a professional playoff atmosphere – an intense situation for a young defenseman in a brand new world.
But he was, in fact, able to adapt in part because he felt so comfortable in Providence. Less than an hour from Boston, he wasn't completely displaced while playing in the city of his newest club. And once he caught up to speed on the ice, he started to play well and fit right in with the defensive system. He was beginning to catch the eyes of the Beantown brass, so when the NHL lockout officially ended and Alberts carried his strong play into training camp the following season, the BC alum earned a spot on the Boston roster.
"That was huge for me going into training camp," Alberts says of playing close to his college home. "It was my first time being [in camp], but I knew the city, and if I wanted to go see people, I knew where I was going. I tried to help out the other guys who came in here and didn't know where they were going. To be in a city where people know you is nice, too. It was just nice to be in the same city where you played in college."
It seemed like he was starring in his own episode of "Cheers".
Filling a role and finding a role model
The fifth night of October finally came. The Bruins had a date with their most storied rival, les Habitants, on the first night of professional hockey at the Garden in nearly two years.
Alberts and the B's ended up dropping a 2-1 decision that night – it would become a familiar tune throughout the first half of the season, but Alberts wasn't familiar with the words to the losing dirge.
"Even in Providence, we had a lot of success in the playoffs so it's a big change," Alberts says. "All you can do is to keep on working and take it one day at a time. We've just got to stay positive, keep a good frame of mind and just go back to practice the next day to see if we can turn it around."
Staying level-headed at a young age is the mark of an athlete who is wise beyond his years, and it's a characteristic that Jerry York, Alberts' coach at Boston College, was accustomed to seeing. But through the adversity of playing for a losing team, Alberts kept everything in perspective. He had to focus on getting better, which would obviously help his team's depleted defensive corps and keep him up in Boston rather than down in Providence.
PHAT ALBERTS

Andrew Alberts
6-4 • 218
Defenseman
Edina, Minn.

• Selected by Boston in Round 6 of the 2001 NHL Entry Draft
• Two-time NCAA East All-America selection (2004 and 2005).

Year
Team

GP

G-A--P

PIM

2001-02
Boston College

38

2-10--12

52

2002-03
Boston College

39

6-16--22

60

2003-04
Boston College

42

4-12--16

64

2004-05
Boston College

30

4-12--16

67

2004-05
Providence (AHL)

24

1-4--5

56

2005-06
Boston

49

0-2--2

53
Improvement had never been a problem for the stud defenseman; not in juniors, not in college and not in the pros. He always had the raw physical skills to play at each level of the game but when he arrived at BC, York knew he needed to refine a couple areas of his game and also make sure Alberts could think the defensive game as the pace quickened.
"With us, he improved his positional play and he improved his puck skills," York says. "Those were two of the major improvements that he had to make to go to the next level. He can get by a little bit with his size, strength and skating ability, but to become a dominant player in college and go to the NHL, his puck skills had to get better and so did his positional play, and I think he improved in those areas. He just kept getting better and better."
And he's done the same this year. Bruins coach Mike Sullivan has kept Alberts on the top penalty-killing unit of late, and for good reason. He is a solid stay-at-home defenseman who excels at clearing the puck, and the kid simply knows how to lay the wood on opposing forwards.
Alberts has found himself a steady home protecting the crease in front of the Bruins' goaltender du jour, be it Andrew Raycroft, Hannu Toivonen or Tim Thomas, whether the team is a man down or at even strength. Against Los Angeles on Jan. 12, Alberts did an exceptional job stifling the Kings' offense, which exploded for six goals that night – none of them were scored with Alberts on the ice.
In the second period, with Boston trailing 2-0 and trying to kill off another penalty, Luc Robitaille found the puck while it was dangling in front of Raycroft, but Alberts was there to outmuscle the future Hall of Famer, take the puck away and send it down the ice to keep the game within reach.
The rook could have missed the play, chalked it up to inexperience and forgotten it ever happened, which would have been easy to do since the Bruins faced an embarrassing 6-0 loss in front of their home crowd that night.
But that obviously wasn't the case. You don't make mistakes in this league if you want to stick around for long, especially with veterans in the locker room like Brian Leetch, Nick Boynton and Hal Gill.
As intimidating as it may sound to impress players with the résumés of his fellow blueliners, they have done more to bring him along than anything else, whether it be on or off the ice.
"I play more of a style like Nick or Hal so I talk to them a little bit more often," Alberts says. "But if I have a question, Brian is always there to answer it for me or give me a pointer during a game if he saw something that I didn't see. To have someone like him, a future Hall of Famer, is pretty nice.
""We need to try to be a positive influence on any mistakes, show him the right thing to do on the ice and remind him what to do," Leetch says. "His off-ice work habits are great. That is one area you don't have to worry about. On ice, it's just reminders that he needs to try to do the right things.
"But it's a new league, a new system and we just need to try to be a positive for him. We've got Ray Bourque (as a team consultant) here for all the home games and home practices so that is the biggest thing. It's not easy being a rookie, and the way our team is set up right now, we are relying on him to play a lot."
Remember your roots
He has received praise from legendary defensemen and confidence from his coach. He has traded class for cash, understood the business of a blockbuster trade and played on the biggest of stages in front of a national television audience.
But he hasn't given himself a nickname, taken time off to start up a rock band, demanded money for autographs or shunned his former teammates at his alma mater.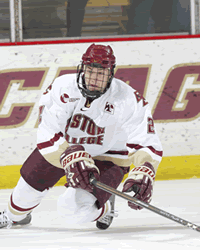 Though he's now a Bruin, Alberts is a frequent visitor to Boston College practices and games.
The Andrew Alberts of right now is the same Andrew Alberts who walked into The Heights as a wide-eyed freshman five years ago. He still goes to BC games and practices, chats with Coach York and helps out the new crop of freshmen, who look at him like the celebrity he'll never let himself become.
From their perspective, Andrew Alberts is everything they hope to be in a few years. He once picked up a stick and pictured himself in a sold-out NHL arena like they did, only he now lives that childhood dream while they continue to work for it. But even though they are the ones watching him on NESN wearing the same "B" that Bobby Orr, Cam Neely and Phil Esposito – whose plaque hangs above Alberts' locker – once wore, you'd never know it.
"His personality is rock steady," York boasts of one of his favorite former players. "He is a Boston Bruin when he steps into the locker room. There is a certain aura about that, but he is such a down-to-earth guy. He doesn't get out of whack at all. It's not like he's in the NHL now so he can't come to visit us. He has no ego. He is just a terrific young guy, and he is taking it in stride."
The Garden's Causeway Street doors know Alberts very well, as they have been the gateway to a number of his hockey achievements. He has walked through them as a Beanpot champion, a Hockey East champion, a Frozen Four participant and a National Hockey League rookie.
But none of that seemed to faze Andrew Alberts. He was walking through those doors to play the game he's always loved and – to him – that is the only thing that has ever really mattered.