November 15, 2005
Favoring Curry
Goaltender John Curry has found a home between the pipes at BU
By Jeff Howe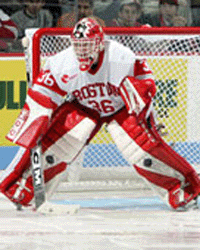 Junior John Curry has made his mark in Boston University hockey history.
John Quackenboss photo
BU University Relations
First, there was the young kid from Minnesota with Midwestern values just looking for a chance to play college hockey somewhere, anywhere.
Then, there was the Hall of Fame coach, the national champion, the legend who grew up in a small city outside of Boston and made his home just a few miles down the street on Comm Ave for the next 30-plus years.
The kid bounced around to the Taft School in Connecticut after heading east from Minnesota and then found himself at Boston University, without a scholarship but with the chance to take the ice under the guidance of that legend.
The chance, not the guarantee.
It didn't appear that these two should have even had the chance to cross paths, but now the player, John Curry, and the coach, Jack Parker, will go down in every hockey history book together, just like they were a perfect match all along.
Curry showed his worth as a goaltender, and the walk-on promptly stepped into the scene to follow the footsteps of Terrier netminders like Sean Fields and Rick DiPietro.
And during his year-long stint as the full-time starter, Curry is starting to create some footsteps of his own.
The first Friday in November, with BU on the heels of a two-game losing streak and having blown a 2-0 lead at then-undefeated Vermont, Curry and the rest of the Terriers stepped up their game and promptly finished off a 4-2 upset. And though it was a win that may have provided the jumpstart this team needed, the game's outcome carried a little more significance with it than just that.
It was Parker's 300th Hockey East victory on the Terrier bench, making him the only person in the hockey world who can make that claim.
This isn't the only milestone Parker has reached in the last 12 months, though. On Dec. 3, 2004, the Terriers overcame a 2-1 deficit to knock out hated Boston College, 3-2, giving Parker career win number 700.
And exactly one month after that, on Jan. 3 of this year, the Terriers rang in their brand new $95 million dollar Agganis Arena with a 2-1 victory over Minnesota.
Fittingly, Curry recorded the win in each of those games, too. Not bad for a kid who was paying his own way to BU while trying to find the time to shore up his goaltending skills so he could create an opportunity to earn some ice time.
"That is one of the coolest things," Curry said. "You hear stories about guys who played in the '90s and the '80s, and you start to realize that people might be saying that about you when you leave, depending on what you leave behind here.
"Obviously, Coach Parker's legacy is going to be talked about, and certain games and certain instances like his 300th [Hockey East] win and 700th [overall] win, Beanpot titles; just to be a part of that and to have your name mentioned in the same sentence is pretty cool."
And it's not like Curry picked up those wins by default. He was spectacular in the three games, only allowing a total of five goals while making 64 stops. Like all great players, Curry came up with big plays when it mattered most, stopping 20 of those shots in the third period and not allowing a single puck past him during each of the game's final frames.
His 10 saves during the third period against Vermont were a big reason the Terriers were able to rebound with a win following two lackluster efforts in losses to Renssalaer and Lowell.
"[That] weekend was what we had grown accustomed to see him playing the year before when he was very solid, not only by not giving up many goals, but the way he handled the puck, how he was handling rebounds and how poised he looked around his own net," Parker said. "It was nice to see him back to form, and we certainly hope that continues."
Following a Hockey East semifinal shellacking at the hands of New Hampshire and soon after a first-round exit in the NCAA Tournament by way of a loss to North Dakota in Worcester, just 45 miles west of Boston, the Terriers lost freshman sensation Chris Bourque to the Washington Capitals' organization in the offseason and proceeded to drop two of their first three games this season. Needless to say, there was some cause for concern moving into November with the Catamounts and Black Bears on their weekend menu.
After the win over UVM, the Terriers traveled north to Alfond Arena, where Maine hadn't lost a game in 366 days, a place the team recently swept two-time defending national champion Denver. Curry did his part with 37 saves – 19 in the third period – and the offense did just enough to give BU a 2-1 win and a big weekend sweep of two teams that were ranked nationally in the top-10.
"Individually, for everyone on the team, we knew it was a confidence booster because we knew we had a good team, but we had yet to prove it to ourselves," Curry said of the pair of wins.
Though the weekend gave the Terriers the kick start they needed as they head deeper into their Hockey East schedule, it added more to the BU tradition than anything.
"Three hundred wins is huge," Curry said. "It's really cool to be in the net for stuff like that, even the 700th win last year against BC and the first game in the new rink. That stuff is going down in history, so it's pretty cool to be a part of that."
To think, the kid from 1,400 miles away, who grew up a Minnesota Golden Gophers fan, finds his way into the heart of one of the busiest cities on the east coast, eventually to find himself right in the center of one of the most successful collegiate athletic programs ever.
And he is enjoying every moment of it. Why shouldn't he? He didn't know if he would even have the chance to succeed at the next level, let alone have the opportunity to lay his own prints into Terrier hockey record books. So while Jack Parker, the man who gave him that chance, is continuously captaining the BU ship to great things, take a look at John Curry, the former walk-on who is having a great time just being able to take the ride.