January 17, 2006
Infallible Fallon
By Jayson Hron
USA Hockey has made the production of American goaltenders a focal point, barring non-Americans from crease duty in the United States Hockey League, its top development league, since 2003. The resulting crop of highly-trained talent has enjoyed considerable success and notoriety, except for Vermont sophomore Joe Fallon who has savored much of the former and almost none of the latter.
A quiet northwestern Minnesota native, Fallon leads the nation in shutouts with six and, since December, boasts a pair of shutout streaks that exceed 130 minutes. His .926 saves percentage and miniscule 1.48 goals-against average are among Hockey East's best, as are his 13 victories. Certainly there are more highly publicized American goaltenders, but none share space in Fallon's elite statistical stratosphere.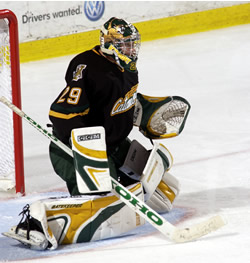 Fallon needed just 52 games to break UVM's record for career shutouts.
Of course, you won't hear any of this from him. As previously mentioned, the 20-year-old from Bemidji maintains a low profile and an exceedingly humble demeanor. If not for the occasional plug from USHL or University of Vermont publicity types, he'd be the anonymous shutout guy, cheerfully extolling his teammates' virtues.
"They're blocking a lot of shots," he said. "It's just hard work by them in front of the net."
While that's certainly the case – the Catamounts are surrendering fewer than 20 shots per game – much of the credit should still find its way to Fallon, whose razor-sharp play has made Vermont's transition to Hockey East a resounding success. It was that transition, in fact, that helped the Catamounts land Fallon during his final season with Cedar Rapids.
"I wasn't sure about Vermont at first," he said. "But when I found out it was moving to Hockey East, I thought it would be a good fit."
No stranger to playing far from home, Fallon has displayed an instant comfort level in the Green Mountain State attributable in part to his junior hockey experience. At 17, he left Bemidji High School and joined the USHL's Rochester Mustangs.
"It's kind of a long story," Fallon said of his decision. "I went to a tournament in Toronto and then I was drafted by Seattle in the WHL, so I went to their camp, but I wanted to go to college.
"To get there, I knew I needed to take the next step and not stay in high school. I needed to get better. So I called Steve Ross in Rochester, he gave me an opportunity to start a game in the Buc Bowl against Cedar Rapids and I ended up getting a shutout."
The rest was history. He played 27 games with a very poor Mustangs club and then, in a strange bit of coincidence, was shipped to his original nemesis, Cedar Rapids. He played two seasons with the RoughRiders, polishing his game and enhancing his draft status with 45 total victories and six shutouts. It was in Cedar Rapids that he first was approached by the Vermont coaching staff.
"Playing there gave me a chance to get a college scholarship," said Fallon. "It was great. Great program, great teammates and a lot of hard work, but in the end, it paid off."
Fallon showed signs of brilliance immediately with Kevin Sneddon's Catamounts, posting 17 wins, five shutouts and a 1.96 goals-against average as a freshman. It was a debut not lost on the Chicago Blackhawks, who made Fallon their ninth pick overall in the 2005 NHL Entry Draft. One season later, Chicago's decision is looking better by the day.
"Joe is a big kid who covers a lot of net and we like what we see," said Blackhawks general manager Dale Tallon. "He's been playing very well and we certainly consider him to be a future prospect in the Blackhawk organization. It doesn't matter what league you're in, when you have a goals-against of under two and a save percentage of about 92 percent, you're having one heck of a season. We think Joe has a very bright future."
So do the nationally-ranked Catamounts, who watched Saturday as the seeming infallible Fallon established a new school record for career shutouts with 11, eclipsing in 52 appearances a mark that Tim Thomas, now with the Boston Bruins, used 140 games to build from 1993-97. It was Fallon's second shutout in as many nights, but shutouts only tell a portion of the story. The record book carnage extends to victories, goals-against average and saves percentage as well, with Fallon already nearing eighth place in career wins at Vermont and first in goals-against average and saves percentage – a remarkable run to say the least, and one that Fallon humbly shrugs off with a nod to his program.
"It's quite an accomplishment for our team to do this in just a year and a half," he said. "And Coach Sneddon's system has allowed us to play very well defensively."
So says the anonymous shutout guy.