April 30, 2006; UPDATED: May 3, 2006
INCH Flight Risks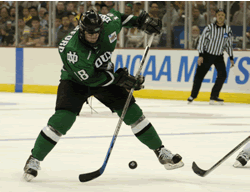 Drew Stafford will have the opportunity to join Buffalo's talented core of young forwards next year. (Photo by Sam Cooper)
Anyone with hopes that the NHL's new collective bargaining agreement would lead to fewer early departures from the college ranks got a rude awakening as seasons ended in March and April.
Ten underclassmen were among those to make the jump to pro hockey before the NCAA championship was even played.
That number is sure to climb as we hit the NHL Entry Draft and the league's salary cap is established for the 2006-07 season. It leads to an anxious offseason for players considering the leap to pro hockey, and perhaps even moreso for the coaches who would have to fill their shoes if they depart.
With that in mind, Inside College Hockey takes its annual look at a collection of players who are potential Flight Risks:
Player, School (NHL Rights)
The Skinny
Mike Eaves, Wisconsin
A coach graces the INCH Flight Risks for the first time, and why not? There may not be a hotter coaching commodity than Eaves, who led the Badgers to the national championship and will spend May guiding the U.S. entry in the World Championship. He's already won gold at the World Junior Championship and Under-18 Championship to go along with his Wisconsin hardware. Add in his NHL assistant coaching experience and although Eaves says he's happy in Madison, logic tells us that he'll at least have an offer or two to entertain this summer.
Brian Boyle, Boston College (Los Angeles Kings)
Sure, earlier this month he said he was returning to the Heights for his senior year. But that was before the Kings hired Dean Lombardi to serve as president and general manager. Regardless of who Lombardi picks to coach the club, it's clear the Kings will retool around younger players like Alexander Frolov and former Michigan standout Mike Cammalleri. Expect the Kings to make another run at signing Boyle and giving him the chance to stick with the big club immediately.
Andrew Cogliano, Michigan (Edmonton Oilers)
Cogliano had a good – not great – freshman season with the Wolverines, scoring 12 goals and adding 16 assists in 39 games, so it seems natural for him to spend another year in Ann Arbor. Besides, the Edmonton organization typically trusts its prospects to develop in the college ranks and the team is flush with young forwards (11 of the 16 forwards on the Oilers' playoff roster are under 30).
Brian Elliott, Wisconsin (Ottawa Senators)
The Senators don't need to rush a goaltender to the NHL level – Ray Emery seems ready to take the reins once Dominik Hasek's groin vaporizes once and for all – and Elliott has said all the right things about coming back. Still, he doesn't have anything to prove at the college level, and goalies almost universally need a year or two of AHL seasoning. A change of heart wouldn't be a shock.
Alex Goligoski, Minnesota (Pittsburgh Penguins)
A proven scorer, Goligoski scored 39 points last season after putting up 20 points during his freshman campaign. If there's one squad that isn't looking to get any younger, however, it's Pittsburgh. Ex-collegians Brooks Orpik and Ryan Whitney played significant minutes for the Pens this season, and former Harvard standout Noah Welch will likely make the leap to the parent club in 2006-07. Gopher fans should have Goligoski to cheer for at least one more season.
T.J. Hensick, Michigan (Colorado Avalanche)
Hensick's immediate future has less to do with his pro prospects as much as it does the Avalanche organization. The Avs share an American Hockey League affiliate with the Carolina Hurricanes, which makes player development a dicey proposition – just ask Edmonton about its sometimes frosty partnership with Montreal in Hamilton, Ontario. Unless general manager Pierre Lacroix believes Hensick can grab a roster spot with the Avs, he's probably better off staying put.
Erik Johnson, Minnesota (Draft eligible)
This is a first, trying to assess the future of an undrafted player who has yet to play a college game. But Johnson is a rarity. The consensus top pick in June's entry draft, most scouts believe he can step into an NHL lineup immediately. If the prevailing sentiment plays out, he'd end up property of the St. Louis Blues, a woeful team with a decent defensive corps – Christian Backman, Barrett Jackman, Dennis Wideman and Jeff Woywitka are all 25 or younger, and the team isn't likely to dump veteran Eric Brewer. There's still room for Johnson, but he seems generally interested in giving the college game a try for at least one season.
Jack Johnson, Michigan (Carolina Hurricanes)
Johnson was lambasted in a Hockey News editorial earlier this month for turning down Carolina's offer to step into the 'Canes' lineup for the tail end of the regular season and the Stanley Cup playoffs. Is he nuts for passing on what might have been his best chance to win the Cup? Maybe, but The Hockey News and other critics fail to address one scenario: that Johnson is enjoying himself in Ann Arbor. Carolina will certainly try to sign him prior to the start of next season and once Johnson decides to turn pro, he won't spend one second in the minors. Regardless of which way he decides to go – and you'd have to give coming back for his sophomore season the edge at this point in time – Johnson seems to be holding all the cards.
Phil Kessel, Minnesota (Draft eligible)
Even though he's no longer considered the automatic No. 1 pick in June's draft, Kessel had a fine freshman season in light of the outlandish expectations that preceded him to Minnesota. He'll be one of the first five players chosen. He'll get a max deal whenever he opts to sign a pro contract. And he'll step right into the NHL when that happens. Kessel's dilemma may be this: does he want to be the focal point of the Gopher offense next season with Minnesota fans will scrutinizing his every shift? If the team falters, he becomes the whipping boy. Or does he end up playing in, say, Washington, where he could enjoy the relative anonymity of being a Capital in D.C. and setting up Alexander Ovechkin for a 150-goal season?
Brian Lee, North Dakota (Ottawa Senators)
When Ottawa selected Lee ninth overall in last year's draft, Senators general manager John Muckler said he expected the Moorhead, Minn., native to be one of the team's top four defensemen by the 2007-08 season. That plan may be accelerated depending on what happens to blueliners Zdeno Chara and Wade Redden, both of whom are unrestricted free agents after the season. It's highly unlikely the Sens will be able to keep both in the fold given the market for 29-year-old No. 1 defensemen able to play 25+ minutes a night. If both Chara and Redden bolt, the urgency to get Lee into the fold grows.
Jonathan Matsumoto, Bowling Green (Draft eligible)
Though Matsumoto is a proven scorer (82 points in 78 games over two seasons with the Falcons), he's not all that highly regarded by the NHL's Central Scouting Service, which ranks him 117th among the 210 North American skaters listed in its final pre-draft ratings. As a mid- to late-round pick, it's unlikely that the team that selects him would place a high priority on signing him. From a financial perspective, Matsumoto may be best served by not getting drafted, putting up another 20-goal, 50-point season at BGSU in 2006-07, then testing the free agent market next spring.
Drew Miller, Michigan State (Anaheim Ducks)
With Kunitz, Perry, Getzlaf and Penner, the no-longer-mighty Ducks have a wealth of young talent up front. As those guys solidify NHL jobs, however, it creates vacancies at the AHL level, and Miller could be seen as an ideal fit. His brother, Ryan, left early and was stuck in the minors thanks to a logjam of talent ahead of him.
UPDATE, May 3: Another of East Lansing's favorite sons leaves early, as Miller has signed with the Ducks and will forgo his senior season with the Spartans.
Matt Niskanen, Minnesota Duluth (Dallas Stars)
Niskanen is very highly regarded for his pro potential, and after a frustrating season in Duluth (on a team level, at least), he might be eager to get started on the next stage of his career. Just a year out of high school hockey, he's not ready for the NHL, but he could join former Bulldog Junior Lessard in the Stars' system and hear tales of happier times at the DECC.
T.J. Oshie, North Dakota (St. Louis Blues)
Oshie's selection in the first round last summer raised eyebrows, but then he elevated his game. He was a force as a freshman, when most assumed he'd be playing junior hockey. Who's to say he couldn't also make the jump to the pros earlier than expected? St. Louis, with plenty of room to improve, has a new ownership group that will get to make the call on Oshie's immediate future.
Scott Parse, Nebraska-Omaha (Los Angeles Kings)
Breaking up is hard to do, and you can't blame Parse if he gazes longingly to the west after Bill Thomas' departure. He may not have been checking out Thomas' debut with the Phoenix Coyotes, but rather the Los Angeles general manager situation. New GM Dean Lombardi's take on the talented Mavericks' center should determine whether he joins Thomas in the pro hockey ranks.
Joe Pavelski, Wisconsin (San Jose Sharks)
Few organizations have mined the college ranks as successfully as San Jose, which boasts defensemen Tom Preissing (Colorado College) and Matt Carle (Denver) on its top two power-play units. The Sharks may not rush Pavelski out – they were patient with those two – but his all-around game is remarkably polished for a college sophomore.
Sasha Pokulok, Cornell (Washington Capitals)
The Caps used the 14th pick in last year's draft to select Pokulok, whose development seemed to stagnate during his sophomore campaign. Washington certainly doesn't need to get any younger – the team's off-season focus will likely center around adding veterans to its lineup. That said, the organization may feel that it can better facilitate Pokulok's growth into a future top-four defenseman by signing him and monitoring his progress in the American Hockey League.
Cory Schneider, Boston College (Vancouver Canucks)
Given its goaltending – ahem – situation, it's remarkable that the Canucks didn't kidnap Schneider while he was in town for the World Junior Championship. They can probably lure him back with a hefty signing bonus and the opportunity to make NHL money right away.
Drew Stafford, North Dakota (Buffalo Sabres)
Nine of Stafford's fellow 2004 first rounders made their NHL debuts this year, and watching him, it's hard to believe he's far from joining them. He will get a chance to showcase his skills at that level (or at least close to it) when he plays for Mike Eaves in May at the IIHF World Championship. Stafford seems to fit perfectly in Buffalo's model of fleet-footed, skilled forwards.
UPDATE, May 3: Stafford is in Europe, but has already signed a deal with Buffalo, becoming the third North Dakota player to leave early this offseason.
Paul Stastny, Denver (Colorado Avalanche)
The 2004 championship game was Stastny's coming out party – now the Pioneers hope he helps them take another run at a title, rather than coming out for good. His older brother, Yan, is in The Show after leaving Notre Dame early, and after winning the WCHA scoring title, Paul may be ready for the drive across town to join the Avs.
Jonathan Toews, North Dakota (Draft eligible)
Toews tells North Dakota that he's not going anywhere, but that's easy to say when there's nowhere to go. Once he's a top-five draft pick he'll have an attractive option, although he may be surrounded by more pure talent on the Sioux's front line than he would with a minor league team of an NHL bottom feeder.