UPDATED: August 17, 2006
INCH Flight Risks: The Second Leg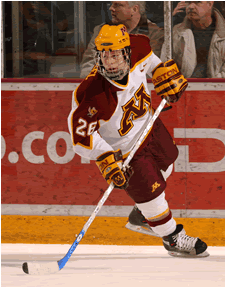 Phil Kessel signed a multi-year contract with the Boston Bruins in August.
Anyone with hopes that the NHL's new collective bargaining agreement would lead to fewer early departures from the college ranks got a rude awakening as 16 underclassmen made the jump to pro hockey before Memorial Day.
Now that the 2006 NHL Entry Draft is history and the league's salary cap for the upcoming season has been established, that number could climb. All in all, the next two months leading up to the start of pro training camps may be an anxious time for players considering the leap to pro hockey, and perhaps even moreso for the coaches who would have to fill their shoes if they depart.
With that in mind, Inside College Hockey takes a refocused look – call it version 2.0, as its been reshuffled to take into account the draft, the salary cap increase and the free agency situations of a number of NHL clubs – at a collection of players (and one coach) who are potential Flight Risks:
Player, School (NHL Rights)
The Skinny
Mike Eaves, Wisconsin
With every NHL coaching vacancy filled as of June 29, when the Bruins hired Dave Lewis, Badger fans can likely breathe a sign of relief for at least one more season. Still, there are a few people who feel Eaves is the best coach not in the NHL. His strong showing behind the U.S. bench with a largely unheralded cast at May's IIHF World Championships is another bullet point on the resume. Eaves says he's happy in Madison, but the allure of winning a Stanley Cup and (perhaps) coaching the 2010 U.S. Olympic hockey team might be too strong to ignore.
Brian Boyle, Boston College (Los Angeles Kings)
This spring, Boyle said he was returning to the Heights for his senior year. But that was before the Kings hired Dean Lombardi to serve as president and general manager. It's clear the Kings will retool around younger players like Alexander Frolov and former Michigan standout Mike Cammalleri – witness the draft-day trade that sent Pavol Demitra to Minnesota for Patrick O' Sullivan. Expect the Kings to make another run at signing Boyle and giving him the chance to stick with the big club immediately.
Andrew Cogliano, Michigan (Edmonton Oilers)
Cogliano had a good – not great – freshman season with the Wolverines, scoring 12 goals and adding 16 assists in 39 games, so it seems natural for him to spend another year in Ann Arbor. Even though the defending Western Conference champions have a number of key forwards eligible for unrestricted free agency (Radek Dvorak, Mike Peca, Fernando Pisani and Sergei Samsonov among them), Cogliano is still a year or two away from competing for a spot on the Edmonton roster.
Brian Elliott, Wisconsin (Ottawa Senators)
The Senators don't need to rush a goaltender to the NHL level – 23-year-old Ray Emery seems ready to take the reins from Dominik Hasek, who may or may not be back as an unrestricted free agent. Elliott has said the right things about coming back, but he doesn't have anything to prove at the college level, and goalies almost always need a year or two of AHL seasoning. A change of heart wouldn't be a shock.
Alex Goligoski, Minnesota (Pittsburgh Penguins)
A proven scorer, Goligoski scored 39 points last season after putting up 20 points during his freshman campaign. If there's one squad that isn't looking to get any younger, however, it's Pittsburgh. Ex-collegians Brooks Orpik and Ryan Whitney played significant minutes for the Pens this season, and former Harvard standout Noah Welch will likely make the leap to the parent club in 2006-07. Gopher fans should have Goligoski to cheer for at least one more season.
T.J. Hensick, Michigan (Colorado Avalanche)
Hensick's immediate future has less to do with his pro prospects as much as it does the Avalanche organization. The Avs share an American Hockey League affiliate with the Carolina Hurricanes, which makes player development a dicey proposition – just ask Edmonton about its sometimes frosty partnership with Montreal in Hamilton, Ontario. Unless the Avs brass believes Hensick can grab a roster spot with the big club, he's probably better off staying put.
Erik Johnson, Minnesota (St. Louis Blues)
The consensus among NHL scouts is that Johnson is a better player than Chris Pronger when he was an 18-year-old. That said, Bob McKenzie of Canadian sports network TSN makes a great point – the Blues are in the midst of an ownership change and the upheaval that accompanies it, and they're not going to compete for the Stanley Cup this year. Do you bring Johnson in for a chaotic first year under the new regime, or wait and let that seven-year unrestricted free agency clock start ticking a year later? Johnson is good enough to make the jump, but it may be in his best interest – and that of the Blues – to give the college game a try for at least one season.
UPDATE (July 7): Johnson and the Blues agreed that it was his best interest in going to Minnesota and trying to get to St. Louis by April – for the Frozen Four.
Jack Johnson, Michigan (Carolina Hurricanes)
It's hard to imagine a situation more curious than this one. A source told INCH that Carolina brass was steamed that Johnson twice rebuffed the team's efforts to sign him even though he would've walked into the 'Canes lineup immediately. In hindsight, Johnson might regret not bolting Ann Arbor for a chance to get his name on the Stanley Cup – Glen Wesley may have a thing or two to say about seizing opportunity – but he seems OK with returning to the Wolverines for another year. The 'Canes will certainly try to sign Johnson prior to the start of next season, especially considering four of the team's top six defensemen are unrestricted free agents.
Phil Kessel, Minnesota (Boston Bruins)
SIGNED with Boston (August 17): It's been a tumultuous off-season in the Hub of Hockey. New general manager, new coach, no more Harry Sinden and an influx of new players, the latest being Kessel, the team's first-round pick in June's NHL Draft. Given the fact that Phil the Thrill has been skating in the spotlight for the better part of two years, he may prefer playing in relative anonymity alongside the likes of fellow B's newbies Zdeno Chara and Marc Savard. It's likely Kessel will find a home on one of the team's top two lines, perhaps alongside veterans Savard and Glen Murray.
Brian Lee, North Dakota (Ottawa Senators)
When Ottawa selected Lee ninth overall in the 2005 draft, Senators general manager John Muckler said he expected the Moorhead, Minn., native to be one of the team's top four defensemen by the 2007-08 season. That plan may be accelerated depending on what happens to blueliners Zdeno Chara and Wade Redden, both of whom are unrestricted free agents after the season. Assuming the Sens hang on to at least one of that pair and resign UFA Brian Pothier, they'll have six quality defensemen (Chara or Redden, Pothier, Andrej Meszaros, Chris Phillips, Anton Volchenkov and Christopher Schubert) in the fold. Expect Lee to stay put.
Jonathan Matsumoto, Bowling Green (Philadelphia)
Matsumoto is a proven scorer (82 points in 78 games over two seasons with the Falcons) and though he's not likely to don a Flyers sweater in 2006-07, it's a distinct possibility that he could sign and earn a spot with the Philadelphia Phantoms, the AHL affiliate. Most of the team's younger forwards debuted with the Broad Street Bullies last season – former Ohio State standout R.J. Umberger among them – so there are certainly holes to fill in the system. It wouldn't be a shock to see him depart.
Drew Miller, Michigan State (Anaheim Ducks)
SIGNED with Anaheim (May 3): With Getzlaf, Kunitz, Lupul, Perry and Penner, the no-longer-mighty Ducks have a wealth of young talent up front (as evidenced by the team's showing in this year's NHL playoffs). That influx of youth, however, creates vacancies at the AHL level. Miller, who proved to be one of the college game's top two-way players, played in one playoff game with the Portland Pirates, but was injured and missed the remainder of the postseason.
Matt Niskanen, Minnesota Duluth (Dallas Stars)
Niskanen is very highly regarded for his pro potential and after a frustrating season in Duluth (on a team level, at least), he might be eager to get started on the next stage of his career. Just a year out of high school hockey, he's not ready for the NHL. But the Stars' defensemen (Sergei Zubov, Phillipe Boucher, Jon Klemm and the recently acquired Jaroslav Modry) are getting long in the tooth, so the team may want Niskanen to continue his development under its watchful eye with its AHL team in Iowa. Our hunch is that he stays in the Twin Ports for his sophomore season.
T.J. Oshie, North Dakota (St. Louis Blues)
Oshie's selection in the first round last summer raised eyebrows, but then he elevated his game. He was a force as a freshman, when most assumed he'd be playing junior hockey. Who's to say he couldn't also make the jump to the pros earlier than expected? St. Louis has a new ownership group that will get to make the call on Oshie's immediate future, but the longer the team drifts in uncertainty (will there be a new general manager or a coach?), the less likely it is that Oshie bolts for the Blues.
Scott Parse, Nebraska-Omaha (Los Angeles Kings)
Breaking up is hard to do, and you can't blame Parse if he gazes longingly to the west after Bill Thomas' departure. He may not have been checking out Thomas' debut with the Phoenix Coyotes, but rather the Los Angeles general manager situation. New GM Dean Lombardi's take on the talented Mavericks' center should determine whether he joins Thomas in the pro hockey ranks.
Jordan Parise, North Dakota (free agent)
SIGNED with New Jersey (July 6) : Parise, North Dakota's career leader in goals against average (2.14) and save percentage (.921), gave up his final season of collegiate eligibility by signing a two-year contract with New Jersey. The move reunites Jordan with his younger brother, Zach, a first-round Devils draft pick in 2003 who scored 14 goals and 18 assists as an NHL rookie last season. Jordan, who compiled a 55-20-7 career record with the Fighting Sioux and helped the team to consecutive Frozen Four trips in 2005 and 2006, will likely start his professional career with New Jersey's American Hockey League affiliate in Lowell.
Joe Pavelski, Wisconsin (San Jose Sharks)
Few organizations have mined the college ranks as successfully as San Jose, which boasts defenseman Matt Carle (Denver) on its top power-play units and found forward Patrick Rissmiller at Holy Cross. The Sharks may not rush Pavelski out because they're fairly well stocked up front, but his all-around game is remarkably polished for a college sophomore. Also, Pavelski turned 22 on July 11 and he may be ready to embark on the next stage of his career.
Update (July 11): A source close to Pavelski told INCH that the Badger forward signed with San Jose, though no official announcement has been made. Wisconsin coach Mike Eaves told the Wisconsin State Journal earlier this week he expects Pavelski to bolt.
Sasha Pokulok, Cornell (Washington Capitals)
SIGNED with Washington (July 6): The hulking (6-5, 230) Pokulok agreed to contract terms with Washington, which chose him with the 14th overall pick in the 2005 NHL Draft. In two seasons at Cornell, the native of Vaudreuil-Dorion, Quebec, scored seven goals and added 16 assists in 23 career games. He was a member of the Canadian team that won the gold medal at the 2006 World Junior Championship in Vancouver, B.C. Polulok, who's expected to begin his pro career with the Capitals' American Hockey League affiliate in Hershey, is the second Cornell player this off-season to leave school early – junior goaltender David McKee signed as a free agent with Anaheim in March.
Brian Salcido, Colorado College (Anaheim Ducks)
SIGNED with Anaheim (Aug. 2): We didn't initially have Salcido on either of our Flight Risks lists, but perhaps we should have known better. He becomes the fourth player to leave early and sign with Anaheim this summer (joining Ryan Carter, Dave McKee and Drew Miller) and joins his hometown team just in time to avoid what shapes up as a real rebuilding year in Colorado Springs.
Cory Schneider, Boston College (Vancouver Canucks)
My, how this situation has changed since the end of the NHL regular season. Acquiring Roberto Luongo from Florida certainly solidifies the outlook in goal – especially since the Canucks have inked him to a four-year deal. Vancouver could sign Schneider and hand him the starting job with the team's AHL affiliate in Manitoba, if it feels Mika Noronen or Maxime Ouellet is a capable backup to Luongo. However, the Canucks might sign a veteran free agent to spell Luongo and stand pat with Noronen and Ouellet, or one of those two and a seasoned pro in the Wade Flaherty mode to hold the fort in Winnipeg for one more season.
Drew Stafford, North Dakota (Buffalo Sabres)
SIGNED with Buffalo (May 3): Stafford seems to fit perfectly in Buffalo's model of fleet-footed, skilled forwards. That's good, because the Sabres have a league-high 17 restricted free agents, some of whom – Daniel Briere, Tim Connolly, Toni Lydman and Ryan Miller – will be seeking hefty raises from last year. Even though general manager Darcy Regier has the right to match any offer made to an RFA and has stated he'll keep the entire lot in the fold, it's unlikely he'll be able to hang onto all of them for long. Stafford should find an opening with the big club in due time.
Paul Stastny, Denver (Colorado Avalanche)
The 2004 championship game was Stastny's coming out party – now the Pioneers hope he helps them take another run at a title rather than coming out for good. After winning the WCHA scoring title, Paul may be ready for the drive up I-25 to join the Avs. That said, Colorado's lineup returns virtually intact, save for rookie Wojtek Wolski replacing the recently traded Alex Tanguay. The team's minor leauge ranks are pretty thin, but the Avs share an AHL affiliation with Carolina, so stocking a farm club isn't a necessity.
UPDATE: Stastny signed July 24, joining Matt Carle as Pioneers to leave early this offseason.
Jonathan Toews, North Dakota (Chicago Blackhawks)
Toews tells North Dakota that he's not going anywhere, which is ironic, because neither are the Blackhawks. Because he's so big and so smart, it's easy to forget that he just turned 18 in late April. The Erik Johnson Theory may apply in Toews' case as well – since the 'Hawks are a long way from respectability, the team may be better off letting him stay with the Sioux, which keeps the clock that counts down the time to unrestricted free agency frozen for another year. Of course, that would make sense, so expect Chicago to do the opposite.
UPDATE: Toews has confirmed that he will be back for his sophomore season, turning down a contract offer from the 'Hawks.