October 13, 2005
Bobby's World
After a year in college hockey purgatory, goaltender Bobby Goepfert resurfaces at St. Cloud State
By Jayson Hron
Bobby Goepfert was never meant to be a footnote. Not after claiming back-to-back USHL Goaltender of the Year awards and certainly not after carrying Team USA to respectability at the 2003 World Junior Championship. Yet, as a new season begins, Goepfert is very much a footnote to the WCHA's prodigious crop of newcomers after being derailed on the track to stardom at Providence College two seasons ago.
Now at St. Cloud State, Goepfert is hoping to become a headliner again after a bewildering departure from Hockey East and one very long season without game competition in the Midwest.
"Bobby is kind of an unknown," said SCSU head coach Bob Motzko. "But you can see he's a pretty darn good goalie."
His former opponents agree. Ryan Geris, a former Minnesota Duluth standout, ranked him among the best he's ever encountered.
"We played against him several times when I was with Sioux City and I skated with him in the 2002 All-Star Game, so I saw my fair share of what he can do," said Geris. "He was the best goalie I ever faced in the USHL."
Posting a better save percentage (.937) than Marc-Andre Fleury and Kari Lehtonen at the aforementioned World Junior Championship only elevated Goepfert's status. But, at Providence, he was struggling off the ice.
"I was really rattled," he said. "I couldn't put a finger on what it was. I'd find myself sitting in my dorm room questioning whether that was where I really wanted to be."
A New York native, Goepfert only made one official visit prior to choosing Providence. It seemed right at the time. The Friars' coaching staff was the first to contact him and they called often. He believed in them. In retrospect, he wouldn't call that belief a mistake but he regrets not taking more time – and more visits elsewhere – before making a commitment.
"They talked to my mother. They talked to my girlfriend at the time. It really made me feel like they cared and that they were concerned about what was best for me," he said.
Upon arrival, things began to sour. He slumped emotionally and began skipping class. His 1090 SAT score couldn't carry him through missed study sessions and the Friar coaches were losing patience.
THE GOODS ON GOEPFERT


5-10 • 170
Junior
Kings Park, N.Y.

• Selected by Pittsburgh in Round 6 of the 2002 NHL Entry Draft
• 2002 USHL Player of the Year and Goalie of the Year

Statistics

W-L-T

GAA

Sv%

Cedar Rapids (USHL)

25-12-4

2.92

.916

Cedar Rapids (USHL)

27-16-5

2.04

.936

Providence

6-6-1

2.39

.924

Providence

15-9-3

2.53

.918
"It was just a situation where one thing led to another," said Goepfert. "I wasn't happy on the ice, then it leads to your schoolwork and then your social life and all of the sudden it becomes this big mess – like this big ball of Christmas lights and you don't know where to start to unravel it."
The situation turned dramatically worse when Goepfert was accused of plagiarism late in his sophomore year.
"My story really hasn't changed," he said. "If you take the sense of the word plagiarism and what it actually is, you know, I did it. But did I do it intentionally? No. I didn't go in there writing that paper saying, 'I'm going to take this guy's work and pass it off as my own.'
"If you look at the paper, it was like 14 pages and maybe four or five were excerpts from other things that I thought made my paper a better piece. I didn't have a bibliography. I made a mistake there. But do you think I tried passing off all these facts like I knew them? It's like, yeah, I did some research in Mexico on immigrants and I called the Mexican capital and got all these numbers. It's obvious it wasn't me. And then I sent it via e-mail because I needed an extension. I said in the e-mail, 'If you need anything else, please let me know. I'm back at home now and I'll be glad to get you anything else you need.'
"Two days later I wake up, and get an e-mail that said, 'Dear Bobby, this is clearly plagiarism. I told you how serious of an offense plagiarism is.' All of a sudden my cell phone rings and it's Coach (Paul) Pooley telling me I'm gone. I was trying to explain it to him. It was such a terrible day – a terrible day on a mistake that wasn't made with bad intentions."
Regardless of his intentions, he was no longer welcome as a member of the Friar hockey program. But what came next was even more stunning.
"It was a legal thing, an NCAA rule, that stated they could release me to where ever they want," he said. "I had to submit a list of schools and they got to approve them. I got called back and was told that the athletic department would let me go anywhere but Hockey East. They told me that I had the right to appeal, so I appealed, but the committee ruled for them. I guess there's some kind of rule that states, by signing the piece of paper that said I was going there, they own me and they can tell me to where I can and can't transfer. How can you mess with my life just because I might play you three times a year? The way they made me out to be there, it was like I was this terrible person. That was frustrating. I felt like I was the scapegoat. I'm not a dumb jock. It was an innocent mistake."
Pooley, now an assistant coach at Notre Dame called the athletic department's decision a fairly standard one, noting that the situation arose more frequently in football and basketball.
"Everyone in the department was involved," he said. "Now, the big thing from our perspective is that we wish him nothing but success."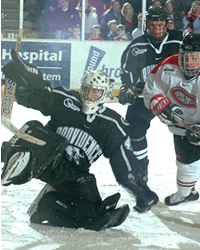 Though in his first season at St. Cloud State, Bobby Goepfert has played on the Huskies' home rink before – he visited the National Hockey Center with Providence in 2003.
Out of options near his family, Goepfert turned to the Midwest in search of a second chance. St. Cloud State proved to be the best fit so he packed his bags and his wallet. A full year of school without the rush of game action, and the accompanying tuition bill, was his penance.
"I've matured so much over the last year, having to deal with all this," said Goepfert. "And I think a lot of guys probably have to go through something like that to change their ways a bit. As tough as it was, I think it was one of the best things for me as a hockey player and as a person."
No one was more excited for the academic calendar to turn. Now Goepfert is back in contention for a starting job with the Huskies and loving every minute of life as a college hockey player.
"A lot of what happened at Providence was the result of me not being happy. It snowballed. It's such a nice fit here at St. Cloud. I feel so fortunate to have had options and to have received a second chance at a Division I program. I can't thank (former head coach) Craig Dahl, (assistant) Freddie (Harbinson) and all the coaches enough. I want to pay them back by doing well."
In the Huskies' exhibition opener against the University of Alberta, Goepfert took the first steps toward that payback by turning aside every shot he faced during his one period of action. His first regular season playing time in more than a year could come this weekend when St. Cloud State travels to Northern Michigan, a trip during which Goepfert expects to feel some jitters.
"I'm definitely excited but at the same time, I'm a little nervous," he said. "I've never gone through this before and I don't know a lot of other goalies that have. I think my skills are still there but the mental side of game situations – playing with a lead, playing down – it's going to be different. I skated in a four-on-four league down in the Twin Cities over the summer and it was an hour of sweating in the car because I was so nervous. But I miss playing, that's for sure. And I can't wait to get into the game. It's been a while."
As for the pundits shoveling dirt over St. Cloud State before the season's opening weekend?
"I think as a team, we can surprise some people," said Goepfert. "All of us saw the polls and none of us feel like we're a ninth-place or tenth-place team. We're all committed to leaving it all out there and playing for each other. Who knows? A bounce here, a bounce there, and we could do something. You never know."
Hot goaltending could make a world of difference. Hot like when Goepfert calmly stymied opponents during the 2001-02 Clark Cup Playoffs. Motzko was there, at the time scouting for the University of Minnesota.
"He was unbeatable," said Motzko.
Goepfert expects nothing less than a return to form.