February 21, 2006
Olympic Dream Deferred?
Olympic hockey rosters are now comprised of pros. So are current collegians missing out on a valuable development tool?
By Jayson Hron
The United States' Miracle on Ice squad of 1980 certainly couldn't match the Soviet Union's experience level, but the Americans weren't exactly the neophyte lambs that history has portrayed them to be either.
Though they were considered amateurs, Team USA featured no fewer than four players with professional hockey experience. Among them was former Boston University standout Mike Eruzione, whose game-winning goal against the Soviets is forever cemented in international sporting lore. A 25-year-old at the time, Eruzione actually embarked on his Olympic experience with two seasons of professional play in the now-defunct International Hockey League to his credit.
Some accounts suggest that, to maintain these players' Olympic eligibility, they were never actually paid to play by their respective professional teams. Instead, they were paid as business interns of major corporations that signed on to support the American hockey cause in the late 1970s. Regardless, whatever compensation may have come their way failed to make players like Eruzione any less the underdogs on an international stage that featured galactic Soviet stars like Makarov, Tretiak and Mikhailov.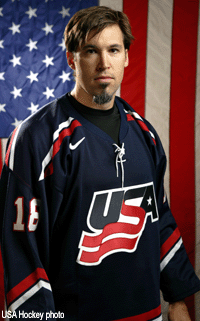 Allowing NHLers like former LSSU star Brian Rolston to play in the Olympics may help hockey grow, but the switch may be robbing college hockey players a prime development opportunity.
Since 1998, when the Olympics became yet another platform on which NHL stars could perform, the playing field has become much more level. Some argue that the professionals' involvement contradicts the Olympic spirit. Others see it as a vital component in growing the game's mainstream acceptance. One thing that can't be denied is that American college players have lost a key developmental venue, so long as NHL players continue to compete on the Olympic stage.
"There's no question about it, the experience of playing in an Olympic year is invaluable," said former Harvard star Scott Fusco, who used a solid performance at the 1984 Sarajevo Winter Games as a springboard to an 81-point, All-America junior year with the Crimson in 1984-85.
"After having played in the Olympics, my progress was much more consistent," said Fusco. "The biggest thing I learned was how hard (world-class) players worked in games and in practice to get better."
Fusco continued to draw on those lessons throughout the remainder of his collegiate career, claiming the Hobey Baker Memorial Award with a 68-point senior campaign. Would he have evolved as rapidly without the Olympic crucible? Proponents of the International Ice Hockey Federation's World Junior Championship might argue that he would have indeed. Fusco himself credits the event sincerely, having skated for the Americans in during his freshman season at Harvard.
"Playing in the world juniors really opened my eyes to what (considerable) talent was out there and how I stacked up against it – surprisingly well as it turned out," he said. "That gave me a lot of confidence back at college. It was an instrumental step in my development."
Gino Gasparini shares that perspective. The legendary former North Dakota head coach now presides over the United States' top junior league, giving him the perfect perch from which to observe American hockey development. He has mixed feelings about professional involvement in the Olympics, but there's nothing mixed about his endorsement of the World Junior Championship. In his mind, an NHL-fed Olympics adds even more shine to the WJC.
"Certainly for people involved with college or junior hockey, there would be more attachment to the Olympics under the previous status, but the professionals' Olympic involvement has enhanced our attachment to the World Junior Championship, which is a good thing," he said.
A major benefit of the WJC, at least for college coaches, is that, in many ways, the event is less invasive than the Olympics. Fusco missed an entire season at Harvard to prepare for Team USA's Olympic sojourn and Gasparini regularly lost players to both the American and Canadian Olympic efforts.
"It was a given in those days, so it wasn't surprising to us," said Gasparini. "But you can never prepare for those events.
"I had a different perspective than some. I always encouraged those players to go because it only happened once in a lifetime. They had the opportunity to play for a bigger cause."
Can the WJC fill that role? Should it? That's the debate. But certainly there is nothing quite like the Olympics to accelerate a young player's development.
"I kind of liked it the old way. It gave amateur players a lot of goals to shoot for early in their careers. That process is delayed now," said Fusco.
"Hockey-wise, the world juniors and the Olympics are similar in a lot of ways," he added. "The countries were the same, the styles were the same. But in another sense, it was totally different. You were dealing with guys who have been there for years and years. It was a huge step."