March 14, 2006
College Hockey's Best (and Worst) Sweaters Revealed
By Jayson Hron
When it comes to gauging sartorial splendor, INCH decided scientific measurement was essential. As a result, we put our education to good use conceiving the Best Sweater Rating Index (BSRI), a highly scientific effort that rendered our initial ranking of Division I sweaters.
Each team's best sweater was rated in four categories – colors, continuity, originality, and overall visual appeal – receiving scores ranging from 1 (hideously awful) to 5 (perfect). Those four scores were then added to produce an index, the BSRI.
Disclaimer: This is highly subjective stuff. With that said, three unbreakable rules dominate the entirety of hockey sweaterdom.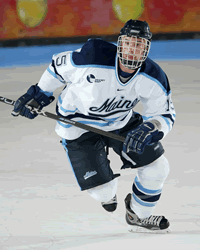 What's better than Maine's white sweaters? According to the BSRI, nothing.
1. Diagonal lines are indescribably odious. They should be banned immediately as the dated trend that never should have been. Any team engaging in the use of diagonal lines is spitting in the face of tasteful design, tradition and all that is good about hockey sweaters. Such transgressions earned a harsh penalty in the BSRI.
2. The second unbreakable rule relates to use of the color purple. Don't.
3. Sweaters are like national flags. The symbolism means something. There's a reason the United States doesn't have a new-look American flag every year. It's the same reason sweaters shouldn't change annually. That led us to the continuity metric. Teams that maintain similar styles, or teams that pay tribute to their history with throwback sweaters, garner higher continuity ratings.
Also, as a final footnote, Division I-independent RIT was not rated since it does not yet belong to a conference.
The Conferences
WCHA teams might play the best, but they don't look the best. With an average conference rating of 17.2 out of a possible 20.0, the WCHA ranked third among the six Division I conferences. The ECAC Hockey League (17.4) claimed top honors, narrowly eclipsing the second-place CCHA (17.3). Hockey East (17.1) ranked fourth. The CHA (16.3), thanks to Bemidji State, outdistanced Atlantic Hockey (16.2) to avoid the cellar.
The Best of the Best
Our initial BSRI rendered Maine's white sweater as the best of 2006 with a score of 18.7. An excellent color combination combined with simple, clean design and a timeless look swayed our voters. It's the quintessential college hockey jersey, complete with easy-to-read numbers and names for the press box StatCrew jockeys. Michigan's whites, Princeton's blacks, Boston University's alternate red and Providence's white with the classic Friar logo rounded out the top five by tying for second. Each received a BSRI mark of 18.4.
The Worst of the Worst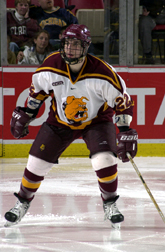 Diagonals, a strange logo: all that's missing from Ferris State's sweaters is a healthy dose of purple.
As previously noted, we're not particularly keen on sweater changes but, if there was ever a sweater that begged for change, it was last year's Ferris State abominations. The Bulldogs already had one major strike against them thanks to their heinous logo, a grossly cartoonish and sketchy Bulldog, yet they decided to leap completely into yuckville with diagonal lines everywhere. It was as if they hoped to ugly opponents into submission. We are happy to report that Ferris State made some improvements this year, narrowly avoiding BSRI purgatory.
That dubious distinction went instead to Merrimack, which earned a 14.1 rating with its Nashville Predators knockoffs. We don't mean to pile on, but if you're going to copy an NHL sweater, at least copy a good one. Poor marks for originality and overall appeal sunk Merrimack in the BSRI.
Rounding out the bottom five was Niagara (14.6), a purple team with a REALLY BIG "N" that copied Los Angeles's sweaters, Canisius (14.8), with a strange pastel yellow color, Minnesota State (14.9), which wears purple and keeps the sweater manufacturers busy like no one else, and Robert Morris (14.9).
Disclaimer: Please understand, rating in the bottom five doesn't necessarily mean your sweater looks that bad. It could just signify that you have a history of breaking rules or being unoriginal. Or it might mean your sweater is U-G-L-Y, ugly.
The Notables:
While every team was ranked, some didn't merit much comment. These did:
WCHA:
Denver (16.0) – The Pioneers' logo is not good. A bird is not a pioneer. Also, the word "Denver" needs to be higher on the chest. We like the numbers on the front, though. That's a classic design decision that merits high marks in the BSRI.
Minnesota (17.7) – Few schools have more tradition and pride than Minnesota, plus it boasts one of the cleanest, most powerful, iconic logos in all of athletics. So how do the Golden Gophers end up with some of the worst sweaters in college hockey this season? Diagonal lines and a muddled blob on their shoulders. They aren't the worst sweaters in Minnesota history, but they're close. Thankfully, BSRI rated the yellow alternates, which aren't too bad.
Minnesota Duluth (17.7) – On the verge of a terrific, traditional and simple sweater, all the Bulldogs need to do is convert the "UMD" on their shoulder into (a) nothing, (b) a slightly smaller "UMD" that reflects the school's current word mark, or (c) a skating Bulldog.
North Dakota (17.1) – History is working against the Fighting Sioux because they will always be measured against what remains as college hockey's best sweater of all time, UND circa 1987. Did you know that Gino Gasparini nearly ended up coaching the Chicago Blackhawks after borrowing their sweaters?
St. Cloud State (17.8) – Absolutely loving the red alternates. They ranked as the second-best sweater in the WCHA behind Wisconsin's whites.
Wisconsin (17.9) – We love that you don't change. Five national titles and they still look great.
Hockey East: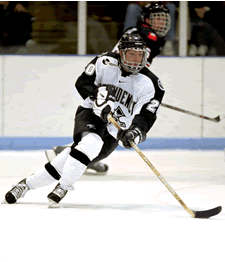 Memo to Providence: Don't mess with the skating Friar. He is a national treasure.
Boston University (17.6) – Also loving your red alternate. The number on the front maintains the classic look and the extra stripes give it a throwback feel.
Providence (18.4) – Why did you ever change? The skating Friar ranks as the best logo in college hockey.
CCHA:
Alaska-Fairbanks (15.2) – Points docked for copying the old Canadian national team sweaters, the same one Minnesota copied in the early 2000s. However, they look really good.
Miami (17.6) – The 1978 throwback gained solid marks. It's a tad plain but the message is clear.
Michigan (18.4) – The Wolverines brought us yellow dazzle fabric and an unwise departure from the iconic "M" logo. Both very bad. However, the classic Michigan whites are clean, simple and timeless. Plus, Michigan gets extra credit for originality on the helmets.
Michigan State (18.1) – Whatever you do, please don't bring back that goofy musical staff.
Notre Dame (17.8) – Those gold sweaters with the gold helmets were fun.
Western Michigan (18.1) – Anyone that uses gray as a main color gets extra points in the BSRI.
ECACHL:
Clarkson (17.5) – Those 1922 throwbacks looked like practice jerseys but we gave you extra credit for the tradition and continuity.
Princeton (18.4) – The black sweaters with the shield were dark-horse competitors for top honors. Very nice.
Rensselaer (17.9) – Can't you just see Adam Oates skating around in one of these?
Atlantic Hockey:
Army (18.3) – Love the retro-looking black sweaters with the numbers up front. The old gold garnered points for originality, too. Missed the top five by one-tenth of a point.
CHA:
Bemidji State (17.8) – Nothing special but those whites with the numbers on the front look sharp and classic.