December 20, 2005
The First Worlds War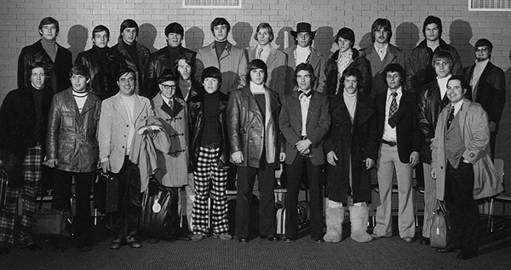 Front Row L to R: David Geving, Don Madson, Mike Radakovich, Assistant Mgr, George Nagobods, Dave Heitz, Earl Sargent, John Shewchuk, Mark Lambert, Mike Dibble, Dan Bonk, Paul Holmgren, Murray Williamson, Coach/General Manager Back Row L to R: Tom Ulseth, Jim Warner, Pete Roberts, Gary Sargent, Steve Short, Tom Funke, Steve Roberts, Greg Woods, Craig Hammer, Mike Wong, Al Mathieu, Trainer.

(Photo courtesy of www.murraywilliamson.org)
The first World Junior Championship was held in the Soviet Union in 1974. Team USA endured just about every hardship imaginable – and that was just on the trip there.
By Jayson Hron
Donning the red, white and blue at the World Junior Championship has always been an honor – but it's become much less of an adventure.
Prompt transportation, safe food and drink, comfortable hotels – they've become the standard for today's WJC competitor, but it wasn't always so. Especially not in 1974, before the event carried an official title and sanction from the International Ice Hockey Federation.
In 1974, the World Junior Championship was nothing more than a six-team scuffle with major aspirations. It was a first-of-its-kind meeting of hockey superpowers, conducted behind the Soviet Union's Iron Curtain.
Mike Dibble, whose 50 career goaltending victories rank seventh all-time at the University of Wisconsin, was among the American contingent at the event. He backstopped Team USA to its only victory, a 3-2 triumph over Czechoslovakia in the final contest that assured a better-than-last-place showing for the upstart travelers.
What happened on the ice, however, was just a small slice of the excitement for Team USA.
"We flew to Montreal first and played in the Montreal Forum, which was fantastic," said Dibble. "Then we flew out of Montreal to Bratislava."
Team USA's next stop was Prague, where an exhibition game against the Czech National Team loomed.
"That's when they lost our equipment – on purpose," said Dibble. "Things were very different back then."
Without their gear, Dibble and his teammates were stranded at a draconian Prague hotel with nothing to do on New Year's Eve. The silver lining was edible food and palatable drink. Upon their eventual arrival in Moscow, there was no silver lining.
"We got there about noon," said Dibble. "We saw Stalin's grave, then we sat at the train station where we were delayed and delayed. We were supposed to take this train called the 'Bratislava Bullet' to Leningrad but the train left at midnight and arrived at like 7 a.m. so you couldn't see their country side. At least that's what we figured.
The First Shift

Members of the U.S. Team that took part in the inaugural World Junior Championship in 1974.
Dan Bonk
Minnesota
Mike Dibble
Wisconsin
Tom Funke
Fargo-Moorhead (MJHL)
Dave Geving
North Dakota
Craig Hammer
Fargo-Moorhead (MJHL)
Dave Heitz
Lansing (IHL)
Paul Holmgren
Minnesota
Mark Lambert
Minnesota
Don Madson
Fargo-Moorhead (MJHL)
Peter Roberts
Michigan Tech
Steve Roberts
Providence
Earl Sargent
Fargo-Moorhead (MJHL)
Gary Sargent
Springfield (AHL)
John Shewchuk
Lansing (IHL)
Steve Short
Philadelphia (NAHL)
Tom Ulseth
Wisconsin
Jim Warner
Colorado College
Mike Wong
Montreal (QMJHL)
Greg Woods
Fargo-Moorhead (MJHL)
"The problem was you couldn't drink the water there. And we were getting very, very thirsty. We hadn't brought anything of our own to drink. Well, the Canadians brought a whole bunch of pop and when we saw them start loading their pop onto the train, we went for that pop like kids go after candy. I got three cans, so I was happy. Then the Canadians saw us stealing their pop and there was a big fight, but that's how thirsty we were. Everyone was dying of thirst. It was like an all-out riot."
Eventually the Americans arrived in Leningrad, bleary-eyed and sugar-filled from several contraband pops. They hadn't eaten in hours. Breakfast was a top priority. Unfortunately, IHOP had yet to arrive in Leningrad.
"The food was absolutely inedible," said Dibble.
Murray Williamson, the veteran coach of many such international hockey escapades – including the 1972 U.S. Olympic team that won the silver medal in Sapporo, Japan – was also unimpressed with the fare and set out to remedy the situation.
"Murray stood up to our Russian interpreter guy and said, 'You get us something to eat, that we can eat and get our strength, or we're out of here,'" said Dibble. "And then they got in a big fight. But Murray did a great job standing up for us and we finally got some food that we could eat."
The Americans' next encounter came with a population that knew real hunger all too well.
"When we got off the bus, we were immediately surrounded by hundreds of kids," Dibble said. "They wanted anything you could give them. Our bus driver told us we couldn't give them anything more because we were inciting a riot."
The players also couldn't help but notice lines of people waiting outside grocery stores. It was a society filled with cravings, some primal and some just for fun.
"Walking the streets was cool," said Dibble. "And so was meeting a Russian soldier under this bridge at midnight to trade a pair of jeans for two Russian hats that I still have."
On the ice, Team USA opened the tournament against Canada, represented by the OHL's Peterborough Petes, who avenged the raid on their pop with a 5-4 victory. The Canadians ended up finishing third behind the Soviet Union and Finland.
Team USA's next opponent was Sweden, who trounced an uninspired red, white and blue squad by an 11-1 margin. Finland then stymied the Americans 5-1, leading to the eagerly-anticipated meeting between Team USA and Khrushchev's Comrades. The Soviets won 9-1, leaving the Americans just one game to regain their swagger.
"We hadn't won a game, and Czechoslovakia was a very good hockey team," said Dibble. "All I can remember is that I had a lot of saves and the Russian crowd was chanting 'DEE-bull, DEE-bull' because they didn't like the Czechoslovakians. We won 3-2 and it was a great victory. USA Hockey was at the bottom end at the time. It was really instrumental that we didn't come home shut out."
Despite their struggles, the 1974 squad helped set the foundation for America's hockey future. Thirty-two years later, Team USA enters the WJC as the gold medal favorites with Boston College's Cory Schneider expected to serve between the pipes. Like Dibble years before, he's hoping for the opportunity to sing the national anthem with a medal around his neck.
"There's a lot of honor and respect that goes into putting on that jersey," said Schneider. "It's a special opportunity. USA Hockey has come a long way over the years, with the National Team Development Program and the USHL. There are a lot of good development programs throughout the country that have helped Team USA become a force on the international scene."
Like that of the travel-weary 1974 squad, it's been a long and memorable journey.