April 27, 2007
10 for '08: The Questions
We're only a few weeks removed from the 2007 national championship game, but here at Inside College Hockey we can't resist casting our gaze toward the future. A lot can change between now and the drop of the puck in October, but that doesn't stop our 10 For '08 feature.
We already took an early look at the top 10 teams and the top 10 Hobey candidates headed into next season. Now we take an early look at 10 burning questions for the 2007-08 season.
• Is there another Notre Dame on the horizon, i.e. a team that will emerge from the shadows and become entrenched in the top five for most of the year?
Even though coach Jeff Jackson inherited a team that posted a 5-27-6 record the season prior to his arrival, the pieces for a respectable squad were already in place – David Brown, Erik Condra, Wes O'Neill. There's no situation like that this time around, but it wouldn't come as a shock to see Michigan Tech emerge as a top-10 team this season.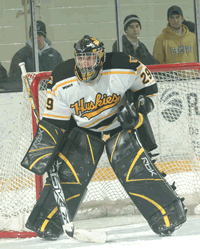 Michael-Lee Teslak is half of a formidable goaltending tandem that leads Michigan Tech.
The Huskies lost just three players from last year's 18-17-5 team, and bring back goaltenders Michael-Lee Teslak (2.00 GAA, .916 save pct.) and Rob Nolan (2.26 GAA, .910 save pct.). Tech needs to score more goals to make the leap. The onus falls on returnees Peter Rouleau, Tyler Shelast, Jimmy Kerr, and Alex Gagne, who was a high-scoring forward in the British Columbia Hockey League. Speaking of junior standouts, the Huskies will welcome forwards Casey Pierro-Zabotel (51 goals for the BCHL's Merritt Centennials) and Bennett Royer (76 points with the Calgary Canucks of the Alberta Junior Hockey League) into the fold next season.
North Dakota and Minnesota are the clear-cut favorites in the WCHA, but with Wisconsin's youth and Denver and St. Cloud State losing a ton of veterans, there's no reason Michigan Tech can't set its sights on a top-three finish in the league and an NCAA Tournament berth in 07-08.
• Speaking of Notre Dame, can the Fighting Irish repeat the success of 2006-07?
Win 32 games, spent most of the second half of the season as the nation's top-ranked team, and take both the CCHA regular-season and playoff titles? Unlikely. But a return to the NCAA Tournament is a strong possibility.
Goaltender David Brown is irreplaceable. But returnee Jordan Pearce and newcomer Brad Phillips should be capable options between the pipes. On defense, the Irish lose three regulars, but Kyle Lawson and Brett Blatchford, both of whom had solid freshman campaigns, return, and recruit Ian Cole is rated ninth on Red Line Report's list of prospects eligible for June's NHL Entry Draft. Throw in a solid nucleus of forwards led by the RED Line of Ryan (Thang), Erik (Condra), and (Kevin) Deeth, and the pieces for a solid season are in place.
• One more from CCHA territory: Is everyone in agreement now that Rick Comley is a coaching genius?
A national championship will work wonders for a coach who many thought was at the end of his tenure in East Lansing.
There will still be factions around the Spartan program that credit Jeff Lerg and Justin Abdelkader much more than they would ever salute Comley. National title or not, in the minds of some he still won't measure up to the likes of former Spartans Danton Cole or Kelly Miller or – of course – Ron Mason.
That said, you've got to invoke Bill Simmons' five-year championship grace period here, which you'd expect to quell any calls to fire Comley in 2007-08. And if there is grumbling, Comley's two rings, to borrow a phrase from Patrick Roy, should spare him from hearing it.
• Never mind who's turning pro early: Which players will follow the leads of T.J. Hensick and Brian Boyle and shun the pros for another year in college?
We've already received some answers to this one, with North Dakota stalwarts T.J. Oshie, Brian Lee and Joe Finley stating for the record that they'll be back in Grand Forks. Michigan's Andrew Cogliano and Kevin Porter will likely return to Ann Arbor, and it's a good bet you'll see Minnesota defenseman Alex Goligoski clad in a maroon and gold sweater in October.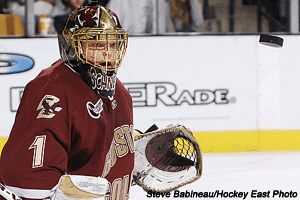 Expect Cory Schneider's immediate future to be scrutinized this summer.
The big decisions we'll be keeping an eye on involve Boston College goalie Cory Schneider (likely to stay), North Dakota forward Jonathan Toews (likely to leave), and Minnesota forward Kyle Okposo (anyone able to get a clear read on the New York Islanders organization should find an easier pursuit, like maybe solving global warming or bringing peace to the Middle East).
• Assuming Toews goes pro, who takes that coveted spot between Ryan Duncan and T.J. Oshie on North Dakota's top line?
Can't you see the tables turning in Grand Forks? All these coveted recruits up front who Dave Hakstol successfully recruited to the school will now be selling themselves to their coach, with hopes of finding a sweater that's the same color as Duncan and Oshie's on the first day of practice in the fall.
As top heavy as the Sioux were this season – if Toews leaves, no returning forward had even half as many points as Duncan or Oshie – it's not as if the cupboard is bare. An incoming freshman like Evan Trupp or Brett Bruneteau could make a bid for the spot, but from what we saw in the postseason, rising sophomore Chris VandeVelde is a more likely option. VandeVelde only had nine points on the season, but seven of them – including all three goals – came in March or April.
• Does Air Force's Eric Ehn rank among the top three candidates for the 2008 Hobey Baker Award?
If he approaches the numbers he put up last season, he should. And, as we briefly discussed in our 10 for '08 look at next year's top Hobey candidates, Ehn has a couple factors in his favor for the upcoming season before he even scores a point. One is name recognition: There's not a college hockey fan or Hobey voter who doesn't know who he is, a huge hurdle for someone from one of the sport's fledgling leagues to overcome.
The second is that Ehn attends a service academy. Whether foreign policy plays a role in determining the nation's best college hockey player is up for debate, but there are those who feel Ehn's tie to Hobey Baker, a World War I Navy pilot, should be considered. And though our country's military endeavors around the world are met with growing scrutiny at home, support for the men and women fighting in Afghanistan, Iraq and elsewhere – or preparing to do so – remains strong.
• Am I nuts, or does there appear to be clear preseason favorites in every league except for College Hockey America?
Note: Inside College Hockey ECAC Hockey League beat writer Joe Gladziszewski thinks the questioner is nuts, but INCH editor/columnist Mike Eidelbes, the author of the response below, respectfully disagrees.
First, a disclaimer. I'm not saying that the teams that appear to be odds-on favorites at the start of the season will end up in first place in their respective leagues. What I am saying is that five of the six conferences have teams that, based on the number of key components returning in 2007-08 in relation to the others in its circuit, should logically be considered the teams to beat.
For example, Boston College's collection of returning talent and top-flight newcomers makes them a prohibitive favorite to win Hockey East honors. They're clearly superior to every team in that league. The same can be said for RIT, which brings back just about everyone from the squad that won the Atlantic Hockey regular-season crown in its first year in the circuit.
North Dakota and Minnesota look to be in the top tier in the WCHA – on paper, the rest of the league's teams have significant holes to fill – but the Fighting Sioux's returning nucleus is stronger than that of the Gophers, so they get the nod. In the CCHA, Michigan State has the edge over Miami, Michigan and Notre Dame, which lost more significant contributors than the reigning national champions. It's not quite as clear cut in the ECACHL, but I think last year's league playoff champ, Clarkson, deserves the handle as preseason favorite over Quinnipiac and Dartmouth.
Yeah, I know, past results do not ensure future performance, but each conference seems to have one team with a lot fewer question marks surrounding it in relation to the field heading into next season. That said, I still recommend hanging on to your receipt.
• What do Cornell coach Mike Schafer, Boston University coach Jack Parker, Santa Claus, The Rockettes and SpongeBob SquarePants have in common?
They'll all be in New York City during Thanksgiving. The Big Red and Terriers renew a rivalry that dates back to the pre-Hockey East era when both programs were members of the ECAC. Cornell and BU will play at Madison Square Garden on Nov. 24.
• Any other games I should mark on my calendar now?
Of course. Use pencil, though, because these things have a way of changing. The field for next year's Ice Breaker, scheduled for early October, includes Boston College, Michigan, Rensselaer and host Minnesota. The U.S Hockey Hall of Fame Game takes place in Grand Forks in October, and features the Fighting Sioux against the defending national champions, Michigan State. The Sioux are also scheduled to travel to Boston College and Northeastern in October.
In more traditional series fare, North Dakota gets a holiday visit from New Hampshire. Maine, who'll play anyone anywhere, travels to Denver to face the Pioneers in mid-October. Denver's also supposed to make a trip to South Bend for a series at Notre Dame in October – a Thursday-Friday affair due to Saturday's Southern Cal-Notre Dame football game. Clarkson hosts St. Cloud State for two November games. The Knights also welcome BC to Cheel for a single game.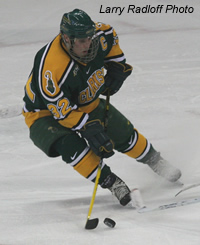 It may seem an oddball pick, but we give Clarkson an early nod to reach Denver.
• So who can we expect to see in Denver next April?
Hopefully not the city's Major League Baseball franchise. They're putrid.
As far as way-too-early Frozen Four projections, Boston College and North Dakota look like the safest picks, so we'll send them packing to the vastly underrated Mountain Time Zone. The CCHA appears to have a group of four teams that enter the season with legitimate Frozen Four aspirations; we'll tab Miami, led by former Denver assistant Enrico Blasi. And since there usually seems to be one oddball in the group, let's put Clarkson in the field.
The by-product of this field is a representative from each of the nation's four traditional conferences, so now we won't get any e-mails chastising us for our perceived Eastern/Western biases.