UPDATED: July 30, 2007
INCH Flight Risks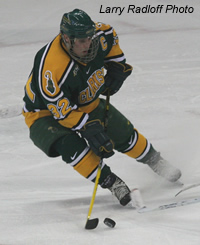 Nick Dodge led Clarkson to the ECAC Hockey League playoff championship last season. Will he be back to help the Golden Knights defend their crown?
As we learned a year ago, the NHL's new collective bargaining agreement has the head honchos of the league's 30 franchises beating paths to college campuses nationwide. The draw? A bevy of young (read: inexpensive) talent ready to contribute at the professional level.
Since March 8, when Union's T.J. Fox signed a free agent deal with the San Jose Sharks, nearly two dozen underclassmen have bid adieu to the college life in favor of playing for pay. And that number is sure to climb as we hit the NHL Entry Draft and the league's salary cap is established for the upcoming season. It leads to an anxious offseason for players considering the leap to pro hockey, and perhaps even moreso for the coaches who would have to fill their skates if they depart.
With that in mind, Inside College Hockey takes its annual look at a collection of players who are potential Flight Risks. A few players who've publicly declared their intentions to return to school next season — most notably North Dakota's Taylor Chorney and T.J. Oshie — do not appear on the list for that very reason.
Player, School (NHL Rights)
The Skinny
Justin Abdelkader, Michigan State (Detroit Red Wings)
The Spartans proved that four-year players who grow to maturity in the college ranks makes a nice mix for a national championship team. Holding on to their assets in the sophomore class will prove to be difficult. Abdelkader, who played with the United States World Junior Championship team in the middle of last season, has a solid two-way game and the size and skill to contribute on the wing at the pro level right now. The Red Wings might covet an in-state product who can start in Grand Rapids of the American Hockey League before moving up to Motown.
Flight Factor: 3.0
(0-register for fall classes, 10-make plans for training camp)
Dan Bertram, Boston College (Chicago Blackhawks)
The Blackhawks need scoring, but they're unlikely to find it in Bertram, whose best point year thus far at Boston College was a 10-goal, 26-point campaign as a sophomore. Chicago still lists Bertram among its best left wing prospects, and hopes he fulfills the potential that made him a second-round pick and a two-time member of the World Junior Championship outfit from Canada, where he won two gold medals.
Flight Factor: 1.0
Ben Bishop, Maine (St. Louis Blues)
If you had your eyes and ears open at the Frozen Four in St. Louis, you know that hockey fans definitely know about local product and Blues draft pick Ben Bishop. Also during the Frozen Four, Blues president John Davidson said the franchise is happy with Bishop's development at Maine. Davidson also has to like the work load and training that Bishop gets at Maine – he started every game for which he was healthy and works with Grant Standbrook in practice.
Flight Factor: 0.5
Nathan Davis, Miami (Chicago Blackhawks)
Davis's talents may be more appreciated by college hockey fans than by NHL talent evaluators. Despite scoring 50 points last season, solidifying his status as one of the nation's top defensive forwards, and earning a spot on the U.S. team that competed at the recently completed IIHF World Championship, his name's not among the team's top 10 prospects by The Hockey News, and the Hockey's Future website ranks him ninth on the list of future Blackhawks. Davis could sign, opting to hone his skills in the AHL for at least one season, but recent history suggests Miami skaters can complete their college eligibility and make a seamless transition to the the pro game as evidenced by ex-RedHawks Dan Boyle and Andy Greene.
Flight Factor: 3.5
Nick Dodge, Clarkson (Carolina Hurricanes)
Dodge has publicly declared that he will return to Clarkson, but Carolina needs to build some depth in their system with five of their eight top-scoring forwards over the age of 33. Dodge's lack of physical prowess or a measurable skill set (skating, shooting, size) made him a late-round draft pick but he's been a captain at the junior and now a two-year captain at the collegiate level. His leadership, consistency, and hockey sense make him a strong pro prospect..
Flight Factor: 2.0
Ryan Duncan, North Dakota (undrafted free agent)
The reigning Hobey Baker winner's stock won't get any higher than it is now, unless he returns to North Dakota and wins the Hobey again next year. Nobody's ever won back-to-back Hobeys before, and since we suspect linemate Jonathan Toews will sign with the Blackhawks, Duncan's potential to put up huge numbers again next year is less likely. The other member of the Sioux's top line, T.J. Oshie, has declared that he will return to Grand Forks for the 2007-08 season..
Flight Factor: 3.25
Matt Gilroy, Boston University (undrafted free agent)
Nearly one-quarter of the collegians who've signed NHL contracts since March 8 are undrafted free agent defensemen. That Gilroy, a walk-on who's paid his own way to BU, isn't among that group isn't due to a lack of opportunities. The other signees can't match his credentials (first-team Hockey East, second-team East All-American last season), versatility (he can play forward or defense), and combination of size and skating ability. Gilroy could bypass a certain BU scholarship for his junior and senior seasons for an NHL contract.
Flight Factor: 6.75
Alex Goligoski, Minnesota (Pittsburgh Penguins)
Midway through last season, Goligoski certainly looked NHL ready, but he wasn't nearly as effective during the second half of the year. Part of that was due to a shoulder injury; still, Goligoski was a non-factor down the stretch when the Gophers needed him the most. Pittsburgh, meanwhile, is looking to add at least one veteran defenseman during the off-season to provide a steadying influence for the youthful Pens. A smooth-skating offensive defenseman, Goligoski will get back on track in Minneapolis next season, then spend at least one year as an apprentice in the AHL before competing for a job with the parent club.
UPDATE (July 11): In somewhat of a surprise, Goligoski came to terms with the Penguins on a two-year contract worth a total of $1.1 million.
Brian Lee, North Dakota (Ottawa Senators)
Until Lee signs, we'll remind everyone that after taking him ninth overall in the 2005 draft, Ottawa general manager John Muckler said he expected Lee to be one of the team's top four defensemen by the 2007-08 season. Bear in mind the Sens have four regulars under contract through at least next season and two restricted free agents likely to re-sign – and all of them are under 30. Mix in the fact that the team's AHL affiliate in Binghamton isn't a great situation for player development, and it appears Lee would be better off in Grand Forks for at least one more year.
UPDATE (July 4): Lee agreed to a deal with Ottawa on the same day another green-clad underclassman (Michigan State forward Jim McKenzie) signed with the Sens.
Andreas Nodl, St. Cloud State (Philadelphia Flyers)
The Philadelphia Flyers can use offensive help right away and Nodl might be a guy who can provide it. A highly coveted junior player, he made a successful transition to the college game and led St. Cloud State in scoring as a freshman with 46 points. Nodl has already seen teammate and fellow underclassman Andrew Gordon (Washington Capitals) sign a professional contract. Will he be the next to make the leap? We don't think so, but there's a chance.
Flight Factor: 4.0
Kyle Okposo, Minnesota (New York Islanders)
Islanders GM Garth Snow showed he was willing to go against the tried-and-true practices upon taking over last year and signing goalie Rick DiPietro to a 15-year contract. If the Isles like Okposo they'll definitely sign him and get him into the system. Okposo did finish second on the Golden Gophers in scoring with 40 points, but he had just eight points in Minnesota's last 14 games, indicating that another year on campus to increase strength and consistency might be the best thing for him.
UPDATE (June 6): Okposo announced that he would return to Minnesota for his sophomore season.
Kevin Porter, Michigan (Phoenix Coyotes)
Phoenix's youth movement will start in full force in 2007-08, and even though Porter would get a lot of ice time with the Coyotes' AHL affiliate in San Antonio, he'll likely come back to Ann Arbor and be the focal point for the Wolverines' attack. With his offensive ability and excellent defensive play, he'll battle Miami's Nathan Davis for the title of the country's top two-way forward and emerge as a prime candidate for the 2008 Hobey Baker Award.
Flight Factor: 3.5
Cory Schneider, Boston College (Vancouver Canucks)
Schneider's ready to embark on a pro career and definitely has the potential to be a No. 1 goaltender, but Roberto Luongo stands in the way. Schneider's status was explored in recent articles in the Vancouver Province and Boston Globe. One possibility Kevin Paul Dupont floated in the Globe: Schneider returning to BC for his senior season and not signing with the Canucks, opting to become an unrestricted free agent as of Aug. 15, 2008.
UPDATE (July 3): The Canucks inked Schneider, their top pick in the 2004 NHL Entry Draft, to a contract, the terms of which were not disclosed.
Jonathan Toews, North Dakota (Chicago Blackhawks)
Toews, college hockey's most dominant player over the second half of last season, proved his readiness for the next level by scoring 2-5—7 in eight games with the gold-medal winning Canadian team at the IIHF World Championships in Moscow. The Blackhawks sorely need scoring punch – only Martin Havlat and Radim Vrbata scored more than 40 points for the team last season.
UPDATE (May 16): As expected, Toews signed a three-year contract with the Blackhawks.
Blake Wheeler, Minnesota (Phoenix Coyotes)
Phoenix has glaring holes to fill up front – only Shane Doan and former Badger Steve Reinprecht are top-six caliber forwards – and its AHL affiliate in San Antonio lacks talent. The 'yotes have about $17 million in cap money, some of which will definitely be thrown in the direction of a proven scorer, and some homegrown talent – most notably ex-UNO wing Bill Thomas. It wouldn't be a shock to see Wheeler leave, but we think he's a slight lean to return.
Flight Factor: 4.5