Remembering Jon Barkan
1968-2007
Memories of Jon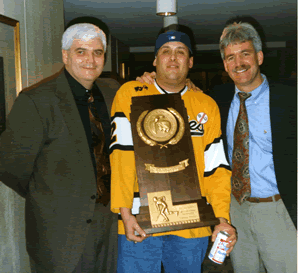 Jon touched countless people in college hockey. We invite those who would like to share their memories of Jon to email them to us at inch@insidecollegehockey.com (please include "Jon Barkan" in the subject line) or via our Contact Us page. We will gather those recollections below and share them with the Barkan family. Jon is survived by his wonderful wife, Elizabeth, and three children.
In His Own Words
Jon didn't write a lot for INCH, but this piece from the 2004 Frozen Four is especially poignant.
Here at INCH, we consider "Friend of College Hockey" one of the biggest compliments you can give someone. And there were fewer, if any, bigger Friends of College Hockey than Jon Barkan.
We lost Jon Thursday night to a heart attack at the age of 39. He was a remarkable man and a remarkable friend, a founding partner of this site who captured the spirit of this game like no other.
The INCH masthead will carry Jon's initials for the duration of the 2007-08 season, a small gesture that cannot begin to express how heavy our hearts are in his absence.
Funeral services for Jon were held Tuesday, Dec. 11, at 11 a.m. at the Temple on Peachtree in Atlanta, Ga.
---
My recollections were always talking sports not just hockey with Jon and he always made a personal invitation to his Frozen Four Bashes. He may have been the only one who ever got me to play Bocce Ball. He will be remembered by many as a very good person who had more friends than anyone I know.
— Ron Mason
---
It is with a very, very heavy heart that I read your tribute to Jon. What a wonderful, adorable fellow he was! A true friend to Michael, Melissa and Sarah – but mainly a devoted husband and father – which Troy and I had the pleasure of seeing first hand. Jon did selfless things for so many – and I will never ever forget the night we had to call after he and Elizabeth had gone to bed to help us transport "Maggie" after she had died. Picking up Abbie in the morning when I help out will not be the same without BOTH Elizabeth and Jon in the driveway – and all of the soccer games will surely be very sad. What a darling boy was taken from his precious, adored family! We are so, so, so sorry!
— Bette Selfridge
---
I just wanted to drop a note to express my deepest sympathies to the
family of Jon Barkan, the staff at INCH and all of the other hockey fans out there
with the loss of truly the best friend of college hockey. Jon was a great man and
sure knew how to throw a great "bash".
— Beth Burr Dessantos
---
I will remember Jon as a gracious host and a caring human being. Each spring he would welcome one and all, high brow and phony tipster, with open arms. We were all comfortable and equal in Jon's presence. And when I was going through some personal road bumps, he cared enough to tell of a similar tale in his family and say, "Don't worry. You'll get through it fine." Jon didn't have to do any of what he did for us; he did it because he cared. And that makes having known him all the more special.
— Frank Mazzocco
---
Jon was the kind of friend where even if you only saw each other or talked once in a while, it was as if you'd never parted. I remember times when I'd see him every week or almost every day, back at Northeastern, and then maybe a few times a year or only by email. But every time it was as if I'd just talked to him a few days earlier. His passion for college hockey was reflective of his passion for life in general and living it to the fullest. We will always miss him and never forget him, and we send our thoughts and prayers to everyone at INCH and his family.
— Mike, Kelly & Katie Machnik
Mike wrote an outstanding tribute to Jon at collegehockeynews.com
---
Jon and I were classmates at Northeastern University. Jon had an unmatched passion for the game of college hockey. We covered the Huskies during their 8 win season in 1990-91. Jon was writing for the Northeastern News and I was broadcasting some games on the college station. Our paths would then cross at rinks across the northeast until he headed south. Jon made everyone feel like they were a close friend. He will be missed.
— Mike Logan
---
"Friend of College Hockey."
So, just what does that mean?
It means Jon Barkan.
I have followed college hockey since the first game I ever saw in December 1965 (a 3-1 Michigan State State victory over Wisconsin at the old Milwaukee Arena), and I have known two geniuses of THE GAME. Here, I am going to distinguish between the sport, or competition, and THE GAME.
The first was Bob Johnson, who I met as a freshman in his first year as coach at Wisconsin in September 1966.
Bob Johnson taught us that it was always "a Great Day for Hockey."
The second was Jon Barkan, who I met as sport sports editor of the Lansing State Journal in the spring of 1989 in St. Paul at the NCAA Final Four.
Jon taught us that it was always "a great day for friendship."
College hockey was one of many venues of friendship in Jon's life, but it was his favorite because college hockey was his family – like Judie and Neil, his loving parents, and like Elizabeth and Abbie and Miriam and Benji, who were his life.
That is why Jon meant so much to all of us: He was and remains part of our family. Jon extended family to include each of us who knew him.
Many have called him generous, and he was. He was generous of spirit, which he gave to all of us equally. That is why we all love him so much.
Jon was like a third son (and I don't say that lightly) to me. I hired him twice: in 1992 at the Lansing State Journal because he wanted to be a journalist, and in 1995 at USAToday.com, because he understood that journalism on the Internet was a way he could extend friendship to his family. Jon was the glue (there must be a better word, but it escapes me) for the finest group of journalists and working friends I have had in journalism. Jon made work fun every day. Jon made colleagues friends for life. It was his gift. It was his genius, just like Bob Johnson made hockey fun.
That is what "Friend of College Hockey" means.
It means friend of Jon Barkan.
— Steve Klein
---
Jon was a good friend to our son Brian Fishman and then to us. When Brian died,
Jon notified the hockey community and through his kindness we received letters
of great comfort. Jon's passion for life: family, friends, charity, and of
course hockey will remain in our memory. We will never forget his caring and
enthusiasm.
— Ruth and Barry Fishman
---
Jon was truly a person who could only make one smile over and over again. It was my honor to know him and a greater honor to call him my friend. You can't replace what he has given, you can only talk fondly of the greatman that he was. My condolences to the Barkan family and to all of his friends. He'll never be gone because there is so much to share and remember about him.
— Jason Moy
---
Jon Barkan was truly a person whom touched your heart, in just knowing him you are a better person. His love for family, friends and college hockey will live on in all of us. He will be missed very much.
— Jennifer Briand
---
I had been the Play by play voice for the Northeastern Huskies from 91-92 season to the 93-94 season on the student station. Before that I had been a writer for the Northeastern News where I had met Jon Barkan.
As an intimating freshman writing for the NU News Jon had always made me feel important and was always around to ask advice. He was an inviting person who always had a positive attitude and had a passion for life.
He will be missed.
— James Halleran
---
I knew Jon Barkan since my undergraduate days in Boston in the late 1980s, and you couldn't help but like him and his outgoing personality. Over the years I would see him here and there, usually at a rink, and he was always one of those people you were happy to run into. I actually wondered how he was doing early last week before I heard this terribly sad news, and the world will be a sadder place without him. People usually exaggerate when they say that everyone likes a particular person – but in Jon's case, it was true. My condolences go out to his family.
— Roman Uschak
---
Jon Barkan had the amazing quality of pushing all of your buttons one minute and making you want to hug him as tight as you can the next. And he loved it. He loved a lot of things, but make no mistake – he loved people the best. That's why anyone who had spoken with him (if you could get a word in) for more than five minutes knew him as a friend. It didn't matter if you saw him yesterday or five years ago, you could pick up a conversation with Jon in an instant. It usually started with sports, but never ended without getting around to family. Jon did everything with great passion. He lived more in 39 years than most do in twice the time. That doesn't change the fact that he's gone way too damn early. My thoughts and prayers are with the Barkan family.
— Jon Haeussler
---
I met Jon in 1999 when I arrived in Atlanta for the start-up of the Thrashers franchise. He became an instant friend and someone who was always ready and willing to talk college hockey.
My greatest memory of Jon is our insane trip from Atlanta to Indianapolis to watch Michigan State win the 2000 national championship in basketball. Following an afternoon game against the New York Islanders, we got in Elizabeth's BMW and drove all night to Indianapolis. We watched Izzo and the boys cut down the nets, then got back in the car and drove all night back to Atlanta to make a Tuesday game against Philadelphia. The trip included a blown tire at 4:15am in the middle of nowhere Tennessee and countless stories that we would laugh about all the time. There was never a time that I wouldn't get a call from him after some big Spartan victory. I know Jon graduated from Northeastern, but he was green and white all the way. What an incredible fun-loving, generous and warm friend.
Rest in Peace, Jon.
— Matt McConnell
---
When Jon Barkan touched your life you knew you had been touched – the feeling lasted the rest of your life.
Charismatic is the word that I would have used to describe him best to people who didn't know him. There was a connection made the minute we met. I was the older sister he never had – he was the little brother I always wanted. He called me "Sis" – I called him "Bro". We both shared a love for the game of hockey and a lust for life. We could all take a lesson from Jon on how to live each and every day to the fullest. When you talked to Jon on the phone, the conversations were rarely longer than a few minutes. He was always busy but found the time to connect with those he cared about. I can't describe the feeling I would have as I hung up the phone from talking with Jon – it was like a warm glow. He made you feel special. I can't
imagine how much we are all going to miss him. To his family I want to express my deepest sympathy. To his parents – I want to thank you for giving us Jon. His was a gift from God to all of us.
— Patti Bjorklund (Babcock)
---
I remember working at one of my first Frozen Fours at Cincinnati (yes, the infamous one) and being thrilled to have Barkan introduce himself, tell me he had read my stuff in College Hockey Magazine and then slip me the famous card with the location for the "Barkan Bash". I was thrilled.
I would only see Jon at the next few Frozens – the Boce Game at 3 AM in the lobby of the Milwaukee Hilton in 1997 complete with Jon wearing a CCHA ref's jersey. The Boston soirée in 1998 where security showed up every five minutes.
I have a t-shirt (yes, they sold t-shirts) from the 1999 Bash in Anaheim that has a picture of Jon on the front holding the championship trophy with a big smile on his face. I think I only talked to Jon once in the past few years, but even though he was seven years younger than me, he always seemed larger than life and someone to look up to. And he was always glad to talk college hockey, even with a guy who covered Division III.
I got that t-shirt out and wore it yesterday. My thoughts and prayers go out to his family and friends.
— Chris Lerch
---
Tom Douglis wrote a touching tribute to Jon on collegehockeynews.com.
---
Although I hadn't spoken to Jon in years, I will miss him. We both went to Northeastern, and I played college hockey there, but we didn't meet until Atlanta. We met over our common love of hockey. We became friends and then subsequently through Elizabeth we became better friends on a trip to Israel.
He was an amazing guy with a love for life. He will surely be missed. My love and prayers go out to Elizabeth and the children and Jon's parents who were always a joy to be around, much like Jon.
Rest in peace my friend.
— Stacey Garlin Lederberg
---
Jon Barkan brought people together. He was a uniter. What a great legacy to have.
He had such a love for hockey, in particular college hockey. And he had great passion for life. What a great combination.
It's tough for all of us that had the pleasure of his friendship to know he won't be with us on earth any longer, but it makes me smile (while tears roll down my cheeks at the same time) to know that Jon didn't get cheated. He lived life to the fullest each and every day and that's something he'd tell all of us to do.
We're left with a lot of good memories from sharing time with him, including many that occurred at those legendary Barkan Bashes. Those will never be lost.
We're blessed in hockey to have an awful lot of good people. "Barky," as our good friend Ed Carpenter always called him, is right at the top of that list.
We'll miss ya, my friend, but look forward to seeing what the heaven version of the Barkan Bash is like!
To Jon's family – in particular his wife Elizabeth and children Abbie, Miriam and Benji – may God bring you peace during this difficult time. Our thoughts and prayers are with you.
— Dave Fischer
---
I knew Jon Barkan for only a year, but his memory will live with me forever. I had the pleasure of working with Jon in the course of my day job supporting communications for a few clients in the world of sports. In the course of our interaction, it did not take long to see Jon's passion for hockey manifested. His love for the game, and sports in general, was infectious. I remember him speaking about watching games in his basement with his little girls and listening to him get so excited talking about the prospect of taking them to their first live game.
However, more than anything, Jon's devotion to family and commitment to others was always what made him so special. Nothing made him happier than taking care of people. I spoke to him nearly every day over the course of this past year. Each time, I'd ask Jon the same question about "how we was doing…" at the start of each call. The answer was always the same: "Just happy to be here, buddy." That line has kept playing over in over in my head since late last week. It embodied how Jon approached life and the type of person he was to all those that knew him. Jon was one of those who certainly "got it." In that way, I am thankful for having the time I got with him…but I sure am going to miss him.
— Steve Bonsignore
---
What a great person and friend of hockey. If all folks had the same passion and feelings for the game, hockey would be the number sport on earth. I know Jon is promoting hockey in heaven each day with a different college jersey and telling everyone about the relationships he established over the years in the hockey
community. He will be remembered by all as the true friend that he was.
The Frozen Four weekend will permanently be dedicated to Jon's memory.
The entire hockey community is with Jon's wife, children and family in this sad
time.
— Jeff Sauer
---
I first met Jon back in college when he was a writer for Northeastern and I played for BU. Didn't see him much after college until he started working for the Thrashers. When I would come to town to play against Atlanta we would talk about old college stories, he would have great memories of the games, and he could give you Jack Parker and Ferny Flaman quotes verbatim.
We became friends when I was traded to Atlanta in 2002. I went down to Atlanta to find a house and met Jon at the practice rink. My wife and I asked him how it was living in Atlanta and Jon said, "Well, you know how up north when you ask someone how they are doing they say 'good' or 'fine' but you don't really care? Down here you ask, and people will tell you just how they are doing and go on and on, like you care."
Going to practice everyday for me always included a stop in Jon's office at the rink
to get a daily dose of "Barkan." I missed this after he left the Thrashers a year later, but we had kept in touch over the years. We had our yearly bet on the Beanpot until last year when I became assistant coach at Northeastern and then we were back on the same side.
Jon was a proud dad and husband, and always had a good story about his family when we spoke. I will miss Jon's sense of humor and quick wit. We lost a good friend.
— Shawn McEachern
---
I too brought out my t-shirt from the 1999 Frozen Four when I heard the news about Jon. He and I only crossed paths a few times, but each one was like a visit from someone you knew forever and it took no time to pick up the old act.
Jon emailed me after seeing our TV show following MSU's national championship. He told me that the last segment of the show when I was hit in the face with the
obligatory shaving cream was "what college hockey is all about ... when the players have fun with you."
He must have known what high esteem people had for him ... but Jon never came off as the guy who needed the attention to make it work. We can all learn a lesson from someone who's just as comfortable in the spotlight as he is in the shadows.
This is a loss no one can hope to replace. But Jon would want us all to try! My
thoughts are with his family, and all of us in the college hockey world as we both
mourn and celebrate the life of a great person. I hope we can all put a fitting
tribute together in Denver next spring when we assemble.
— Dave Ellis
---
I had the pleasure of attending two or three Thrashers games at Phillips Arena
with Jon over the last few years. He was the mayor of Philips Arena. Countless
people would come up to him and say hello. No matter how hard I tried to get him to make the Thrashers his favorite team he would never give in.
In February of last year we bet lunch that the Thrashers would make the playoffs (at the time they were about 12 points above the no. 9 seed). Fortunately, I won that bet and got my lunch payoff at the Palm (one of his favorites). However, he won the bet we made on the Rangers-Thrashers opening round of the playoffs bet. I still owe him lunch.
The New York Giants and the Minnesota Vikings have also been our yearly feud. We would frequently talk about how both of our teams always left us disappointed. If you saw the Giants beat the Eagles this Sunday you will agree that it was Jon who was blowing David Akers' (of the Eagles) last-second field goal attempt into the crossbar preserving the win for his beloved G-Men. Before the kick, I knew that God would not allow the Giants to lose with Jon nearby in heaven.
Take care JB. You will be missed by thousands. I will be sure to tell your children
what a great father they had.
— Bryan Lewis
---
Having been born and raised in New York City, I knew Jon before I even met him. There is something about New Yorkers (and those from New Jersey) that can be irritating and loveable at the same time. I have mellowed here in the Midwest for more years than I lived in New Yawk and I like it here. Jon was like a breath of fresh air for me, as he was brilliantly irritating and most loveable. A most wonderful human being!
First met Jon at a small bash in Albany in the early 90's.... and every year after that at the Frozen Four. It was something I very much looked forward to, not only to see Jon again, but to see all the friends I made through Jon. Everyone had fun at the Barkan Bash! You could not be there and not have a blast! Most notable was the Bash in 1997 in Milwaukee, coaches hob-nobbing with fans, sports media, officials, and fans with all of them! Jon was running around in a referee uniform ... it was the most marvelous time I ever had. Jon just generated FUN!
I am sad that he has left us, gone on ahead to join other hockey greats in the sky. I will miss his energy and enthusiasm for life. I am so sorry that Jon's children will grow up without his loving support and great delight in life.
Jon touched many, many people in his 39 years and when I see this quote,
I will think of Jon: "Wherever you are, it is your friends who make your world." -- William James
To Jon's family: I hope his memory is a blessing and we are all grieving with you.
— Carol S. White
---
There are others here at INCH who knew Jon a lot better than me. But the great thing about Barkan is that if you spent enough time bouncing around the college hockey world, you'd hear enough stories about the guy that you felt you knew him even before you'd met him. He was one part New Jersey wiseguy, one part Bluto Blutarsky, and one part your favorite uncle, an oversized personality with an even greater zest for squeezing all that he could out of every single moment.
His visits to the Frozen Four and other hockey events became less and less frequent after he got married and started a family, and certainly his work with the Atlanta Thrashers and, after that, his many business interests kept him away from the college game more than he would have liked. All that did was make his appearances even more of an occasion – like the circus coming to town, or better yet, like Elvis leading a Mardi Gras parade.
My lasting image of Barkan comes from the 2004 Frozen Four in Boston, when he showed up, in part, to help INCH launch a reasonable facsimile of the Barkan Bash, the annual party he threw at the Frozen Four for a number of years. In a watering hole not far from his Northeastern stomping grounds, he looked like he had found nirvana in a wood-paneled back room crammed with college hockey types ranging from Minnesota Duluth undergrads to then-Northeastern coach Bruce Crowder to The Dean, Jeff Sauer. Good drink, good friends, good hockey talk – for Jon, it didn't get much better than that.
Without question, Barkan captured the spirit of the thing. As evidenced by the numerous tributes we've received in the past days, however, you can see that Jon also had the uncanny knack of infusing that spirit in just about everyone who crossed his path. And if you felt like you knew him before you met him, my guess is that you'll still sense his presence even though he's gone.
— Mike Eidelbes
---
As difficult as these past few days have been, it's been comforting to know how lucky we all have been for the life of Jon Barkan. Even if you didn't know him, fans of college hockey should know the role he played in developing the sense of community that our sport is blessed with.
Personally, I feel lucky for the memories that have continued to run through my mind the past few days. Among them:
I remember meeting him for the first time, when he had come back to East Lansing and I tagged along at a dinner with friends. At first I was amazed that two dozen people flocked to see him; by the end of the night it made perfect sense.
I remember my first Frozen Four just months later, when he invited me to crash on a couch in the Barkan Bash suite. Unmentioned in that invite was that he'd be waking me up – about three hours after the last partiers left (you know who you are, Frank M.) – by throwing his shoes at me from across the room. Barkan didn't want to miss a minute when he was at a Frozen Four.
I remember him calling me in Anaheim after Michigan State lost in the semis, letting me in on the secret that he and the new love of his life, Elizabeth, would be flying in on Friday – at about the time I was scheduled to leave on the Spartan charter back to campus. He implored me to stick around, and I wish I had.
I remember a long, through-the-night car ride to D.C. after the Maine-UMass triple-OT Hockey East title game in 2004 that was made tolerable by hourly calls from Barkan to make sure I hadn't fallen asleep at the wheel. He told great college hockey stories, interrupted only by him berating me. He wanted to pay for my flight if I ever planned a post-game drive like that.
I remember getting INCH off the ground and leaning on his expertise and enthusiasm, although his time was stretched thin. And I remember his inspiring words to all of us on staff over our first beer after the championship game in 2004.
I remember him, on the walk back from the bar that night, spending $50 to convince a pizza place that was closing to make one last pie.
What we wouldn't give for Barks to attend one more Frozen Four. It's not easy, but I'd prefer to remember how lucky we are to have known him.
— Nate Ewell
---
I have been fortunate to have made so many lasting friends directly thru an association I have shared over the years with Jon Barkan. In addition to all of those friends, there had been countless others who I heard Jon talk about over the years that were somehow woven into the web that Jon cast. I found it amazing over the past few days to be able to meet and talk to many of those people I have heard about and piece together the hockey (or otherwise) connection. While many of us knew each other's names thru discussions with Jon, we were the spokes on the wheel and Jon was the hub that brought us together.
I am a former MSU hockey player and an Atlanta resident who is now enjoying his second stint in the city. On the first night of my arrival here in May 2002, Jon called and demanded we go out for dinner at The Palms to celebrate my arrival into his adopted town. After a brief one year stay away from the city, I returned in the summer of 2007 wherein Jon called on my first day back and demanded that I have dinner that night with Elizabeth and the girls telling me that you cannot mess with superstitions. Jon was a hockey player thru and thru.

Love ya
— Brad Hamilton (Class of '89)
---
For 19 years I knew Jon Barkan, from the start of our friendship when we were student newspaper writers (he at the Northeastern News, me at the UMD Statesman) covering our first Frozen Four in 1989, to the final time we talked and laughed and joked, on the first night of Chanukah, just two days before he'd say goodbye to us all.
Jon was my best friend, and the best, most generous person I've ever known. As I told his parents when we spoke in Atlanta, the night before Jon's funeral, he was my brother.
Even the unlimited nature of the Internet couldn't contain every great story I could share about the man my children knew as "Uncle Barkan." In addition to those many Frozen Four trips when we were younger, there were countless weekends spent in Minnesota, Chicago, New York, Washington, Atlanta and elsewhere (sleeping on the same black sofa in three different apartments in three different cities).
While I would never accuse either of us of truly "growing up" we can claim to have at least grown a little older together, as the topic of conversation gradually changed from partying with Jeff Jackson and George Gwozdecky at the Frozen Four to partying with Spongebob Square Pants and Dora the Explorer, as we marked another birthday for one of our children.
Not too long ago, Jon and I talked about how blessed we were in our lives, with great wives, children, parents and friends. More than any of the people I've ever known who possess wealth and power, Jon understood that everything we have is a gift, and for those gifts, he was always thankful.
At Jon's funeral, the rabbi read Psalm 23 – the famous passage about walking "through the valley of the shadow of death." I was reminded by my pastor that without light, there can be no shadows, and the dark shadow cast over all of us in the sad valley where we now reside, is created by Jon's light, shining down on all of us from his new home with God.
Instead of more sadness, I need to offer thankfulness. To Elizabeth and the children, thank you for sharing your husband and papa with all of us. To Neil and Judie, thank you for giving all of us such a wonderful gift.
And to Jon, thank you for being my best friend and my brother for such an important part of my life. I will think of you and miss you until we are together again one day.
— Jess Myers
---
I lost a friend, and if you are a fan of college hockey, so did you.
The man never played a minute on the ice. He didn't win the Hobey Baker. He never coached a team. He wasn't a commissioner or administrator coming up with ways to make the game better.
But he was the most important part of college hockey: the person who loved the game and everyone involved with it.
Jon Barkan passed away Friday at the tender age of 39, leaving behind a wonderful wife, three beautiful children and an extended family of thousands.
For the last few days, I've tried to make sense of how a person so full of life is silenced at such a young age. I've tried to figure how a person who never trudged through his life in misery, but bounded through it finding a way to make people smile, is no longer with us.
I can't find the answer. I can only accept the reality.
Growing up in Ho-Ho-Kus, New Jersey, right up the road from Jon, I was always known as the guy who turned his house into a miniature version of Woodstock the minute his parents left town. I took pride in the police having to block off our street and just ask me to 'control' the situation. I remember my mom actually found out about a party once because she was in line at the grocery store once a few days after a particularly wild one at 430 Braeburn and the cashiers were talking about it (Jon always loved it when my mom told that story).
But the first time I walked into the Barkan Bash, I yielded the title willingly to Jon. Everyone was at these parties. It was a big, extended family celebrating the game they love. From the face-painting wack-o 'Superfans' right up to appearances by people like Ron Mason, Shawn Walsh and Jeff Jackson. In fact, you would often see some of the former suggesting power play options to some of the latter.
And Jon would laugh.
It was always good clean fun that ran late into the night after the title game. And I never figured out just HOW he fit so many people into one or two hotel rooms.
Jon grew up in Fort Lee, New Jersey, right up the road from me, and we never knew each other until we lived in Michigan. But once we met each other, it was as though we had fought over toys in the sandbox together.
We both knew the Scheafer Beer Jingle from Kiner's Korner ("Schaefer is the one beer to have when you're having more than one!"). We both remembered where we were when Piscarcik fumbled the ball. We both knew the "Potvin Sucks" whistle. We both remembered Son of Sam and the blackout.
And we had both waited all our lives, and our father's lives, and a good part of THEIR father's lives, to see the New York Rangers win the Stanley Cup.
And we stood in the old Penn Bar outside of the Garden before the first game of the finals in '94, and sang and cheered with the fans. I can't elaborate on what we were cheering, but Pavel Bure and a proctologist were involved.
Jon was the ultimate optimist. He could find a needle of happiness in any haystack of gloom.
I will miss that most. His ability to help me through trying times in my life, to see the proverbial light at the end of the tunnel, was so important to me.
When my father became ill a few years back and passed away, Jon was in Jersey within hours and helped our family survive what is always a tough time for anyone. He gave me a shoulder to cry on. He washed dishes for my mom and entertained the multitudes showing up at the house to help ease the burden for our small family.
That's who he was as a man. That's a legacy more important than any titles, trophies or accolades.
To his parents, Elizabeth, the children and their extended family, I hope I can provide that shoulder for you over the coming months. Nothing can replace this loss, and there is no consolation. But please know that you have the support of many friends who would do anything for Jon and for all of you.
Life will never be the same. To many of us, more than a friend was lost. A part of our lives was lost. The days are tough right now. And they will be for a long time.
But if you live a life with the passion of Jon Barkan, you will live a full life, whether it is 39 or 109 years. And everyone you touch will be better for knowing you.
— Scott Monaghan
---
The Barkan stories run deep, they run aplenty and they run with a common thread – Jon's love of life, love of family and love of friends. When you first meet Jon, you wonder how one man can know so many people and have so many stories, and it's not unusual to be taken aback by it all. I know I was. But then you start piecing it all together, and you figure out that's just who Jon is.
Right now, I'm sitting in a hotel room late at night working on a story, feeling stressed and waiting for Barkan to tell me something funny, something to put it in perspective. I'm also delaying writing this because it is difficult. And I ask myself, What Would Barkan Do? Jon made time for his friends.
Jon and his wife helped me through a difficult time personally. They opened their home and more important their hearts. He was generous with his time, his resources and his friendship. There is that phrase about practicing random acts of kindness. Barkan practiced deliberate acts of kindness because that's who he is.
I'll tell this Barkan story, though as you all know, there is not just one Barkan story. There are many, and almost all involve good times, a celebration of life, an understanding of what it means to live. He knew how to wash away life's worries while realizing you still had to confront life's worries.
It's the 2004 World Series between the Yankees and Marlins. I'm in Miami for Games 3, 4 and 5, and it's the Monday off day between Games 2 and 3. It's a tough travel day; I left NYC early Monday, arrived in Florida, went to the ballpark and then had two stories to write.
Barkan is in Miami on business. He wants to go out with a few writers he knows. I'm trying to get my stories done. I hadn't even checked into my hotel yet but Barkan knows where I'm staying. I'm at the front desk checking in, and I see a limo pull up. Half joking but not entirely, I say to a co-worker, 'That's probably Barkan.' I should have been all serious.
Barkan steps out of the limo with that big, classic Barkan grin. He had hugs. He had beers on ice for the group. He had the company of friends. We go to Joe's Stone Crab for dinner where Barkan inevitably knows a group at another table, and that table proceeds to send bottles of wine our way.
It is just one story, a day I'll never forget and one I will always cherish.
— Jeff Zillgitt
---
I'm sure I'm no different from many in that I heard of Jon Barkan well before we actually met. I was a student at Lake Superior and attended the 93 Frozen Four, and my first Barkan Bash. He was a friend of a friend and I was excited to meet this person I'd heard so much about. He answered the door of the hotel and little did I know I'd be given a pop quiz prior to being allowed in. Apparently, I passed the test, was ushered in and quickly announced the winner to all in attendance which I'm sure far exceeded the recommended capacity. Jon didn't seem to believe in limits, rules or hotel security. By the end of the night, he was no longer just a friend of a friend, but my friend and a friend to everyone else that was there.
I remember sitting in the Downtowner in Sault Ste Marie, Mich. The Rangers were on the brink of going to the Stanley Cup Finals. My friend Scott was yelling at the TV between frequent calls from Jon making plans to meet should the Rangers win and go to the finals. The Rangers won, one more call was placed and before I knew it, Scott and I were heading South on I75 bound for NYC. My first trip to NYC and Jon was determined that I wouldn't be disappointed. Jon hands me tickets to see his Rangers in the Stanley Cup Finals and – knowing I liked basketball – hands me tickets to the Eastern Conference Finals between the Pacers and Knicks. He was unbelievable.
A few years ago I had made it to Atlanta to see a Springsteen concert with Jon and Elizabeth. (To which he pulled off backstage passes – nothing seemed beyond his reach.) Abbie was just an infant at the time, but already had her daddy wrapped around her finger. He brought her in their living room and asked if I wanted to hold her. Before I could get the words out of my mouth I was told to go wash my hands and given proper instruction on just how to hold her. He was so proud.
Monday night I sat at a table in Atlanta with 8 other people, from 8 different places on the map. We didn't all know each other, but we all knew Jon. We drank and told stories and drank some more. Tuesday after the funeral we all went to lunch, only our 8 had grown to 12. Again, not everyone knew each other, but brought together because of the friendship of one man we all had the privilege of knowing. Jon Barkan.
— Christie La Douceur