April 29, 2005
10 For '06: The Questions
A lot can change between now and the drop of the puck in October, but that doesn't stop our 10 For '06 feature. We've already taken an early look at the top 10 teams headed into next season and 10 candidates for the Hobey. Today we wrap things up with a look at 10 burning questions on our minds as we head to next year.

1. If the lockout continues, will any underclassmen jump to the AHL?
The looming lockout drew the likes of Zach Parise, Thomas Vanek and Brandon Bochenski to the AHL this season, so it might seem like we'd witness similar defections this summer. A big difference, however: those players all signed with NHL teams, something no current collegian can do until a new collective bargaining agreement is approved. Until that time, any player that signs will have to do so at the minor-league level, missing out on an NHL signing bonus. While players like Patrick Eaves or Matt Carle are almost certainly AHL-ready, they'd make more money by waiting to sign with the big club, meaning that flight risks – for now – are minimal. That could all change if Messrs. Bettman and Goodenow start playing nice.

2. How about the Olympics?
One scenario making the rounds: say the NHL and NHLPA cut a deal in October – in time to save the season, but too late to create a three-week break in February to allow the best players to play in Torino. That could mean a U.S. Olympic team made up of minor leaguers, Americans playing in Europe, and amateurs. You wouldn't see an almost-all-college squad like in 1980, but a few of the spots would be taken by college players. Likely candidates include Eaves, Colorado College's Mark Stuart or Maine's Jimmy Howard – assuming their NHL clubs don't sign them first.

3. Who are six guys ready to make the leap to stardom?
Unlike a year ago, college hockey should have a lot of "name" players returning in the fall. Of the 12 players on INCH's first two All-America teams, only two were seniors.
But all those returning stars will have to make room for some new big names. Here are six who weren't on their all-league teams last season who we think you'll hear a lot from next year:
G: Chris Holt, Nebraska-Omaha
D: Cleve Kinley, UMass Lowell
D: Brian Salcido, Colorado College
F: Drew Miller, Michigan State
F: Darin Olver, Northern Michigan
F: Mike Ouellette, Dartmouth

4. How about a few teams ready to make the leap?
Looking at teams that missed the NCAA Tournament a year ago, we see two obvious choices to elevate their games this year: Nebraska-Omaha and Vermont. Both made huge strides last season, from at or near the bottom of their conferences to fourth place in each case. Both relied heavily on young players last season and welcome a lot of talent back to campus.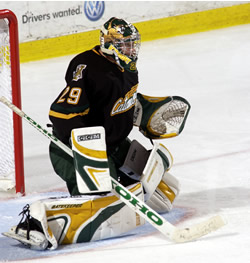 Of the two, Vermont (led by 2005 INCH freshman All-America selection Joe Fallon, pictured left) loses more with the departure of Scott Mifsud. The Catamounts should get a big lift from the healthy return of Brady Leisenring, who took a medical redshirt after posting nine points in the first six games of last season. There should be a surge of energy in Burlington as well with the move to Hockey East.
Nebraska-Omaha, meanwhile, had only one senior suit up regularly (Dan Hacker). First-team All-CCHA forward Scott Parse is back, as well as conference Rookie of the Year Bill Thomas. They could be poised to add some team hardware to those honors in 2005-06.
5. Given the near-upsets in the NCAAs by Bemidji State and Mercyhurst, is the era of the Big Four/Little Two over?
The narrow escapes of top-seeded Boston College and eventual champion Denver were two of the biggest stories of the NCAA Tournament, and make no mistake, both could have gone the other way. Neither the Lakers nor the Beavers played perfect games. But both teams are talented enough not to need perfect efforts, a big reason they won their leagues in the first place. What those games showed is that the top teams in Atlantic Hockey and the CHA can compete with anyone, but the leagues will need to produce more depth.

6. Is Phil Kessel for real?
There's considerable sentiment that the expectations for Phil Kessel – already mentioned in our 10 for '06 list of Hobey candidates – are overblown, an understandable thought about someone yet to pull on a college sweater.
The thinking here: anybody questioning the hype around this kid hasn't had a chance to see him play. Flip on FOX Sports North in October and we think you'll be impressed – he may even leave Doug Woog speechless.
The fact is that while Kessel hasn't played in college yet, he's played against colleges with the U.S. Under-18 Team, and he's lit them up for nearly two points per game. When he suited up with the best American-born freshmen and sophomores at the 2005 World Junior Championship, he was clearly the best player on the team. Time will tell whether he's truly for real, but at this point, he's earned the benefit of the doubt.

7. What are the chances of another all-WCHA Frozen Four in 2006?
Judging from our 10 for '06 list of top teams, pretty good. Colorado College, Denver, Minnesota and Wisconsin are among our top five for next season, and North Dakota checks in at no. 8. This stuff is cyclical, of course, and the WCHA is on the upswing right now. It wasn't long ago that Hockey East was the dominant conference, and the CCHA held court prior to that. Based on the talent returning as well as the prospects coming in, the Dub should stay entrenched as the nation's best league for another year.
Back to the question at hand, we're sure there are a handful of conspiracy theorists out there who are convinced the purveyors of college hockey's alleged "Eastern bias" will somehow influence the NCAA Tournament selection committee to seed next year's field to prevent a repeat of this year's Frozen Four. But the NCAA would never resort to such skullduggery.

8. Are any new officiating initiatives on the horizon?
Nothing definite, but according to Miami coach and NCAA Ice Hockey Rules Committee chairman Enrico Blasi, a few topics were bandied about by Division I and Division III men's and women's coaches at meetings in Florida earlier this month.
The most interesting proposals centered on special teams play – namely, requiring players whistled for minor penalties to serve the full two minutes in the box, and not allowing the shorthanded team to ice the puck during the penalty kill.
Of course, these measures and others – including limiting the size of goalie equipment, which Blasi says will likely be enacted once the National Hockey League imposes a similar code – were just discussed and nothing further. The coaches fill out surveys regarding potential changes next month. The rules committee collects the findings and studies the results at its meeting in Indianapolis in June. Blasi says while the committee has the autonomy to operate outside the recommendations of the coaches, it relies heavily on coaches' feedback.
Blasi also added that further tweaking of the obstruction crackdown is necessary. "It's a work in progress," he said. "We've identified some areas where we need to continually educate everyone."

9. What's up with the CCHA's reworked playoff system?
The format, which mirrors what the ECACHL has been doing for a few years, makes sense for a handful of reasons. First, it gives eight teams the opportunity to host home playoff series instead of six under the old system. Second, it rightfully rewards the top four finishers in the league's regular season standings with a first-round bye. Combine the first two factors and one can see how the last few weeks of the regular season could become wildly entertaining.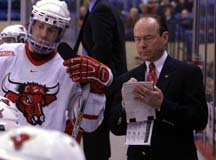 "It'll keep the fight for seventh and eighth [place] real interesting," Nebraska-Omaha coach Mike Kemp (pictured left) said. "One thing about our league is that year in and year out, it's been very, very close in the middle to low pack. It'll make games in the later part of the year more significant."
It also spells the end for the short-lived CCHA Super Six, which started in 2002 and brought the winners of the six first-round playoff series to Detroit for a three-day, single-elimination tournament (the top two remaining seeds got byes into the semifinal round). The event's quarterfinal matches were sparsely attended, which likely played a major role in the format's demise.
Still, there's some sentiment for the Super Six, especially among CCHA teams that don't consider a visit to Detroit in mid-March a birthright.
"I'm a big believer of getting as many players as possible to experience the thrill of Joe Louis Arena," said Kemp, whose Mavericks last season advanced beyond the first round of the league tournament for the first time since 2001. "For us, it didn't matter if there was nobody there. We were playing for the conference title in Joe Louis Arena."

10. Which coaches could be in trouble should their teams falter next season?
While the spotlight isn't as blinding as the one that shines on their basketball and football brethren, hockey coaches whose teams underachieve are starting to face increased scrutiny from alums, fans and the media. Among the coaches who need a good showing in 2005-06:

• Rick Comley, Michigan State: Comley's winning percentage with the Spartans (.574) easily exceeds his career winning percentage (.558), but he's in danger of becoming East Lansing's version of Gerry Faust. MSU has missed the NCAA Tournament in two of the last three seasons, has failed to advance beyond the CCHA playoff semifinals since Ron Mason's last season behind the bench and the team has generally been devoid of consistency under Comley's watch.

• Craig Dahl, St. Cloud State: Since posting a 60-20-3 record from 2000-2003, the Huskies have gone 49-55-12 over the past three seasons. The decline hasn't been pretty, either – once one of the nation's most potent offensive teams, SCSU ranked 36th in the nation in goals per game last season. Oh, and he got the dreaded vote of confidence from athletic director Morris Kurtz in March.

• Dan Fridgen, Rensselaer: Speaking of votes of confidence, Fridgen got one in March from AD Ken Ralph shortly after the Engineers were bounced from the first round of the ECACHL playoffs for the second straight year. Fridgen, who's in the last year of his contract, hasn't led Rensselaer to the NCAA Tournament since 1995 – his first season behind the bench in Troy.

• Paul Pooley, Providence: The Friars mustered just 16 points in Hockey East play this season, the team's worst showing since the league formed in 1984. That'll happen when you don't win a conference game between Oct. 30 and Feb. 18. Providence has been below .500 in Hockey East in three of the last four years and four of the last six. Like Fridgen, he's also in the last year of his contract.

Send this to a friend
About Us | Advertiser Info | Site Map | Privacy Policy
© 2005 Inside College Hockey, Inc., All Rights Reserved