June 29, 2005
Mirror Images
Tim Army and Greg Cronin bring similar backgrounds, and similar passions, to their tasks at Providence and Northeastern
By Nate Ewell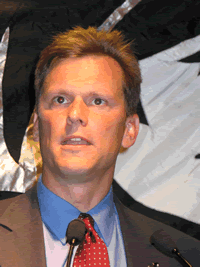 Tim Army (above) and Greg Cronin (below) were introduced at Providence and Northeastern, respectively, within two months of each other this spring.
The second Monday of February fell during a mini-vacation for Greg Cronin – the AHL All-Star Break – but as he retreated to his home in Scarborough, Maine, he couldn't escape hockey. The Beanpot final had him riveted.
Just a few miles away, in the same Southern Maine town, Tim Army was sitting with his sons, Derek and Travis, also watching Boston University battle Northeastern. As the game stretched into overtime, neither Cronin nor Army was entertaining thoughts of leaving their AHL jobs to coach college hockey. In fact, Army still didn't see it as a possibility as recently as April, when he e-mailed Cronin to congratulate his colleague and part-time neighbor on being hired as Northeastern's new head coach.
Two months later Army joined Cronin in Hockey East, as Providence's head coach, and Cronin followed up with a congratulatory phone call.
Now Hockey East enters 2005-06 with two talented new coaches who owned successful professional careers and were a heartbeat away from NHL head coaching jobs. Their decision to step behind college benches speaks volumes about their values and the college game as a whole.
• • •
Army and Cronin are part of a small movement of coaches who have left the professional ranks to join college hockey, a group that also included Jeff Jackson (Notre Dame) this summer. Last year Ted Donato retired from the NHL to take over at Harvard, and four years ago New York Rangers assistant Walt Kyle returned to his alma mater, Northern Michigan.
The reasons for these moves may lie in the shortcomings of the professional game as much as the strength of college hockey. Obviously job security can be an issue at the NHL or AHL level, something perhaps magnified by the 2004-05 NHL lockout. And despite the constant turnover, opportunities at the pro level can be limited. Only one coach in the last several years has moved from college hockey to the NHL (North Dakota's Dean Blais).
But Army and Cronin – who spent the last eight and seven years, respectively, working for the same NHL organizations – are quick to cite the benefits of college coaching rather than any disappointment with the pros.
"I'm looking forward to more of the human side of coaching," Cronin said. "Let's face it, this is a business at the professional level. In college, you have an opportunity to have a broader impact in a player's life. You get to work with a kid for four years."
Army looks forward to creating a similar type of atmosphere at Providence.
"College kids have a lot on their plate," he said. "The best part of their day has to be when they come to Schneider Arena. I want to create that type of culture, all within the environment of trying to improve each day."
For both Army and Cronin – like Donato and Kyle previously, and before them, Michigan's Red Berenson and others – an emotional tie played a role in their moves. Army and Cronin's fathers were captains at Providence and Northeastern, respectively; Army was the Friars' captain as a senior. While Cronin didn't attend Northeastern – he played at Colby College in Maine – his ties to the school run deep through his father, uncle, and cousin.
In a long conversation with Army, the subject never strays far from his passion for the school.
"It's the only college job I would want," he said. "I have such a connection to the school and the hockey program. I believe so much in the fabric of the college. When I speak about the school, I'll speak from the heart."
Comparison Shopping

Category
Tim Army
Greg Cronin
New job
Head coach, Providence
Head coach, Northeastern
Last job
AHL coach in Portland
AHL coach in Bridgeport
NHL experience
Asst. coach, Washington and Anaheim
Asst. coach, N.Y. Islanders
College coaching experience
Asst. coach, Providence
Asst. coach, Maine and Colo. College
Father
Tom, '53 Providence captain
Don, '59 Northeastern captain
It's not surprising, then, to hear both Army and Cronin say they had a "gut feeling" or an "instinct" to accept their new jobs. And it doesn't bother either of them that some people might see their moves as a step down to coaching less talented players at a lower level.
Both plan to use their experience in the professional ranks extensively in both recruiting and coaching college players. Who better to help you reach the NHL, after all, than someone who has coached at that level?
"These kids come here to develop to become NHL players," said Army. "I've spent nine years as an NHL coach and three years as an AHL coach, and we will utilize that knowledge to help them get there. We want to provide an atmosphere that allows them to achieve that kind of success, both personally and as a team."
Cronin's not alone on his staff when it comes to professional experience. Assistant coach Gene Reilly has coached in the AHL, assistant Brendan Walsh just retired from the AHL, and volunteer assistant Joe Sacco is an NHL veteran.
"If a guy wants to play in the NHL, we have the credentials with our staff that are very unique and are going to help him get there," he said. "People develop players. People develop people. Facilities don't."
What's more, Cronin believes that Northeastern can offer its players a taste of the NHL, and it goes back to that game he watched in Scarborough in February.
"To me, BU, BC, Harvard and Northeastern are the only schools that have a pro-like opportunity and that is the Beanpot," he said. "The players who come here will get a real opportunity to see what it's like to play in the NHL, with the media, the crowd, and the arena."
And while, at the time, college coaching wasn't on Cronin's radar, he couldn't help but get caught up in the excitement.
"It was such an exciting game, such an awesome game to watch," he recalled. "The energy in the arena really came through, even on the broadcast. I remember thinking, 'What a great event to be a part of.'"
Cronin will get that opportunity next February, and before that, he'll face his friend, Scarborough neighbor and old AHL rival, Army. That, too, should be a great event to be a part of.

Send this to a friend
About Us | Advertiser Info | Site Map | Privacy Policy
© 2002-05 Inside College Hockey, Inc., All Rights Reserved