September 17, 2003
16 Greatest Coaches
Inside College Hockey offers our look at the best coaches the game has ever seen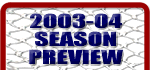 Our look at the best coaches of all time coincides with "Coach Week" of Inside College Hockey's 2003-04 Season Preview. Yesterday we showed you 11 Coaches' Resolutions for the year that we Found on a Cocktail Napkin. Later this week Jeff Sauer, No. 16 on this list, will share some of his thoughts about great coaches. You'll also read our look at No. 14 on this list, Don Lucia, as he pursues his third title in a row, and get our take on who the best coaches will be five years from now.
"I'm sure he was the greatest coach ever."
That's what former University of Minnesota standout Bill Butters said about his college coach, Herb Brooks, in front of 2,500 people who had gathered in St. Paul to pay their last respects to one of the best innovators and motivators the game has even seen. Certainly, Brooks had the credentials to make that statement stand – three NCAA titles with the Gophers and the unforgettable gold medal victory with the U.S. Olympic Hockey Team at the 1980 Winter Games in Lake Placid.
While meant as a tribute to Brooks' achievements, Butters' comment raises an interesting question: who is the greatest coach in college hockey history? Certainly, there is finite data that can be used to measure a coach's value (namely, wins and championships) but there also exists a larger – and perhaps more important – category of intangibles that are more important in determining a coach's worth. Things like the ability to adapt coaching systems on a season-to-season basis, the skill of making strategic in-game adjustments, being able to recruit and develop talent and managing the continuous process of building and re-building also fit into the equation.
1. Bob Johnson (Colorado College 1963-66, Wisconsin 1966-82)
In 12 seasons in Madison, Badger Bob guided the fledgling Wisconsin program to four Frozen Fours and three NCAA championships. Don't forget, the players he recruited went on to win a national championship for the Badgers under Jeff Sauer in 1983. He further proved his coaching prowess by piloting the Pittsburgh Penguins to a Stanley Cup in 1991, not surpising since he had been recruiting NHL-caliber players to Madison for the better part of his Badger career. And, for good measure, he's credited with popularizing the phrase, "It's a great day for hockey." Top talent: Mike Eaves, Mark Johnson, Craig Norwich (Wisconsin).
2. Herb Brooks (Minnesota 1972-79, St. Cloud State 1986-87)
Brooks' amazing run at Minnesota reads like this: seven seasons, four trips to the Frozen Four and NCAA titles in 1974, 1976 and 1979, the first hockey championships in the program's storied history. His Gophers were runners-up to Michigan Tech in 1975, the only loss his teams suffered in nine NCAA Tournament contests. Since 1961 – that's 42 years, people – no other coach has won three national championships in a six-season span as Herbie did from 1974-79. Somehow, he never won the Spencer Penrose Award and was named WCHA Coach of the Year just once. It's not too far-fetched say the Minnesota program fed off Brooks' success for the next two decades. Oh yeah, there's also that Olympic gold medal thing from 1980. Top talent: Mike Polich, Bill Baker, Neal Broten (Minnesota).
3. Murray Armstrong (Denver 1956-76)
Armstrong and the Pioneers made 11 Frozen Four forays and brought the national championship trophy back to the Mile High City on five occasions (1958, 1960, 1961, 1968 and 1969). He and Michigan's Vic Heyliger (more on him later) are the only coaches to win back-to-back titles twice in their careers, and only Heyliger won more NCAA crowns than Armstrong. DU's 1960-61 team, one of the top squads in the annals of college hockey, boasted five All-Americans and posted a 30-1-1 record. Top talent: Bill Masterton, Keith Magnuson, Peter McNab.
4. Jack Parker (Boston University 1973-present)
He currently ranks third among college hockey coaches on the all-time wins list, needing just 20 more victories to become the third mentor to reach the 700-win plateau. Parker took the Terriers to the mountaintop in 1978 and 1995, but perhaps more impressive are his five straight trips to the Frozen Four from 1974-79 and seven Frozen Four appearances in eight seasons between 1989-97. He's won more games in NCAA postseason play than any other coach to boot. There's also that little gathering in Boston each February – Parker has made the Beanpot like his own personal paperweight. Top talent: Tony Amonte, Chris Drury, Mike Eruzione.
5. Ned Harkness (Rensselaer, 1949-63, Cornell 1963-70, Union 1975-77)
Start with the fact that Harkness is one of two coaches to win NCAA championships at two different schools, leading Rensselaer to a title in 1954 and going the same at Cornell in 1967 and '70. His 1970 Big Red championship squad is the only unbeaten, untied titlist in the NCAA annals. Harkness, who ranks fourth in college hockey history with a 74.0 winning percentage, made seven trips to the Frozen Four, and has more Frozen Four wins than all but four coaches. Top talent: Abbie Moore (Rensselaer), Ken Dryden, Dan Lodboa (Cornell).
6. Vic Heyliger (Illinois 1939-43, Michigan 1944-57, Air Force 1969-74)
Critics argue that Heyliger made his mark at a time when Division I hockey programs were few and far between, but there's no denying the magnitude of his achievements. He directed his alma mater to six national championships between 1948-1956, including three in a row from 1951-53. The Wolverines made 10 straight trips to the Frozen Four (1948-57) under Heyliger's watch, and his record in NCAA Tournament play was an impressive 16-4. He was also a major force in the creation of the Western Intercollegiate Hockey League, now better known as the WCHA. Top talent: Willard Ikola, Bill MacFarland, John Matchefts (Michigan).
7. John MacInnes (Michigan Tech 1956-82)
MacInnes, who played for Heyliger at Michigan, built the Michigan Tech program into a national power in 26 seasons in Houghton. He ranks eighth in career wins and steered the Huskies to NCAA crowns in 1962, 1965 and 1975, and second-place showings in 1974 and 1976. Perhaps a better measure of Tech's consistency under MacInnes' guidance: under his watch, the Huskies never went more than four years without making a trip to the Frozen Four. In its 50th anniversary issue in 1997, The Hockey News tabbed MacInnes as the best coach in WCHA history. Top talent: Lou Angotti, Tony Esposito, Mike Zuke.
8. Jerry York (Clarkson 1972-79, Bowling Green 1979-94, Boston College 1994-present)
He'll always be a legend in the Heights for ending Boston College's 52-year NCAA championship drought in Albany two years ago, but maybe he did his best work at Clarkson, where he was honored with the Spencer Penrose Award as national coach of the year in 1977. Or perhaps he made his mark at Bowling Green, where he piloted the Falcons to an NCAA title in 1984 and sent boatloads of talent – standouts such as Rob Blake, Garry Galley and Brian Holzinger – to the NHL. Not only does he join Ned Harkness as the only coaches to win NCAA championships with two schools, but York, who enters the season sixth among Division I coaches in wins, has won regular-season league titles in three conferences (ECAC, CCHA and Hockey East). Top talent: Blake, Holzinger (Bowling Green), Brian Gionta (Boston College).
9. Snooks Kelley (Boston College 1933-72)
With a coaching career that spanned five decades, Kelley witnessed – and led to – as much growth in the sport as anyone on this list. When he took over his alma mater, which had dropped hockey at the time, the NCAA Tournament was still 15 years away. He brought the Eagles to a title in the second Frozen Four, in 1949, and made nine trips to the dance in all. He was an early proponent of the all-American roster, at a time when other teams were comprised completely of Canadians. In all – with four years off to serve in World War II – Kelley spent 36 years behind the Eagles' bench, becoming the first college coach to win 500 games and finishing with 501. He won the NHL's Lester Patrick Award for contributions to hockey in 1972 and is a member of the U.S. Hockey Hall of Fame. Top talent: Ray Chiasson, John Cunniff, Tom "Red" Martin.
10. Red Berenson (Michigan 1984-present)
A pretty good NHL coach – he won the Jack Adams Award for coach of the year with St. Louis in 1981 – Berenson resuscitated a struggling Wolverine hockey program that had won more than 20 games just seven times in 27 seasons between 1957 and 1984. Since taking over at Michigan, Berenson has built a national powerhouse, winning national championships in 1996 and 1998 and making a record 13 straight trips to the NCAA Tournament. Thirteen must be a lucky number for Berenson: it also marks the number of consecutive seasons his teams have won 25 or more games, a streak that started with the 1990-91 campaign. The program has also become a veritable pipeline to the NHL, churning out first-round draft picks season after season. Top talent: John Madden, Brendan Morrison, Marty Turco.
11. Ron Mason (Lake Superior State 1966-73), Bowling Green (1973-1979, Michigan State 1979-2002)
A dearth of NCAA titles – just one, with Michigan State in 1986 – keeps Mason from ranking higher on this list. With a record 924 career wins and 22 NCAA Tournament appearances, also a record, his teams got within reach of college hockey's top prize on a number of occasions as evidenced by his eight trips to the Frozen Four. Only Jack Parker has more NCAA Tournament wins than Mason's 22; on the flip side, no one has more NCAA tourney losses (26). His amazing run at MSU included 23 or more victories in 19 of his last 20 seasons behind the Spartan bench. Mason also excelled in adapting to the college game as it changed over the years from high-octane offenses (Mike Donnelly set the NCAA record for goals in a season with 59 in 1985-86) to stifling defenses (his teams consistently ranked among the nation's best in goals against average over the last decade of his coaching career). Top talent: Ken Morrow (Bowling Green), Ryan Miller, Mike York (Michigan State).
12. Jeff Jackson (Lake Superior State 1990-96)
Should we ever get around to compiling a list of most underrated coaches, Jackson will be featured prominently. His numbers are truly mind-boggling: 30 or more wins in five of his six seasons at Lake Superior State, the third-best winning percentage (75.1%) in college hockey history and, of course, national championships in 1992 and 1994. Don't forget that it took at third-period explosion from Maine's Jim Montgomery in 1993 to keep the Lakers from winning three straight titles. He gets a bad rap because of his perceived prickly demeanor, but if we were running a college program that could be considered a fixer-upper, Jackson would be on our speed dial. Top talent: Keith Aldridge, Blaine Lacher, Brian Rolston.
13. Jack Kelley (Colby 1955-62, Boston University 1962-72)
Kelley's tenure at the highest level of college hockey only spanned 10 years, but he did something nobody else could for the next 30 years – guide a program to back-to-back NCAA championships. After those twin titles for BU in 1971-72, Kelley headed to the pro ranks, but he had made his mark. Earlier, at Colby, he had earned the Spencer Penrose Award as the national coach of the year, and he is a member of the U.S. Hockey Hall of Fame. He also had a son, David E. Kelley, who was a pretty good player at Princeton and a fantastic writer for TV (The Practice, L.A. Law) and movies (Mystery Alaska). Among the elder Kelley's charges was Jack Parker – as both a player and an assistant coach – and, when Parker took over a little over a year after Kelley's departure, the stage was set for BU's continued success. Top talent: Fred Bassi, Dan Brady, Mike Hyndman (Boston University).
14. Don Lucia (Alaska-Fairbanks 1987-93, Colorado College 1993-99, Minnesota 1999-present)
Sure, he's won back-to-back national championships at Minnesota and his Gophers have the horses to make it a three-peat this season. But here's the true test of Lucia's coaching prowess: he won 20+ games at Alaska-Fairbanks four times. Since the Nanooks joined the Division I ranks in 1985, they've had a total of six seasons of 20 or more wins. In 1993, he took control of at Colorado College, where the Tigers were coming off an 8-28-0 season and a last-place finish in the WCHA, and won three straight conference regular-season titles. And when he arrived at Minnesota in 1999, the Gophers were fresh off consecutive sub.-500 seasons and a longer period of subpar recruiting. Top talent: Jordan Leopold, Thomas Vanek (Minnesota), Brian Swanson (Colorado College)
15. Shawn Walsh (Maine 1984-2001)
If we were ranking the most controversial coaches in college hockey history, Walsh would win in a landslide. Look past his one-year suspension for violating NCAA rules and his legendary rinkside antics, however, and one would be hard pressed to find bench boss better than Walsh when it came to winning big games. He turned a middling Maine program into a perennial national title contender, taking the Black Bears from 12 wins to 34 in the span of four seasons. Walsh's teams made five Frozen Four appearances between 1988-95. His 1993 NCAA championship squad, which posted a mind-boggling 42-1-2 record, was one of the most talented the game has ever seen; his 1999 NCAA titlist, meanwhile, was arguably one of the grittiest. Top talent: Mike Dunham, Paul Kariya, Scott Pellerin.
16. Jeff Sauer (Colorado College 1971-82, Wisconsin 1982-2002)
Bob Johnson left the program in pretty good shape when he stepped down as head coach in 1982. But Sauer put together a pretty good run of his own. In his first season at UW, he piloted a Badger team that featured the likes of Chris Chelios, Pat Flatley, Bruce Driver and Marc Behrend to a national title. The Dean's second national championship came in 1990 with a crew that wasn't as star-studded as the '83 group (Sean Hill was the biggest name), but was a rugged, gritty team that, as a whole, was far greater than the sum of its parts. Perhaps his greatest legacy is the first-rate talent he lured to Madison, then fed to the NHL. Top talent: Chelios, Tony Granato, Dany Heatley (Wisconsin).