October 15, 2004
Time Travel
Denver's return to Boston this weekend brings back memories of a title – and 129 harrowing seconds for Matt Laatsch and Gabe Gauthier
By Jess Myers

When their team visits Boston this weekend, Denver Pioneers Matt Laatsch and Gabe Gauthier won't be going back to the Fleet Center. Most of the site of their greatest hockey glory holds fond memories for the pair – teammates for last season's NCAA champs, and teammates again this season. But within the FleetCenter, just off center ice there's a little box, a few feet wide and a few feet long, that they can't forget, try as they might.
Their team led Maine 1-0 with 129 seconds to play last April in the NCAA title game, when two whistles and two penalty calls tied Laatsch and Gauthier together forever. Six months later, they sat down with this reporter to watch a tape of the end of that game, and reflect what they were feeling during those incredibly tense final two minutes.
With about 2:15 to play, we see a Black Bear barreling into the DU zone with the puck, before he's cut down by a hook delivered by Laatsch, then a junior defenseman.
"I didn't think anybody was back, and for a second it looked like he had a clear shot at the goalie, so I tried to stop him," says Laatsch. "He might have embellished a little, but it was a fair call."
As the cameras show Laatsch skating to the box, he jokes that he's got great hair, and then admits that putting your team down a man in a game of that magnitude is a nightmare come true.
"My first thought was that I can't believe this is happening now, and for just a second, I thought about the Minnesota-Maine game from two years earlier and how it was decided by a power play," Laatsch says. "I immediately put a towel over the camera in the penalty box."
The Maine fans get to their feet as the puck is dropped and play begins again with 2:09 remaining. More than 18,000 people are watching intently, but Laatsch is not one of them.
"As soon as the puck went in our zone, I threw my head down and couldn't watch," Laatsch says. "I could hear everything – the band, the fans, everything. But even if I was looking I couldn't see too well with all of the Maine fans standing up around me."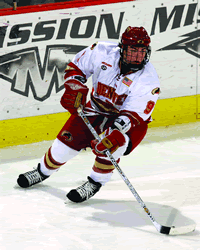 Gabe Gauthier's delay of game penalty gave Maine a two-man advantage.
Laatsch has been in the box for 35 seconds when he gets some unwelcome company. The tape shows Gauthier grabbing the puck and tossing it out of the DU zone, prompting a whistle. While many in the arena were thinking "hand pass," and the TV announcers say as much, referee Tim Kotyra has other ideas, and gives Gauthier two minutes for delay of game for closing his hand on the puck.
"It was a split-second thing," Gauthier says of the play. "It was a mistake, but at the time you're thinking that you have to do whatever you can do to get the puck out of the zone."
Six months later he won't argue too hard, but Gauthier remains amazed at the call.
"If you watch it in super slow motion, you can see that I closed my hand, and it was a good call, but I have no idea how the ref saw it at regular speed," says Gauthier, who is seen yelling toward Kotyra on his way to the box. "All I said to him was, 'How can you call that right now?,' but I may have used a few choice words."
The questions continued after Gauthier took a seat next to Laatsch.
"When I sit down in the box, you can see me turn to Matt and say, 'Are you kidding me?' We both had our heads down then," Gauthier says.
Laatsch says the moment confirmed that misery does indeed love company.
"For me, it was kind of nice to have someone in there with me," Laatsch jokes.
While Laatsch keeps all of his equipment on, cognizant of the fact that he might be heading back out with nine seconds to play, or if Maine scores, Gauthier's apparel choices reveal more of a sense of resignation.
"I put my gloves and stick down because I knew either the game was going to end or Maine was going to score, and either way, I wasn't going to need them," Gauthier says. "I figured I was either going to be the goat for the penalty or the hero for scoring the only goal."
A timeout is called, and frantic strategy sessions are undertaken at both benches. Although they have the option of going over to their bench, neither Laatsch or Gauthier leave the penalty box during the break.
"They left the door open for us to go over during the timeout, but neither of us moved. There wasn't much we had to say right then," Gauthier says. "Once the play started again, Matt put his head down and said, 'Tell me what's going on, just don't tell me if they score.'"
With 1:15 to play, Maine goalie Jimmy Howard heads for the bench, meaning the Black Bears now have six skaters to Denver's three. While the Black Bears storm the Denver net, Laatsch keeps his head buried, for fear of seeing the puck slip past goalie Adam Berkhoel.
"I'd peek up occasionally, but every time I did, something bad would happen," Laatsch says.
Gauthier is watching, and trying his own sort of "Caddyshack" voodoo on the Mainers.
"Maine had the puck and all I could do was watch and keep saying, 'Don't score, don't score, don't score, don't score,' over and over again," Gauthier says. "I guess I was trying to give them the Danny Noonan jinx."
With all of the other things happening, Laatsch is suddenly distracted by the noise coming from his penalty box mate.
"I was getting annoyed with you saying that," Laatsch admits to Gauthier, with a laugh.
Then, with just over 40 seconds to play, Maine's Colin Shields unleashes a blast from the point that Berkhoel casually snatches with his glove, bringing the Denver fans to their feet. As the camera shows Berkhoel's girlfriend and mother jumping for joy, the boys in the box say that the mood changes dramatically with that flash of a goalie glove.
"That was a huge save, so my gloves come back on, and I'm ready to go," says Gauthier. "I knew at that point that Berkhoel was in control."
Still, watching Maine's Jon Jankus hit the crossbar as the final seconds tick down – even six months later and secure it the knowledge that it's all going to end well – are still excruciating.
"I still get nervous just watching this tape," says Gauthier. "I still think that somehow they might score."
With 14.6 seconds left, Maine's Derek Damon – the victim of Laatsch's hook which now seems like it happened hours ago – misses a pass at the blue line and the puck slides into the Black Bears zone, taking several seconds off the clock. Laatsch, who now just has a few seconds of imprisonment remaining, is determined to get back into the play and use whatever time he has left to make a difference.
"I was up and ready to go block a shot or make a play or something," Laatsch says. "We were both standing up by then, and I actually had to move Gabe out of the way to get out the door."
As Laatsch comes out of the box, Maine's last best chance to tie is for naught, as Jankus sends a slap shot high over the net, off the glass and out of the Denver zone.
"When he missed that shot and the puck went around the boards and out, I knew it was over," Gauthier says.
Denver players are seen pouring off their bench with less than two seconds to play, while Laatsch, still wanting to make a difference, actually gets a backhanded swipe at the puck in an attempt for an empty-net goal as the horn blows. While Laatsch erupts in on-ice celebration, Gauthier is still trying to get free.
"There's an old guy running the door, and I'm telling him to open it, and he said he can't because there's still a few seconds left," Gauthier says. "Finally he lifted the latch and I pushed him out of the way and piled out onto the ice."
Gauthier's rush to the ice leads to possibly the worst-executed celebration in college hockey history.
"As soon as I got out of the box, I threw my gloves, helmet and stick and jumped into the air," says Gauthier. "When I came down, I landed skates first on my stick and fell flat on my face."
As they watch the tape of their celebratory pile around Berkhoel, Laatsch looks back with humor on his nerve-wracking final two minutes before becoming a NCAA champion.
"I wanted to be sure I was out there for the last few minutes of the national championship, but I wasn't sure the coach would put me in," he says, with a broad grin. "So a timely penalty got it done, and I got to be on the ice for the final nine seconds."
And six months after feeling shame, and then getting free, they've got the tape, and championship rings, to show for their efforts.

Send this to a friend
About Us | Advertiser Info | Site Map | Privacy Policy
© 2002-04 Inside College Hockey, Inc., All Rights Reserved