July 28, 2005
INCH 2005 DRAFT PREVIEW
Diamonds in the Rough
Paul Stastny already has an NCAA title to his credit, but may have more to celebrate on Saturday. (Photo by Sam Cooper)
A year ago, Minnesota recruit Blake Wheeler took center stage in the hockey world alongside none other than Wayne Gretzky at the NHL Draft in Raleigh, N.C. It was a coming-out party for the future Gopher that came at least 20 picks earlier than most prognosticators expected.
Saturday's NHL Draft in Ottawa will see more players stepping into the spotlight early, whether it's a projected late first rounder moving into the top 10 picks, or a projected late-round pick slipping into the fourth or fifth rounds. It just takes one team to like a player and send the conventional wisdom out the window.
It's hard to predict who these surprises might be – that, after all, makes them surprises – but here are nine candidates among the college hockey prospects who could hear their name called much earlier than anticipated. We've included an NHL scout's perspective on each of these players; the scouts were granted anonymity in exchange for their candor.
Joe Finley, D, Sioux Falls (USHL)/North Dakota
CSS Rank: 32nd
The Skinny: Size can't be taught, an important consideration when talking about the futures market that is the NHL Draft. At 6-7 and 233 pounds, Finley – who turned 18 less than a month ago and will attend North Dakota this fall – has an NHL-ready body and a decent set of skills.
Scout's Take: "Big Joe. He's huge – like a mountain. He actually is a pretty good skater for his size, and he shoots the puck pretty well. He showed a lot of improvement over the course of the year. When I saw him early on he didn't play a lot, but by the end of the year he was on the ice all the time."
Where He May Go: It's been nine years since the New York Rangers used its first round pick to select a defenseman and, not surprisingly, the lack of physical blueliners among its prospects is a glaring weakness. Besides, wouldn't New York scribes love a skater who can look down on Jeremy Shockey and outweighs just about everyone on the Knicks' roster? If the Blueshirts pass on Finley with the 16th overall pick, St. Louis could grab him at 24th.
---
Andrew Cogliano, RW, St. Michael's (OHA)/Michigan

CSS Rank: 63rd
The Skinny: Unlike the aforementioned Finley, Cogliano checks in at a modest 5-10 and 185 pounds. Those statistics aren't nearly as eye-catching as the 39 goals and 66 assists he piled up for the Ontario Provincial Junior A Hockey League's St. Michael's Buzzers. One Toronto writer called the Michigan-bound forward the best Toronto area prospect since Jason Spezza.
Scout's Take: "He's not the biggest guy, but he's one of those guys who looks that much more appealing now with all the rules changes in place. He's a smart player, and a very good skater. He's one of the fastest skaters in the draft, if not the fastest."
Where He May Go: While he's ranked 63rd by the Central Scouting Service, most observers agree that Cogliano has borderline first-round talent, and he'll hone those skills playing in Michigan's offense-friendly scheme. Dallas, with a dearth of scoring wingers in its system, could snap him up with the 28th overall pick or wait until the order flips in the second round and grab Cogliano at 33.
---
Paul Stastny, C, Denver

CSS Rank: 74th
The Skinny: The son of Hall of Famer Peter Stastny had a terrific freshman season for the defending national champion Pioneers, scoring 45 points in 42 games. But he'll likely get a bit of a boost by something we call the Bourque Factor, which helped former BU skater Chris (son of Raymond) Bourque bounce from 74th in last year's final CSS rankings – ironic, no? – to the first pick in the second round.
Scout's Take: "He's a very smart player and he's solid physically. He sees the ice so well, and that's what jumps out at you when you watch him. He's always in the right place and reads the play so well that he's able to drop back defensively if needed. His skating needs to improve, but that's not going to prevent him from playing at a higher level."
Where He May Go: In a nod to his father's career, the mock draft conducted by Canadian sports outlet TSN projected Paul Stastny as the first-round pick of the Colorado Avalanche (nee Quebec Nordiques). Given the team's Mother Hubbard-esque farm system, Stastny would be a solid choice for the Avs with either the 27th overall pick or, more likely, the 33rd overall pick early in round 2. If not, another of dad's former employers – St. Louis – could grab him in the second round with the 37th pick.
---
T.J. Hensick, F, Michigan

CSS Rank: 78th
The Skinny: With 101 points in 88 career games with the Wolverines, there's no denying Hensick's offensive prowess. But at 5-9 and 180 pounds, he's considered undersized, he's more or less ambivalent toward physical play and defensive responsibilities and he's earned a reputation for having a bit of a "me first" attitude. That said, he's one of the better passers in the college game. Just ask Milan Gajic, who blossomed upon Hensick's arrival.
Scout's Take: "People knocked him after World Juniors, but who played well from that U.S. team? Obviously [Phil] Kessel did, but did anyone else? I didn't think he got to play as much as maybe he should have, either. He's a good player, and maybe the rule changes are more geared toward a guy like that."
Where He May Go: How about a reunion with Gajic in the Atlanta organization? No offense to former Michigan State pivot Jim Slater, but the Thrashers don't have much scoring punch stashed away below the parent club. And by the time Hensick is NHL-ready, the Thrash will have a hierarchy of established stars (Dany Heatley, Ilya Kovalchuk, Braydon Coburn, Kari Lehtonen) to help the transition and keep him humble.
---
Tom Fritsche, LW, Ohio State

CSS Rank: 93rd
The Skinny: Arguably the best player on a very good Buckeyes team as a freshman, Fritsche may be even better than his numbers indicate – he didn't score his first goal until OSU's thirteenth game, but had already racked up 15 assists by that time. Fritsche is definitely capable of scoring 20-plus goals at the college level and, though listed at 5-11 and 185 pounds, plays with the size and strength of someone three inches and 30 pounds bigger.
Scout's Take: "He's able to jump in holes and with his strength can play a physical game. He's a smart player from the top of the circles in. He's able to get open around the net and the puck seems to come to him."
Where He May Go: A well-rounded player who isn't great in any one area but also has no discernible weaknesses, Fritsche could sneak into the late second round if a team really loves him, but the third round seems more realistic. It wouldn't be a shock if Columbus grabbed him with the sixth pick in the third round – Fritsche's older brother, Dan, is a promising center who will get every opportunity to stick with the Blue Jackets this season.
---
Nathan Gerbe, F, US NTDP/Boston College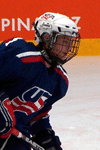 CSS Rank: 160th
The Skinny: So he's, ahem, undersized at 5-5 and 160 pounds. Playing against Gerbe, a Boston College recruit, is like fighting a mongoose shot out of a cannon. If he were, say, Fritsche's size, he'd be a cinch to go in the second or third round because he's a fairly competent two-way player, is as feisty as they come and his teammates love him. His size becomes less of an issue if new NHL rules attempting to shake the neutral zone from its Mass Pike-during-afternoon rush snarl are successful.
Scout's Take: "Obviously he's very small, but he competes. He sticks his nose in there and works hard – he kind of has to, because of his size. He was very effective for that team."
Where He May Go: He's projected as an early sixth-rounder, but Gerbe's work ethic and desire are enough to warrant one team to take him in the fifth round. Drafting Gerbe isn't necessarily a bold move, but whomever selects him will have the vision to see the course the game may take in the years to come. Tampa Bay has done quite well with two undersized ex-collegians (Martin St. Louis and Dan Boyle) spearheading its attack.
---
Peter MacArthur, F, Boston University

CSS Rank: 166th
The Skinny: An impressive freshman season has MacArthur's stock on the rise, after he was unranked on CSS's list of 240 North American skaters at midseason. What will really appeal to a team on Saturday is his scoring touch between the circles. That knack for finding the net will only get better with more net to shoot at, which the NHL plans the emphasize thanks to reductions in goalie equipment.
Scout's Take: "He doesn't have great size, but he's a smart creative player. At the higher levels, that creativity won't compensate for the lack of size, but it does make the players around him better. He's tough to get a bead on if you want to hit him."
Where He May Go: The Phoenix Coyotes have had good luck mining the NCAA for talent, but the best of their prospects are a goalie (Cornell's David LeNeveu) and a defenseman (Minnesota's Keith Ballard). Perhaps MacArthur will join Blake Wheeler among Gretzky's future stars as a fourth- or fifth-round pick.
---
Jeff Frazee, G, US NTDP/Minnesota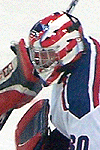 CSS Rank: 7th (North American goaltenders)
The Skinny: The Minnesota-bound Frazee has polarized scouts with his play. Those who love him really love him. And those who aren't so enamored with him are really sour on his potential. With the NTDP last year, he displayed a knack for rising to the occasion – as evidenced by his play in helping the U.S. to the gold medal at the World Under-18 Championships in April. Frazee's got a flaky streak (witness his outburst in an exhibition against Minnesota in February) but he's capable of facing a barrage of shots and bouncing back for more.
Scout's Take: "Every time I saw him in a big game he played well, and the bigger the game, the better he played. He's really competitive, someone who likes a challenge. And he's pretty vocal – you can hear him talking to his defensemen even in the stands."
Where He May Go: It's not a banner draft for goaltenders, so teams with a crying need for a lead-pipe cinch No. 1 netminder may pass this year. Still, Frazee's combination of size and skill makes him a legitimate NHL prospect, but he'll likely be selected by a team that can afford to be patient. The team that plays on the other side of the river from the Gophers – the Minnesota Wild – lacks goaltending depth in its system and could spend a late-round pick on Frazee.
---
Joe Fallon, G, Vermont

CSS Rank: 15th (North American goaltenders)
The Skinny: Fallon played well enough in his freshman year in Burlington to rank as one of the best in the goalie-rich ECAC Hockey League. Once he locked down the starting job, the Catamounts flourished and completed a great turnaround that saw them barely miss out on an NCAA Tournament berth. Named to INCH's 2005 All-Rookie Team, Fallon covers a lot of area with his 6-3 frame and is technically sound.
Scout's Take: "He moves well and squares to the puck well. He gets a lot of shots, and he plays well with the workload he's given."
Where He May Go: A native of Minnesota and two-time USHL All-Star who now shines in New England, Fallon has had the opportunity to impress lots of different scouts. He's also more experienced than most of the draft-eligible goalies. At some point, there's sure to be a team that has fallen for Fallon, and a club like Buffalo or Anaheim, who need depth at the position, could spend a third- or fourth-round pick on him.

Send this to a friend
About Us | Advertiser Info | Site Map | Privacy Policy
© 2002-2005 Inside College Hockey, Inc., All Rights Reserved