April 17 , 2003
Eaves: NHL Not An Option
Wisconsin coach says he'll stay put
By Mike Eidelbes
The next coach of the Pittsburgh Penguins could very well have college hockey ties, as general manager and Denver alum Craig Patrick begins to evaluate candidates after firing Rick Kehoe earlier this week.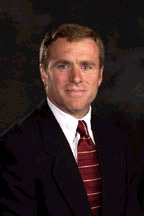 Wisconsin coach Mike Eaves
One bench boss - Wisconsin coach Mike Eaves - said Thursday he's not interested in becoming the Penguins' job.
"The timing's not right," Eaves, who guided the Badgers to a 13-23-4 mark in his first season in Madison, told the Pittsburgh Post-Gazette. "I'm just getting my teeth into (rebuilding the Wisconsin program). Right now, that's my focus. That's my next task at hand, and I want to honor it."
Eaves, who played at Wisconsin from 1974-78 and enjoyed an eight-year NHL career with Minnesota and Calgary, was a Pittsburgh assistant under former Rensselaer skater Kevin Constantine from 1997-2000. He also spent two seasons as the head coach of the U.S. National Team Development Program's Under-18 squad before taking over for retired Badger mentor Jeff Sauer last summer.
Other candidates with college hockey ties mentioned for the Penguins job include former Minnesota player and coach Herb Brooks. Brooks, the team's director of player development, was close to taking the New York Rangers' job last summer. Another former Gopher, Mike Ramsey, is also rumored to be under consideration. Ramsey is in his second season as an assistant with the Minnesota Wild and spent three years as a Buffalo assistant.
Both Brooks and Ramsey have ties to Patrick through their involvement with the 1980 U.S. Olympic "Miracle on Ice" hockey team that won the gold medal in Lake Placid. Patrick served as an assistant to head coach Brooks, while Ramsey was a defenseman on that squad.
About Us | Advertiser Info | Site Map | Privacy Policy
© 2003 Inside College Hockey, Inc., All Rights Reserved