May 18, 2003
UPDATED: September 23, 2003
INCH's Flight Risks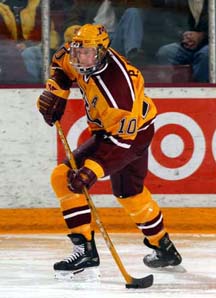 Minnesota's Paul Martin signed with the New Jersey Devils earlier this month.
Losing a player a year – or two...or three – early to the professional ranks has become a routine occurrence in college athletics. It's especially true in hockey, a sport in which most players are drafted prior, or a year into, their college careers. And those who aren't drafted and cobble together a solid season or two stand to earn some decent money on the free agent market.

With that in mind, Inside College Hockey presents its list of 11 players who may be wearing different sweaters – those of NHL or AHL teams – as the puck drops on the 2003-04 season. The potential departees are highlighted below, in no particular order.
And for those who have already signed on the dotted line, check out: Pro Signees.
Player (School)

The Skinny

R.J. Umberger
(Ohio State)

Vancouver's playoff run gives the team a little extra cash to sign the Buckeyes' power forward, a 2001 first-round draft pick who seems bored with the college games at times.
UPDATE: Has left school, although he still hasn't signed with the Canucks.

Thomas Vanek
(Minnesota)

Put on a show in Buffalo last month. Don't be surprised if the Sabres take him with the fifth overall pick in Nashville next month and add him to their stable of young prospects.
UPDATE: Drafted by the Sabres, but they have said that Vanek will return to Minnesota for his sophomore season

Randy Jones
(Clarkson)

Word is the big blueliner – an undrafted free agent – is tired of the tumult surrounding the Golden Knights' program. He was among the nation's top-five scoring defensemen last season.
UPDATE: Signed with Philadelphia, July 13

Jim Slater
(Michigan State)

After Heatley, Kovalchuk and Kozlov, Atlanta's stable of forwards is pedestrian. He'd need a year or so in the minors, but this 2002 first-round selection could give the Thrashers some much-needed grit.
UPDATE: Back and captaining the 2003-04 Spartan squad.

Dave LeNeveu
(Cornell)

A second-round pick of Phoenix in 2002, they'd likely have to pay the rookie cap to secure his services. But $2 million over two years is more appetizing to the cash-strapped 'Yotes than paying mega-bucks for the aging Sean Burke, who earned $3.25 million last season. Even if Phoenix doesn't make a bid for his services, the WHL's Calgary Hitmen – who own LeNeveu's major junior rights – are sure to.
UPDATE: Signed with Phoenix, July 2

Chris Higgins
(Yale)

The Montreal Canadiens will be under pressure to get back to the playoffs next year, and the co-ECAC Player of the Year could be a better answer than Mariusz Czerkawski was for the Habs last year. Plus, the bleu, blanc et rouge hasn't shown a fondness for letting players develop in college (Mike Komisarek, Ron Hainsey).
UPDATE: Signed with Montreal, May 22

Shane Joseph
(MSU, Mankato)

With running mate Grant Stevenson off to the pros – he was signed by San Jose – Joseph will be hard-pressed to duplicate the 65 points he scored in 2002-03.
UPDATE: Has a new wingman in freshman David Backes.

Mike Ayers
(UNH)

His rights are owned by Chicago and the Blackhawks have a glut of goalies (Thibault, Passmore, Leighton and Andersson and the rights to Denver's Adam Berkhoel) and are run by the skinflint Wirtz family. Still, for Ayers' sake, sometimes it's best to strike when the iron is hot (see: Dubielewicz, Wade).
UPDATE: Returning to Durham for his senior season.

Brandon Bochenski
(North Dakota)

An Ottawa draft pick, the Sens throw loonies around as if they were manhole covers. But no team is better at replacing veteran (read: high-priced) players with home-grown talent, and the team's track record of developing young players is impeccable.
UPDATE: Back in Grand Forks along with high-scoring partner Zach Parise.

Alvaro Montoya
(Michigan)

Those associated with the Wolverines say the goalie will return to backstop a team that will likely be ranked in the top three in the nation's preseason polls. But it wouldn't be the off-season without a U-M defection, and it wouldn't shock us to see Montoya – who will be eligible for the 2004 NHL Draft – bolt for the OHL.
UPDATE: Will backstop the CCHA-favorite Wolverines.

Ryan Whitney
(Boston U.)

The Pittsburgh blue line isn't exactly full of Ray Bourques. Heck, there aren't even any Phil Bourques back there. Still, it would be a surprise for a franchise that recycles aluminum cans just to make payroll to sign Whitney, whom most feel could use another year at BU to refine his skills.
UPDATE: He's back on Babcock Street.
Paul Martin
(Minnesota)
According to an article in the July 3 Minneapolis Star Tribune, the New Jersey Devils (the owner of Martin's rights) are ready to talk contract. Martin says he'll make a decision by Aug. 1. It seems like a no-lose situation for Martin – who would either return to the defending national champs or join fellow WCHAers David Hale and Matt DeMarchi in the Devils farm system – but we'll lean ever so slightly toward him staying.
UPDATE: Signed with New Jersey, Aug. 10

Send this to a friend
About Us | Advertiser Info | Site Map | Privacy Policy
© 2003 Inside College Hockey, Inc., All Rights Reserved