September 14, 2005
Recruiting Trail: Top Defensemen & Goalies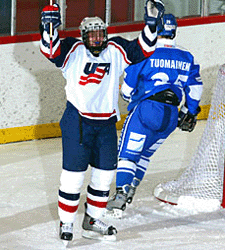 Michigan recruit Jack Johnson, the third overall pick in this year's NHL Draft, tops the list of incoming defensemen in INCH's 2005 Recruiting Rankings.

Without question, the top-rated incoming defenseman and goaltender in Inside College Hockey's 2005 Recruiting Rankings can vouch for the other guy's skills. As teammates on the U.S. Under-18 Team last season, Michigan rookie blueliner Jack Johnson and netminder Jeff Frazee, who's attending Minnesota, helped the squad to the gold medal at last spring's IIHF U-18 World Championships in the Czech Republic, capping the tournament with a 5-1 rout of Canada in the finale.
Johnson, who was chosen by the Carolina Hurricanes with the third overall pick in July's National Hockey League Entry Draft, is one of three NTDP alums ranked among our top 15 defensemen. He's joined by Mark Mitera, another Michigan recruit, and North Dakota freshman-to-be Zach Jones. Frazee, meanwhile, heads our list of 10 goaltenders, nine of whom are heading to the CCHA or WCHA — UMass prospect Jon Quick is the exception.
Inside College Hockey compiled its 2005 Recruiting Rankings with extensive input from college and junior coaches, as well as professional scouts. Participants were asked to evaluate recruits based on their projected impact at the college level, not on their professional hockey prospects.
Stay tuned in the coming days for our exclusive ranking of the top incoming classes, best players by junior league or geographical area and our annual all-name team.
TOP 15 INCOMING DEFENSEMEN

Name

School
Last Team

Jack Johnson

Michigan
U.S. NTDP

Brett Motherwell

Boston College
Omaha (USHL)

Chris Butler

Denver
Sioux City (USHL)

Brian Lee

North Dakota
Moorhead (Minn.) H.S.

Matt Niskanen

Minnesota Duluth
Virginia (Minn.) H.S.

T.J. Fast

Denver
Camrose (AJHL)

Taylor Chorney

North Dakota
Shattuck St. Mary's

Mark Mitera

Michigan
U.S. NTDP

Kevin Schmidt

Bowling Green
St. Michael's (OPJHL)

Zach Jones

North Dakota
U.S. NTDP

Chris Zarb

Ferris State
Tri-City (USHL)

Tim Kunes

Boston College
New England (EJHL)

Jason Garrison

Minnesota Duluth
Nanaimo (BCHL)

Matt Taormina

Providence
Texarkana (NAHL)

Tyler Eckford

Alaska-Fairbanks
Surrey (BCHL)

TOP 10 INCOMING GOALTENDERS

Name

School
Last Team

Jeff Frazee

Minnesota
U.S. NTDP

Jeff Lerg

Michigan State
Omaha (USHL)

Jon Quick

Massachusetts
Avon Old Farms

Derek Janzen

Northern Michigan
Chilliwack (BCHL)

Chad Johnson

Alaska-Fairbanks
Brooks (AJHL)

Billy Sauer

Michigan
Chicago (USHL)

Shane Connelly

Wisconsin
Chicago (USHL)

Mitch O'Keefe

Ferris State
Gloucester (COJHL)

Drew O'Connell

Colorado College
Waterloo (USHL)

Jeff Zatkoff

Miami
Sioux City (USHL)

Send this to a friend
About Us | Advertiser Info | Site Map | Privacy Policy
© 2002-05 Inside College Hockey, Inc., All Rights Reserved