September 14, 2005
Recruiting Trail: Top 20 Forwards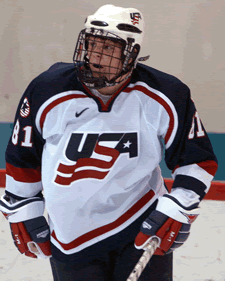 You probably know all about Minnesota-bound Phil Kessel by now. He tops our list of incoming freshmen forwards, but be sure to check out 19 other names you should know.

Predictably, Minnesota-bound forward Phil Kessel leads the list of incoming forwards in Inside College Hockey's 2005 Recruiting Rankings. Kessel, widely considered to be the top prospect in next year's National Hockey League draft, is the first non-North Dakota recruit to top INCH's ratings of incoming forwards. Brady Murray held the spot in 2003, while Travis Zajac was there last year.
The rundown of the top 20 forwards is dominated by WCHA rookies (a total of 13, including four from North Dakota) and USHL alums (nine in all). Only three Hockey East recruits made the list; no ECACHL freshmen-to-be cracked the top 20.
Inside College Hockey compiled its 2005 Recruiting Rankings with extensive input from college and junior coaches, as well as professional scouts. Participants were asked to evaluate recruits based on their projected impact at the college level, not on their professional hockey prospects.
Stay tuned in the coming days for our exclusive ranking of the top goalies, defensemen and incoming classes, players by junior league or geographical area, and our annual all-name team.
Name

School
Last Team

Phil Kessel

Minnesota
U.S. NTDP

Andrew Cogliano

Michigan
St. Michael's (OPJHL)

Jack Skille

Wisconsin
U.S. NTDP

Chad Rau

Colorado College
Des Moines (USHL)

Mason Raymond

Minnesota Duluth
Camrose (AJHL)

Tim Kennedy

Michigan State
Sioux City (USHL)

Dan Reidel

Ferris State
Lincoln (USHL)

Blake Wheeler

Minnesota
Green Bay (USHL)

Jonathan Toews

North Dakota
Shattuck St. Mary's

Brock Trotter

Denver
Lincoln (USHL)

Brock Bradford

Boston College
Omaha (USHL)

Justin Abdelkader

Michigan State
Cedar Rapids (USHL)
Ryan Stoa
Minnesota
U.S. NTDP

Trevor Smith

New Hampshire
Omaha (USHL)

Nathan Gerbe

Boston College
U.S. NTDP

T.J. Oshie

North Dakota
Warroad (Minn.) H.S.

Michael Gergen

Minnesota Duluth
Shattuck St. Mary's

Tom Gorowsky

Wisconsin
Sioux Falls (USHL)

Andrew Kozek

North Dakota
Surrey (BCHL)

Matt Watkins

North Dakota
Vernon (BCHL)

Send this to a friend
About Us | Advertiser Info | Site Map | Privacy Policy
© 2002-05 Inside College Hockey, Inc., All Rights Reserved