October 9, 2006
THE BIG STORY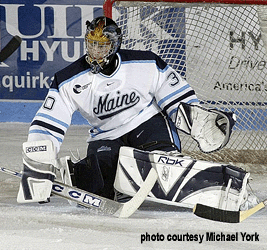 Hockey East goaltenders, none of whom are named Cory Schneider. Of the handful of teams playing real games this weekend, Vermont's Joe Fallon and Maine's Ben Bishop (pictured, right) may have been the standouts. Fallon stopped 54 of the 55 shots he faced as the Catamounts won the Ice Breaker Tournament in Oxford, Ohio, beating Colgate and Miami. At the Hall of Fame Game in St. Paul, Bishop made 29 saves (16 of them in the second period, when the Black Bears were outshot 16-3) as Maine beat Minnesota, 3-1.
Schneider, by the way, made six saves over two periods of Boston College's exhibition win against St. Thomas University of Fredericton, New Brunswick.
MAKING WAVES
The opening weekend was a mixed bag for the ECAC Hockey League, what with league favorite Colgate dropping a pair of games at the Ice Breaker and St. Lawrence losing to Niagara at home, but two of the league's teams deserve a mention here.
One is Union, which traveled to Big Rapids, Mich., and swept host Ferris State. Goaltender Justin Mrazek was the hero on Friday – his 41 saves were the difference in the 2-0 Dutchmen win. Mrazek wasn't quite as sharp the following night but he was just as busy, turning aside 35 of 40 Bulldog shots. His teammates were there to help, however, scoring six times in game's first 35 minutes en route to a 6-5 triumph.
SAY WHAT?
• Last week, Minnesota coach Don Lucia announced that goaltender Kellen Briggs was
suspended three games for breaking an unspecified team rule. Umm ... if the rule was unspecified, how was Briggs to know he did anything wrong?
• Air Force hasn't beaten Colorado College since 1985, but the Tigers held on (yup, you read that correctly) to beat the Falcons, 2-1, at Cadet Ice Arena last Friday. Air Force, which outshot CC by a 26-19 margin, squandered five power-play chances – including a five-minute opportunity – in the first period. Even more deflating was a minor penalty the Falcons incurred when a fan chucked a hat on the ice shortly after Eric Ehn scored to cut the Tigers' lead in half. It was the second time someone had lobbed an object on the rink during play. CC didn't score on the power play, but any momentum Air Force gained from Ehn's goal was long gone.
MOVING DAY
Wins this past weekend that'll look good in March
We're a long, long way away from picking teams for the NCAA Tournament. But based on the expectations for the teams they beat, Maine's win against Minnesota and Vermont's victories over Colgate and Miami ought to come in pretty handy in down the road. The Black Bears can tack on a couple more resume builders this weekend when defending CHA champion Bemidji State travels to Orono for a pair of games.
IT HAPPENED IN ...
... Green Bay, Wis.: Brian Elliott made 23 saves, leading Wisconsin to a 3-0 win over Northern Michigan at the Resch Center. In three starts in Titletown, the Badger senior has stopped all 78 shots he's faced.
... Grand Forks, N.D.: While we're on the topic of Hobey Baker Award candidates, sophomore forward Jonathan Toews – one INCH staffer's pick to win the honor this season – scored three goals and an assist in North Dakota's 4-2 win against visiting Quinnipiac Saturday.
... Canton, N.Y.: Matt Caruana's goal with 5:03 left in regulation was the difference in Niagara's 4-3 win at St. Lawrence Saturday. The Purple Eagles, in search of a candidate to replace goalie Jeff Van Nynatten, last year's CHA Co-Player of the Year, got 38 saves from INCH All-Name Team candidate Juliano Pagliero.
... Colorado Springs, Colo.: Not to be outdone, Colorado College's Scott McCulloch scored four times in the Tigers' 8-1 romp over Alabama-Huntsville Saturday. The first three goals occurred in rare natural-hat-trick fashion during a 22-minute stretch spanning the first and second periods. McCulloch scored five goals in 42 games last season.