October 16, 2006
THE BIG STORY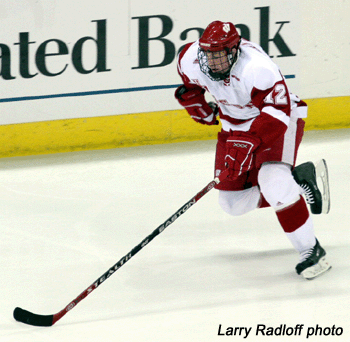 Though it was the opening weekend of conference action in the WCHA, the North Dakota-Wisconsin series in Madison featured two teams playing in midseason form with playoff intensity.
On Friday, the Badgers unveiled their sixth national championship banner in the Kohl Center rafters. But Travis Zajac's little brother, Darcy, spoiled the celebration, pushing a loose puck past goalie Brian Elliott before being flattened by a Wisconsin player to give the Fighting Sioux a 3-2 overtime win.
Not only did the Badgers lose Friday's game, but they also lost three key players to injury – forwards Ross Carlson and Jack Skille (pictured, right) and defenseman Kyle Klubertanz. No matter, as Wisconsin leaned on Elliott, who made 27 saves in backstopping his team to a 1-0 win, his second shutout in as many weeks. Senior captain Jake Dowell scored the game's lone goal eight minutes into the third period on a sequence that started with a turnover by a North Dakota defenseman in the Wisconsin end (more on that later.)
MAKING WAVES
The weekend was relatively upset free, but there were a few notable individual performances. One of them took place in West Point, where Army appears to have answered the question of who'll replace the graduated Brad Roberts in goal. Sophomore Josh Kassel, who had played all of 20 minutes last season, turned aside 57 of the 59 shots he faced in the Black Knights' 2-0 shutout of American International Friday and 2-2 tie with Atlantic Hockey preseason favorite Sacred Heart the following night.
When you're on a team with a slew of high-profile pro prospects like Andrew Cogliano, T.J. Hensick, Jack Johnson and Mark Mitera, it's easy to get lost in the shuffle at times. Michigan junior forward Chad Kolarik served notice this weekend that he's no slouch, scoring a goal and two assists in the Wolverines' 8-1 win against visiting Alabama-Huntsville Friday. On Saturday, Kolarik notched a hat trick and threw in an assist in his team's 7-5 triumph over Connecticut.
We'd be remiss if we didn't salute Alaska Anchorage. The host Seawolves beat Merrimack 6-2 in the Nye Frontier Classic Friday, snapping a 10-game losing streak coach Dave Shyiak's club carried over from the end of last season. UAA nearly posted its first winning streak in almost two years, but Nebraska-Omaha's Scott Parse scored a short-handed goal with 2:01 left in regulation as the Mavericks salvaged a 2-2 draw.
SAY WHAT?
• From the Feel Shame and Get Free Dept.: Boston University sophomore forward Steve Smolinsky served a five-minute major penalty for teammate Brian Strait in the first period of Saturday's game at Rensselaer, as Strait was also whistled for a game misconduct for checking from behind. In the second period, the BU coaching staff called on Smolinsky a second time to serve a penalty. This two-minute trip to the box was a result of Eric Thomassian's 10-minute misconduct that followed an assessed interference minor. When Smolinsky saw the ice in the third period, he took advantage. He scored a huge goal for the Terriers that knotted the score 3-3.
• From the You're Not Teammates Yet Dept.: In the third period of the Saturday's North Dakota-Wisconsin game, Fighting Sioux defenseman Joe Finley, a second-round pick of the Caps in the 2005 NHL Entry Draft, coughed up the puck as he tried to move it out of his end. It ended up on the stick of Badger forward Andrew Joudrey, who Washington chose in the eighth round of the 2003 draft. The gaffe eventually led to Jake Dowell's game-winning goal.
MOVING DAY
Wins this past weekend that'll look good in March
Clarkson traveled to Providence Friday to face a Friars squad with high expectations for the season and emerged with an impressive 6-1 win behind the goaltending of David Leggio (34 saves) and two goals apiece from Chris D'Alvise and Steve Zalewski. The Golden Knights closed the two-game road trip with a 3-3 tie at Massachusetts Saturday. Through four games, 12 players have scored at least one goal for coach George Roll's team, which hosts Lake Superior State this weekend.
IT HAPPENED IN ...
... Troy, N.Y.: Seth Appert's debut as Rensselaer head coach was a solid one as the Engineers tied Boston University, 4-4, Saturday. Rensselaer jumped out to a 3-1 first-period advantage, but the Terriers evened the score early in the third on Steve Smolinsky's goal. The Engineers regained the lead on Oren Eizenman's power-play goal with 7:30 left in regulation, but BU's Chris Higgins scored a little more than a minute later – his second goal of the game – to salvage the draw. RPI's Kirk MacDonald had two assists in his first game back after sitting out all of last season battling testicular cancer.
... Schenectady, N.Y.: Fresh off an impressive season-opening series sweep at Ferris State last weekend, Union's home opener Saturday was spoiled (to a certain extent) by RIT goaltender Jocelyn Guimond, who made 47 saves as the two teams skated to a 2-2 draw.
... Columbus, Ohio: One night after shutting out Lake Superior State in his regular-season debut, Ohio State freshman goalie Joe Palmer gave up seven goals on 34 shots – including Dominic Osman's game-winner 2:45 into overtime – as the Lakers posted a 7-6 win. The Buckeyes, who never led in Saturday's thriller, nearly escaped with a tie when Matheiu Beaudoin evened the score with Palmer pulled in favor of an extra attacker with one second remaining in regulation.
... the Upper Peninsula, Mich.: They're no longer in the same conference, but Northern Michigan and Michigan Tech proved again this weekend that anything can happen when these two rivals get together. In Houghton on Friday, the Huskies' Justin St. Louis scored the go-ahead goal with three seconds left in regulation to give the hosts a 2-1 win over the Wildcats. The following night in Marquette, NMU's Matt Siddall scored 45 seconds into the game ... and the remaining 59:15 was scoreless as the 'Cats salvaged a split at home.
... Fairbanks, Alaska (Saturday): Alaska converted on six of its 10 power-play chances and freshman Dion Knelsen scored two goals and added three assists as the Nanooks completed a sweep of Air Force with an 8-4 win.