October 23, 2006
THE BIG STORY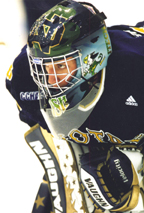 Notre Dame senior goalie David Brown
We all knew about a high-scoring offensive unit working out of South Bend, Ind., this fall. What we didn't know was that the one orchestrated by Notre Dame hockey coach Jeff Jackson would be more prolific than the one guided by Charlie Weis.
The Fighting Irish scored outscored its opponents on a two-game swing through New England by a 13-2 margin, a trip that started with a 7-1 annihilation of top-ranked Boston College Friday. It's the third time in four years Notre Dame has knocked off the Eagles when they were ranked No. 1 in the nation. The following night, the Irish hung a half dozen on Providence in a 6-1 thrashing of the host Friars. With 21 goals in four games, Notre Dame ranks third nationally in scoring offense. Two seasons ago, the Irish scored a Division I-low 60 goals in 38 games and limped to a 5-27-6 record.
Among the factors contributing to Notre Dame's strong start in addition to a prolific offense are scoring balance – nine skaters have at least one goal and 14 of the 20 players who've been in the lineup have contributed a point – and an immediate impact by freshman forwards Kevin Deeth (4-3—7), Ryan Thang (3-2—5) and Dan Kissel (3-1—4). Senior goalie David Brown has been strong, too, as evidenced by his 1.47 goals against average and .942 save percentage. And while he's benefited from generous offensive support, he's helped the cause by not allowing a first-period goal in any of his four starts
MAKING WAVES
Had Alaska's Justin Binab not scored three minutes into the third period of Saturday's 1-1 draw with Alaska Fairbanks or had the Seawolves been able to get more than one of their 21 shots past Nanook goaltender Chad Johnson, we would've likely spent our Sunday digging through the archives at INCH World Headquarters in search of the answer to this stickler: When was the last time Alaska Anchorage and Michigan Tech notched series sweeps on the same weekend?
Antiquities aside, it was a good couple of days for WCHA canines of the mythical and Houghton-based variety. Michigan Tech stunned host Vermont Friday, twice rallying from two-goal deficits before winning a 4-3 decision when Lars Helminen scored 39 seconds into overtime. The Huskies finished the job Saturday – goaltender Rob Nolan, who posted a 0-11-2 record as a freshman last season, earned his first career victory by making 28 saves in a 2-1 win.
The Seawolves' Friday affair against Alaska in Fairbanks mirrored that night's MTU-UVM game, as the Nanooks jumped out to a 2-0 first-period edge and twice took third-period leads. But UAA sophomore Jay Beagle scored with 15 seconds left in regulation to force OT, which would end on a Justin Bourne goal with 1:51 left in extra time. The Seawolves hung on to earn a tie in the finale. Freshman goalie Jon Olthuis made 34 saves in his first career start.
SAY WHAT?
• From the Did I Just Knock Two Letters Off Your Last Name? Dept.: Minnesota dominated Ohio State in its weekend sweep of the Buckeyes in Columbus. One of the few highlights for OSU was a thundering open-ice hit 6-foot-2, 220-pound forward Zach Pelletier laid on 6-foot, 190-pound Gopher defenseman Derek Peltier just inside the Buckeye blue line.
MOVING DAY
Wins this past weekend that'll look good in March
Maybe it's just a Hockey East thing, this trend of starting the season with solid non-conference wins away from home. At any rate, New Hampshire followed the lead of Vermont and Maine with its sweep of Colorado College in Colorado Springs. The two wins look even better considering the Wildcats were a) playing their first regular-season games while the host Tigers had four games under their belt and, b) Friday's first period was barely 10 minutes old and UNH had already fallen behind by a 2-0 count. New Hampshire scored the next four goals en route to a 4-3 win before routing the Tigers, 7-2, in the series finale. The Wildcats may have found a complement to the Jacob Micflikier-Mike Radja-Brett Hemingway scoring line, as the Jerry Pollastrone-Trevor Smith-Matt Fornataro trio combined for five goals and eight assists on the weekend.
IT HAPPENED IN ...
… Ann Arbor, Mich.: Miami and Michigan split in the first CCHA series for both teams. In Thursday's opener, the Wolverines' Chad Kolarik notched a hat trick – his second in as many games – in his team's 6-3 win. The RedHawks salvaged a split with their first win at Yost Ice Arena in 12 years. Miami's Nathan Davis scored two shorthanded goals and added a power-play tally in the 4-1 triumph.
… Denver, Colo. (Fri.): Jordan Alford made 38 saves to lead Rensselaer to a 2-1 win at Denver giving Seth Appert, a former Pioneer assistant, his first career win as a head coach.
… Grand Forks, N.D.: In addition to losing two games to Maine at home, the Fighting Sioux may have lost the services of Hobey Baker Award candidate, sophomore forward Jonathan Toews, who left Friday's game with an undisclosed injury.
... Omaha, Neb.: Northern Michigan's Mike Santorelli scored two goals and added three assists as the Wildcats won the Mutual of Omaha Stampede with a 5-2 win over Nebraska-Omaha in Saturday's championship game.
… Potsdam, N.Y.: Clarkson rebounded from a 5-1 loss to Lake Superior State by outshooting the Lakers, 53-23, in a 7-1 win at Cheel Arena. The Golden Knights' top line of Shawn Weller, Steve Zalewski and Matt Beca combined for five goals.
… Rochester, N.Y.: RIT defenseman Brent Patry had five assists as the Tigers wrapped up a weekend sweep against American International with an 8-0 win Saturday.
… Worcester, Mass.: One night after freshman goalie Tyler Chestnut made 41 saves in a Holy Cross' 4-1 win over Mercyhurst, the Lakers' Ben Cottreau tallied three goals and two assists to salvage an Atlantic Hockey series split.