October 30, 2006
THE BIG STORY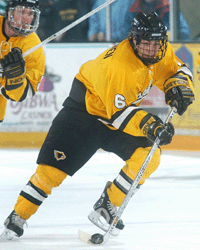 Lars Helminen had three assists in Michigan Tech's weekend sweep of Alaska Anchorage.
"And now," Colorado College coach Scott Owens lamented to a group of reporters at Mariucci Arena Saturday after his Tigers were drubbed by Minnesota, "we have to face 5-1 Michigan Tech."
It's hard to determine which part of that statement is more of an eye opener – that the coach of a team that routinely contents for WCHA championships is dreading a visit from the Huskies, or that the previously moribund Techsters have started the season with five wins in six games. The two most recent wins coming in Houghton this weekend, as coach Jamie Russell's squad swept Alaska Anchorage (another team that was enjoying a nice start to the season) in convincing fashion.
Michigan Tech is off to its best start since 1993-94, when the Bob Mancini-coached Huskies opened with a 5-1-2 mark. The '93-94 campaign also marks the last time Tech opened the WCHA portion of its schedule by sweeping an opponent. It's a promising beginning for a program that has reached double digits in wins twice since 1996-97 and hasn't finished with a plus-.500 record since 1992-93.
It's too early to tell if Michigan Tech is for real, but we're happy to recognize their achievements so far.
MAKING WAVES
Another pack of Huskies – coach Greg Cronin's Northeastern squad – may have gotten the confidence-building win they need in order to move forward with what is a tough rebuilding project. After narrowly losing to Boston University and dropping a 4-3 overtime decision at Michigan on Friday, Northeastern got 45 saves from freshman goalie Brad Theissen and goals from three different players as the Huskies doused the Wolverines 3-2 at Yost Ice Arena on Saturday.
Meanwhile, Michigan sophomore defenseman Jack Johnson earned a major penalty and a game disqualification Saturday for pummeling Joe Vitale after the Northeastern forward crashed into Wolverine goalie Billy Sauer. Johnson, who scored his fourth goal of the season in the first period of the loss, will miss his team's key game at Michigan State Friday.
SAY WHAT?
• From the Slow Day in Goal Dept.: Notre Dame sophomore goaltender Jordan Pearce posted his second career shutout in his team's 3-0 win against Army at the Lightning College Hockey Championship in Tampa Friday, turning aside all seven shots he faced. Four of the seven came in the second period. The Fighting Irish had 30 shots on goal.
• From the What Gimmick? Dept.: Most of the hockey games played at Pepsi Arena in Albany have the potential to be decided by a shootout, as it is the home to the American Hockey League's Albany River Rats. College hockey games don't normally end that way, but they did on Saturday in the semifinals of the Governor's Cup. Both games were tied after 65 minutes of hockey, but Rensselaer (over Union) and Colgate (over Quinnipiac) advanced to Sunday's championship game.
MOVING DAY
Wins this past weekend that'll look good in March
Could there have been a better way for Boston College to bounce back from last week's disaster against Notre Dame than by sweeping Wisconsin – the team that beat them for the 2006 NCAA title – on the Badgers' home ice? Perhaps, but the Eagles are not likely to dwell on those possiblitites, content to instead savor two wins in Madison last weekend. A pair of victories against a highly ranked non-conference opponent could be the difference between BC being a first or second seed in the national tournament.
With Ross Carlson and Jack Skille sidelined with injuries, the Badgers have struggled to score, but that didn't minimize the play of BC goalie Cory Schneider, who stopped 56 of the 57 shots he saw over the two games. Even better for the Eagles is that they handled the Badgers with little offensive contribution from Brian Boyle (one assist in two games).
IT HAPPENED IN ...
… Durham, N.H. (Sat.): Freshman Greg Beller scored the first goal of his career with 1:57 left in overtime, leading Yale to a 4-3 upset over New Hampshire.
… Fairbanks, Alaska: Alaska goaltender Chad Johnson earned both wins in the Nanooks' weekend sweep of Ferris State. The Calgary native leads the nation with a 0.98 goals against average and a .959 save percentage.
... Hanover, N.H.: Dartmouth's Tanner Glass had three assists in his team's 5-2 win against Harvard Friday, then added a goal and an assist Sunday as the Big Green downed visiting Vermont.
... Mankato, Minn.: Sophomore forward Brad Miller – an Alpharetta, Georgia native who was scoreless in 15 games last season – had a hat trick and added an assist in North Dakota's 5-4 win at Minnesota State Friday. Miller, who added a goal in the Fighting Sioux's 8-5 victory Saturday, ranks second on the team in scoring with 5-3—8 in six games.
... Minneapolis: Highlights of Minnesota's sweep of Colorado College included goaltender Kellen Briggs' 20-save shutout of the Tigers on Friday and the first career hat trick for Gopher freshman forward Kyle Okposo in Saturday's 8-1 win.
... Omaha, Neb.: Senior forward Scott Parse had a six-point weekend (1-2—3 both nights) as Nebraska-Omaha posted two wins against visiting Western Michigan.
… Orono, Maine (Sat.): Senior Michel Léveillé scored a pair of goals as top-ranked Maine handed Massachusetts a 4-1 defeat.
… Tampa, Fla. (Fri.): Air Force's Eric Ehn, the nation's leading scorer, recorded two goals and four assists in the Falcons' 7-5 win over Alabama-Huntsville in the first round of the Lightning College Classic. Ehn scored both of his goals and two of his assists in the first period.