November 6, 2006
THE BIG STORY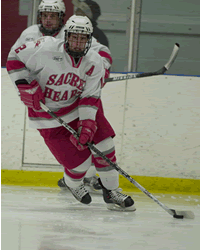 Pierre Luc O'Brien had a hat trick to lead Sacred Heart to an improbable comeback win over Mercyhurst. It was one of several close games played around the nation over the weekend.
It was a close-shave weekend, with 15 overtime games and 18 one-goal affairs. And while the best game of the weekend fit both criteria, Saturday's Mercyhurst-Sacred Heart contest likely registered little more than a blip on the radar screens of most hockey fans. Which is too bad, because it's earned a place as one of the most thrilling finishes in recent memory.
For those of you who don't scour box scores religiously, here's the premise. Mercyhurst, which dropped a 6-4 decision to Sacred Heart the previous night, appeared to be well on its way to a series split when senior Scott Champagne scored a power-play goal with 6:33 left in regulation to give the Lakers a 4-0 lead.
Then it happened.
With 4:03 left in the third, Sacred Heart's Pierre Luc O'Brien scored on the power play to narrow the lead to 4-1. The Pioneers then closed the gap to 4-2 on an Eric Giosa goal with 1:56 remaining. O'Brien added his second PPG of the game with 90 seconds on the clock to trim the Laker lead to 4-3. Then, with 13 seconds left and goaltender Jason Smith pulled for an extra attacker, O'Brien scored his third goal of the night — and fifth of the weekend — to send the game into overtime.
In OT, Mercyhurst's Cody Collins was whistled for tripping at 1:47. Three seconds before the power play was to expire, Sacred Heart's Alexandre Parent scored to give the Pioneers an improbable 5-4 triumph. That's five goals over 7:47 of the third period and overtime to turn a four-goal deficit into a win.
MAKING WAVES
If North Dakota freshman goaltender Anthony (Don't Call Me Richard) Grieco keeps improving like this from week to week, injured 'keeper Philippe Lamoureux could become the Fighting Sioux's version of Wally Pipp.
Grieco, a 17-year-old freshman — he'll turn 18 the Monday after Thanksgiving — allowed just three goals on 56 shots against St. Cloud State in Grand Forks this weekend, outdueling heralded Huskies' netminder Bobby Goepfert as NoDak took three of four possible points in the WCHA series.
Had Jordan Parise not signed with the New Jersey Devils over the summer, Grieco would still be stopping pucks in the Ontario Provincial Junior Hockey League. But Parise's departure and Lamoureux's mystery ailment has thrust the Brampton, Ontario, native into the spotlight, and he's played pretty well, posting a 3-0-1 record, a 2.94 goals against average and a .902 save percentage in his four starts.
SAY WHAT?
From The Thank You For Your Support Dept.: Informed that Michigan was having a "maize-out" for its game against Michigan State at Yost Ice Arena Saturday, Spartan coach Rick Comley — whose team played in front of less-than-capacity crowds in East Lansing so far this season — said on his weekly radio show, "Before we have a 'white-out' or a 'green-out' we need a 'fill-out.'"
MOVING DAY
Wins this past weekend that'll look good in March
That Alaska, which has traditionally struggled away from home, took three of four points from Nebraska-Omaha in its first road series of the season certainly bodes well for the Nanooks. The series with the Mavericks kicked off an NHL-esque four-game, 10-day trip that ends this coming weekend in Marquette, Mich., against Northern Michigan. The Nanooks are versatile enough to win by outscoring teams, which is what they did in the win and tie at UNO, or by relying on a solid goaltending duo of sophomore Chad Johnson and junior Wylie Rogers to shut opponents down. If they can find consistency on the road and continue the strong play in Fairbanks, the Nanooks could find themselves on the verge of an NCAA Tournament berth.
IT HAPPENED IN ...
… Omaha, Neb. (Friday): A rarity in the series opener between Alaska and Nebraska-Omaha, as neither team's starting goalie finished the 5-5 tie. The Nanooks' Chad Johnson was yanked midway through the game after allowing four goals on 15 shots, and UNO goalie Jerad Kaufman got the hook a little more than three minutes into the second period after giving up four goals on 14 shots.
… Duluth, Minn.: Fans on both sides of the rivalry between Minnesota and Minnesota Duluth will argue about Friday's game, a 3-2 Gopher win, for years. Specifically, the Bulldogs' Bryan McGregor appeared to tie the game at 1 in the first period when he beat goalie Kellen Briggs on a breakaway after taking the ice once a minor penalty to teammate Drew Akins expired, but referee Don Adam disallowed the goal and assessed UMD a bench minor for too many men on the ice after determining that McGregor jumped onto the ice too soon. Saturday, Minnesota senior Tyler Hirsch scored 49 seconds into overtime, giving the Gophs a second straight 3-2 decision.
… Providence, R.I. (Friday): Evan Barlow's second goal of the game came just 23 seconds after a game-tying goal by Brown's Matt Vokes early in the third period, and Cornell held on to beat the host Bears.
… Troy, N.Y. (Friday): Princeton's Kevin Westgarth forced overtime at Rensselaer by scoring with 40 seconds left in regulation, but Seth Klerer's goal with 13 seconds remaining in overtime gave the Engineers a 4-3 victory. Jordan Alford made 36 saves for RPI.
… Anchorage: Where have we seen this before? With goaltender Nathan Lawson pulled in favor of an extra attacker, Paul Crowder scored with 32 second left in the third period to send the Seawolves' game with Wisconsin into OT, only to see the Badgers take a 3-2 win on Matt Ford's game-winner with 1:30 remaining in the extra frame. Lawson earned the win in goal Saturday, outdueling Brian Elliott in UAA's 2-1 win.
… Chestnut Hill, Mass. (Saturday): Cory Schneider rebounded from a loss to Providence earlier in the week by making 33 saves and Nathan Gerbe scored his fifth goal of the season as Boston College blanked Vermont, 1-0.
… Boston (Saturday): Boston University fought back from a 2-0 first-period deficit and ended Maine's seven-game winning streak with a 2-2 tie at Agganis Arena. Both Terrier goals came in the second period.
… Mankato, Minn.: Juniors Matt Climie and Orlando Alamando helped Bemidji State sweep Minnesota State in a non-conference series. Climie and Alamando replaced senior Layne Sedevie — the Bemidji Pioneer reported Friday that Sedevie was scheduled to see a neurologist in his hometown of Bismarck, N.D., this weekend. The article indicated that Sedevie's career may be over.