November 13, 2006
THE BIG STORY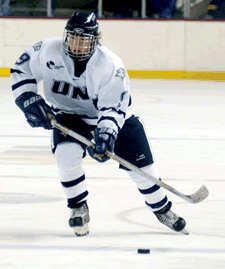 Jacob Micflikier was one of four UNH players to record three points in Sunday's win over previously-unbeaten Maine.
We're not sure if members of the 1969-70 Cornell hockey team sip a glass of champagne each season when the last college hockey team falls from the ranks of the unbeaten. If they do, the guys from the only unbeaten, untied NCAA championship team toasted New Hampshire's Wildcats last night after UNH drubbed Maine in Orono.
From the Black Bears' perspective, maybe it's best to lose in spectacular fashion and rid their collective system of all that is wrong in one massive purge. How else do you explain goaltender Ben Bishop giving up six goals on 19 shots, the normally reliable Michel Léveillé taking a minus-3 plus/minus rating for the night, and Maine failing to gain ground on UNH during a second period in which they outshot the Wildcats, 20-3?
New Hampshire, looking to salvage the weekend with a win after letting Boston University escape Durham Friday with a 4-4 tie Friday, got three points from four different players — center Mike Radja (two goals, one assist), and fellow forwards Matt Fornataro, Jacob Micflikier, and Trevor Smith (each with 1-2—3). More importantly, the Wildcats scored at crucial times, either preventing Maine and the sellout crowd at Alfond Arena from gaining momentum or deflating it altogether. Take, for example, Radja's second goal, a shorthanded tally with one second left in the first period or second-period scores by Craig Switzer and Bobby Butler that kept the Black Bears from getting any closer than two goals.
Junior goalie Kevin Regan made 33 saves for the Wildcats, who were outshot by Maine by a 35-23 margin.
MAKING WAVES
Memo to Dartmouth: You'd certainly make life easier for all of us by cutting out the Jekyll-and-Hyde routine. You grabbed our attention by getting out of the gate two weeks ago against Harvard and Vermont, only to follow with a pair of losses, at home nonetheless, to Clarkson and St. Lawrence.
You're back in our good graces this week, however, on the strength of wins at Colgate and Cornell. The keys for the Big Green? Balanced scoring (13 players collected at least one point over the weekend) and good goaltending, as Mike Devine turned aside 72 of the 77 shots he faced.
We'd like to see a little consistency out of you, however, so you're not off the hook yet. That should be a manageable feat considering Yale, Brown, Princeton, and Quinnipiac all visit Hanover during the next two weeks.
SAY WHAT?
From the Ambiguity Takes a Holiday Dept.: Following his team's 2-0 win against host Wisconsin Friday, a reporter asked Denver coach George Gwozdecky if, given his team's success at the Kohl Center, he'd like to take up residence at the House That Sen. Herb Built.
"[Expletive], no," Gwozdecky was quoted as saying in Saturday's Wisconsin State Journal. He may want to reconsider – since the building opened in 1998, the Pies are 11-1-2 at the Kohl Center.
MOVING DAY
Wins this past weekend that'll look good in March
And speaking of those Pioneers and their wins in Madison, those are four big points in the WCHA standings that will prove to be important at the end of the season. Pioneers goaltender Glenn Fisher made 27 saves to earn a 2-0 shutout victory Friday. In the series finale, freshman forward Rhett Rakhshani scored with 15 seconds left in overtime to give Denver a 4-3 triumph. Wisconsin is certainly struggling right now, but the Badgers have the potential to make a run later in the year. These Denver wins look good right now, but will look even better at the end of the season.
IT HAPPENED IN ...
… Milford, Conn., and Worcester, Mass.: Sacred Heart extended its Atlantic Hockey winning streak to five games by sweeping defending league champion Holy Cross in a weekend series. Senior forward Pierre Luc O'Brien capped the Pioneers' 5-4 win Saturday when he scored the game-winning goal halfway through the overtime period. In his last five games, O'Brien has scored 8-9—17.
… Notre Dame, Ind.: The Fighting Irish extended their unbeaten streak to eight games (7-0-1) with a pair of wins against visiting Bowling Green. Notre Dame is off to its best start since opening the 1998-99 season 8-1-1, and the team's current unbeaten streak is its best since the Irish reeled off 14 straight victories during the 1987-88 campaign.
… Durham, N.H. (Fri.): Boston University's Kenny Roche scored his third goal of the game with 1:02 left in the third period and the goaltender pulled for an extra attacker as BU rallied to tie UNH, 4-4.
… Canton, N.Y. (Fri.): Princeton starting goaltender Thomas Sychterz was pulled 3:27 into the first period after allowing goals on the first two shots he faced in St. Lawrence's 5-4 win over the Tigers at Appleton Arena. Sychterz's replacement, Zane Kalemba, made 34 saves in relief – and, for his efforts, was saddled for the loss. Kyle Rank had a goal and two assists for the Saints, while Max Taylor added a pair of goals.
… Ithaca, N.Y. (Fri.): Michael Kennedy's goal with 1:33 left in regulation boosted Cornell to a 3-2 win against Harvard. The Big Red tied the score at 2-2 when Doug Krantz scored with 4:09 left in the third period.