November 20, 2006
THE BIG STORY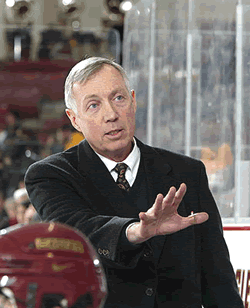 Maine led Boston College by two goals early in the third period, but Eagles coach Jerry York told the Black Bears, "Not so fast, my friends."
Over the last five years, a Maine lead after two periods has been, for all intents and purposes, the same as a Maine win. Prior to Sunday's game against Boston College, the Black Bears' record when holding an edge after 40 minutes of play dating back to Dec. 30, 2001, was an impressive 109-0-6.
Notice that previous sentence read prior to Sunday's game. A furious Boston College rally over the last 15 minutes of the third period turned a 3-1 Maine lead into 3-3 deadlock at the end of regulation, and the Eagles' Joe Rooney scored with 52 seconds left in overtime to give BC the win in front of a stunned sellout crowd at Alfond Arena.
Lost in the late-game collapse was the efficiency Maine displayed during the game's first two periods and change. Michel Leveille scored his 10th and 11th goals of the season, sandwiching a Mike Hamilton power-play tally – the second goal, set up by a terrific feed from Billy Ryan, gave the Black Bears a 3-1 advantage with 17 minutes left in the third.
But Maine exhaled. Brian Boyle scored with 13 minutes remaining to halve the lead, and Rooney waltzed past a trio of flat-footed Black Bears, then swept the puck past goalie Ben Bishop to tie the game with just under five minutes left in regulation. The game-winner was the end result of nifty puck movement in the Maine zone between Boyle, Rooney, and Benn Ferriero.
MAKING WAVES
Quinnipiac, which ruled the MAAC/Atlantic Hockey roost for so many years, may ultimately prove to be a couple years away from challenging for an ECAC Hockey League championship. But the upstart Bobcats, in their second season in the ECACHL, certainly look primed to make such a run now.
Wins against visiting Cornell and Colgate this weekend propelled Quinnipiac to first place in the conference. Since opening the season with a pair of losses at North Dakota, the Bobcats are 7-1-2, a stretch that includes a 4-1-1 mark against league foes.
The Bobcats have been paced by freshman forward Brandon Wong. The ECACHL's leader in points (16) and goals (10) extended his scoring streak to seven games with 1-2—3 in the 3-1 win vs. Colgate and added 1-1—2 in a 5-2 defeat of Cornell. Wong led the British Columbia Hockey League in scoring last season with 50 goals and 116 points in 60 games for the Merritt Centennials.
SAY WHAT?
From the Last Time Dept.: North Dakota limped back to Grand Forks after getting swept by Alaska Anchorage – the Seawolves scored four unanswered goals Friday to turn a 2-2 tie after one period into a 6-2 win, and broke a 2-all deadlock Saturday with two third-period goals en route to a 4-2 win. The 10 goals are the most allowed by the Fighting Sioux in a two-game series since giving up 11 to Minnesota in a WCHA first-round playoff series March 8-9, 2002. It's also the first time North Dakota has been swept by UAA in Anchorage since Nov. 17-18, 1995, Dean Blais's second year as Sioux coach.
From the Goin' to the 'Pen Dept.: For the second time this season, a team used three goalies in the same game. Bowling Green used its full complement of netminders in its 9-3 loss to Ohio State Friday. Starter Jimmy Spratt allowed three goals on seven shots, then gave way to Ed Neville, who yielded five goals on 17 shots. Third-stringer Phil Greer closed the night by allowing a goal on the only shot he faced. Niagara used three goalies in a 10-1 loss at Nebraska-Omaha last month. OSU's Corey Elkins was an equal-opportunity sniper. He scored one goal against each of the three goalies for a seldom-seen, if ever-seen, hat trick.
MOVING DAY
Wins this past weekend that'll look good in March
Last year at this time, any win would've looked good for Yale. The Bulldogs entered Thanksgiving week of 2005 with an 0-6 record, and had allowed a total of 34 goals in those half-dozen defeats.
Now in year one of the Keith Allain regime, the Elis roll into turkey time having won six of their first seven. And it's not like there are any bunnies on that list, either – among Yale's W's thus far are defending Atlantic Hockey champion Holy Cross, a New Hampshire team that later blasted Maine by six goals in Orono, preseason ECACHL title favorites Colgate and Dartmouth, and perennial league power Harvard. The Big Green and Crimson were the Bulldogs' latest victims this past weekend.
Yale, which has allowed a total of 16 goals through seven games this season, gets another chance to add an impressive win to its resume this week – after a Tuesday skate with Mercyhurst in Erie, the Bulldogs make the short trip to Boston for a match with Boston University at Agganis Arena.
IT HAPPENED IN ...
… St. Cloud, Minn.: The Huskies piled on 11 goals in an impressive non-conference sweep of Clarkson. In Friday's 4-0 win, freshman Jase Weslosky made 24 saves for his first career shutout. The following night, SCSU outgunned the Golden Knights, 7-2. Andrew Gordon had a goal and four assists for the Huskies, while Andreas Nodl and Nate Dey added four points each.
… Air Force Academy, Colo. (Friday): The Falcons' Andrew Ramsey scored four goals in Air Force's 6-1 win against American International. Eric Ehn added a goal and three assists for AFA.
… Boston, Mass. (Friday): Mike Morris scored with three seconds left in regulation as Northeastern tied Boston College, 3-3, at Mathews Arena. The Huskies led 2-1 after two periods, but the Eagles took the lead early in the third on goals by Brian Boyle and Benn Ferriero.
... Troy, N.Y. (Friday): Kyle Tyll's goal 1:24 into the third period gave Sacred Heart a 5-4 win against host Rensselaer. The win was the sixth in a row for the Pioneers, who also got a goal and two assists against from Pierre-Luc O'Brien, and marked the seventh straight game in which Sacred Heart scored five or more goals.
… Amherst, Mass. (Saturday): Three Massachusetts skaters – Chris Capraro, Cory Quirk, and Chris Davis – scored five points each and Mike Kostka added four points as the Minutemen routed Connecticut, 8-1.
… Bemidji, Minn. (Saturday): Rob Sirianni's goal with less than a second remaining in regulation allowed Bemidji State to salvage a 3-3 tie with Niagara. The Beavers and Purple Eagles skated to a 2-all draw the previous night.
… Durham, N.H. (Saturday): Brian Foster turned aside all 26 shots he faced to earn a shutout in his first career start for New Hampshire, a 4-0 whitewash of UMass Lowell. The Wildcats extended their unbeaten streak to six games (5-0-1) in the process. Jerry Pollastrone scored a goal for UNH. One night earlier in Lowell, Pollastrone had two goals and two assists in his team's 5-2 victory.
… Oxford, Ohio (Saturday): Ryan Jones' shorthanded goal with 3:16 left in the third period propelled Miami to a 2-1 win against Nebraska-Omaha. It was Jones' 12th career game-winning goal, putting him atop the school's career list in that category.