November 27, 2006
THE BIG STORY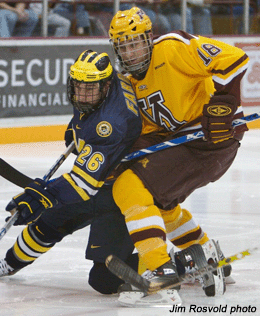 Stickin' it to the Wolverines: Freshman Jim O'Brien had two goals and an assist – his first points of the season – in Minnesota's 8-2 romp over Michigan.
The notion that any team is too young to score has been thrown out the window after the results of the College Hockey Showcase. Minnesota's über-talented rookies accounted for six of the goals in the Gophers' 8-2 spanking of Michigan on Saturday. Coupled with Friday's 5-4 win over Michigan State, and earlier sweeps of Ohio State and Wisconsin, Gopher fans may be celebrating the school's first Big Ten title in a revenue sport in about 25 years.
Plenty of offense was necessary on Friday, as Michigan State took advantage of sub-par Minnesota defense and goaltending to stay in the game. The Gophers beat Sparty by taking away Jeff Lerg's eyes, sending big bodies to the front of the net and getting three goals on tips.
Saturday it was early defense that may have earned the win for Minnesota – extending the Gophers' unbeaten string to 14 games. Kellen Briggs stopped the Wolverines top line on a 2-on-1 break just 81 seconds into the game to keep the Gopher crowd involved, and unheralded freshmen Jim O'Brien and Mike Carman each scored twice in a game that got out of hand late.
The lone bright spot for the Wolverines was goalie Billy Sauer, who stopped a career-high 44 shots while facing 50-plus for the first time as a collegian.
MAKING WAVES
Here's a simple scouting report on Niagara: Stop the top line of Les Reaney, Ted Cook, and Sean Bentivoglio. Game-planning to do that is easy. Actually accomplishing it is proving to be very difficult.
Led by that top line, the Purple Eagles won the Rensselaer/Bank of America Holiday Tournament over the weekend and extended their unbeaten streak to seven games. Bentivoglio scored a short-handed goal in each win — a 5-3 victory over RPI on Friday and a 3-1 triumph over Colgate on Saturday.
Bentivoglio and defenseman Pat Oliveto are the only seniors that are a part of Niagara's regular lineup. This team is playing very well right now, and has the potential to keep getting better.
SAY WHAT?
From the Don't Know What You Got 'Til It's Gone Dept.: Clarkson's coaching staff, in an effort to snap the Golden Knights' four-game skid, made the team practice with wooden sticks and took away access to the players lounge and locker-room radio last week. The message: Such things are luxuries that are earned. The result: Clarkson won twice, beating visiting Bowling Green and Miami.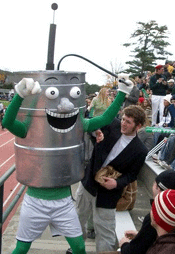 At Dartmouth, Native American imagery is bad, but binge drinking is OK.
From the Do We Have To Take This From a School Whose Unofficial Mascot is a Keg? Dept.: In a recent letter to the school's newspaper, Dartmouth athletic director Josie Harper said she regrets inviting North Dakota to the Big Green's holiday hockey tournament because of the Fighting Sioux nickname and mascot.
"I must offer a sincere apology to the Native American community, and the Dartmouth community as a whole, for an event that will understandably offend and hurt people within our community," Harper wrote to The Dartmouth, calling North Dakota's position on the matter "offensive and wrong."
Harper added that when North Dakota was extended an invitation to the Ledyard Bank Classic two years ago, the school's mascot and nickname were not considered. Perhaps the prospect of an arena filled to capacity with paying customers on hand to see one of the nation's top college hockey programs clouded her view back then. While First Shift has no position regarding NoDak's mascot/nickname, we are squarely anti-hypocrisy.
MOVING DAY
Wins this past weekend that'll look good in March
Remember Vermont? The team that looked oh so impressive in season-opening wins against Colgate and Miami? The following weekend, the Catamounts tied Northeastern, then lost four in a row to drop to 2-4-1 overall.
Well, UVM has regrouped, winning its fifth straight game by beating Maine, 3-2, in Burlington Saturday. As one might expect, goalie Joe Fallon (six goals in his last five starts) has played a big part in the resurgence. So, too, has forward Dean Strong – the sophomore has scored a goal in each of the Cats' last five games and has eight points during that stretch. Torry Mitchell, Vermont's leading scorer with 16 points, has three goals and nine points in the team's last five.
Should UVM's streak end this week, it may be fatigue that does them in. The Catamounts' docket includes a trio of road games – at Harvard (Tuesday), at UMass Lowell (Friday), and at second-ranked New Hampshire (Sunday).
IT HAPPENED IN ...
… Boston, Mass. (Wednesday): New Hampshire's line of Matt Fornataro, Jerry Pollastrone, and Trevor Smith combined for three goals and seven points as the Wildcats earned a 6-3 win at Boston College. Fornataro and defenseman Chris Murray each posted 1-2—3 lines. Smith's goal was his 11th of the season.
… Boston, Mass. (Saturday): Matt Gilroy's goal nine seconds into overtime was the difference as Boston University eked out a 2-1 win against Yale. The Terriers' Karson Gillespie made 23 saves in his first start of the season.
… Canton, N.Y. (Friday): Miami and St. Lawrence combined for 85 shots on goal in a game won by the RedHawks, 4-3. Miami goaltender Jeff Zatkoff made 45 saves while Nathan Davis, who has at least one point in 13 of the RedHawks' 16 games this season, contributed a goal and an assist.
… Grand Forks, N.D.: Colorado College and North Dakota split a two-game WCHA series. On Friday, the Fighting Sioux regained the services of goalie Philippe Lamoureux, who hadn't played since Oct. 21 due to injury. But CC's Scott McCulloch ruined his return by scoring the game-winning goal with 59 seconds left in regulation to give the Tigers a 4-3 win. Lamoureux earned his first win since Oct. 13 the following night, stopping 15 shots in the Sioux's 5-2 triumph.
… Ithaca, N.Y. (Saturday): Wayne State built a 3-0 lead during a four-minute span of the first period en route to a stunning 5-4 win against Cornell at Lynah Rink. The Warriors, who got a goal and two assists from Jason Baclig, have scored a total of 18 goals in their three wins this season and a combined 10 goals in their 10 losses.
… Storrs, Conn. (Friday): Scott Tomes turned aside 36 shots as Connecticut downed visiting Sacred Heart, 4-1. The loss ended the Pioneers' seven-game unbeaten streak, and snapped the seven-game scoring streak of Sacred Heart forward Pierre-Luc O'Brien – he had scored nine goals and 22 points during that stretch.