December 4, 2006
THE BIG STORY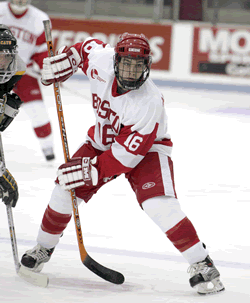 Pete MacArthur and Boston University didn't get the breaks in the Terriers' 1-0 loss to Boston College Saturday.
We're glass-half-full types here at INCH World Headquarters, so let's start with the good news for Boston University from Saturday's tilt against hated Boston College at Agganis Arena: Terrier goalie John Curry stopped every Eagle shot he faced.
Of course, the bad news is that BU forward Pete MacArthur – about to start a rush from behind his own cage during a power-play opportunity – instead Steve Smith-ed the puck off Curry and into his own goal 3:17 into the first period. Unfortunately for Curry, MacArthur and the rest of the Terriers, it turned out to be the game's only tally.
Cory Schneider made 34 saves to lead Boston College to the 1-0 shutout, and while it's still far too early to place a great deal of importance on the outcome, the win re-establishes Schneider's status as one of the nation's elite goaltenders (he had given up 17 goals in five starts since shutting out Vermont Nov. 4). It also reinforces the Terriers' scoring woes – they've picked up just seven goals in their last six games, and they enter the week ranked 53rd nationally in scoring offense.
Like Smith, the ex-Edmonton Oiler defenseman whose own goal cost his team the 1986 Western Conference finals to the rival Calgary Flames, MacArthur can expect to hear Boston College fans holler, "Shoot!" whenever he touches the puck near his own net. Of course, MacArthur can take solace knowing his school has actually mastered the trick of keeping water frozen.
MAKING WAVES
On the surface, putting Lake Superior State in this category would appear to be an analogy writer's dream. Anyone who's heard Gordon Lightfoot's dirge about the Edmund Fitzgerald knows about the swells on the big lake they call Gitchee Gummi. But the Lakers have more in common with the cargo-carrying vessels that traverse the inland waterways, gliding through the waters slowly, steadily, and almost silently.
With its sweep of Upper Peninsula rival Northern Michigan last weekend, coach Jim Roque's charges became the eighth team to reach the 10-win plateau this season. In the series opener in Sault Ste. Marie Friday, the Lakers did it with an early barrage of goals – two markers before the game was seven minutes old – and the goaltending of Jeff Jakaitis, who turned aside 31 shots in the 2-0 win.
Goaltending was also a key in Saturday's rematch in Marquette. LSSU's Pat Inglis maintained the 1-0 lead he was staked in the first period by making 18 second-period saves. The Lakers offense rewarded the freshman goalie's efforts by scoring four times in third – including three power-play goals – en route to a 5-2 victory.
Lake Superior State has made the best of a favorable early schedule that has included just six games against teams above .500. That'll change after Jan. 1, when the Lakers' docket serves up series with Notre Dame, Miami, Michigan State, and Michigan, among others.
SAY WHAT?
From the Charlie Huddy Was One of the Goal Judges Dept.: According to the box score on collegehockeystats.com, one of the assistant referees (a.k.a. linesmen) for Saturday's Clarkson-Brown game in Providence was Mark Messier. Guess you needed to pick up a few extra bucks around the holidays, eh, Moose?
From the Don't Try This at Home, Save it for When You're on the Road Dept.: Minnesota freshman forward Kyle Okposo scored a restaurant-quality goal in the Gophers' 2-1 win at Minnesota State Saturday, wowing the sellout crowd by taking a feed from linemate Ryan Stoa, maneuvering the puck between his legs, and flicking a quick wrister over the left shoulder of Maverick goalie Mike Zacharias. "That's one of those moves you make on the pond," Okposo told the Minneapolis Star Tribune. "I went with it and it worked."
MOVING DAY
Wins this past weekend that'll look good in March
Truth be told, Colorado College probably couldn't care less about the potential impact this weekend's home-and-home sweep of Denver could have on the team's fortunes for the 2007 NCAA Tournament. No, the Tigers are just happy to have curtailed the seven-game unbeaten streak held over them by their Front Range foes.
In addition to jumping ahead of the Pioneers in the battle for the Gold Pan, CC extended its current run of solid play – the Tigers have won seven of eight – and took over sole possession of third place in the WCHA standings, three points in front of fourth-place DU and North Dakota.
Saturday's win was marred by an scary injury to Denver's Adrian Veideman, who tangled with CC's Brandon Straub in a post-whistle skirmish early in the second period. The Pioneer captain lost his helmet as he and Straub wrestled, fell, and hit his head on the ice. He was taken off the ice on a sled and rushed to a local hospital, where he was initially diagnosed with a concussion.
IT HAPPENED IN ...
… Ann Arbor, Mich. (Friday): Western Michigan scored six goals on just 18 shots in its 6-3 win against Michigan. It was the Broncos' first win at Yost Ice Arena since October of 1995.
… Detroit, Mich. (Saturday): Bemidji State scored four goals on 14 shots in the first 24:42 of the Beavers' 4-2 win at Wayne State – and didn't register another shot on goal the rest of the game. Matt Climie, meanwhile, was busy in goal for BSU. One day after stopping 21 shots in a shutout win against the Warriors, he made 29 saves to earn the sweep.
... Houghton, Mich. (Saturday): Andrew Gordon scored the game-winner with 11 seconds left in overtime to lift St. Cloud State to a 3-2 win at Michigan Tech, extending the visitors' winning streak to six in a row and unbeaten streak to nine (6-0-3). SCSU's Marty Mjelleli broke a 1-all tie on a goal with 2:22 left in regulation, but Tech's Ryan Angelow's goal 23 seconds later evened the score at 2-2.
… Ithaca, N.Y. (Friday): Ray Sawada's goal with 1:54 left in regulation capped a Cornell comeback as the Big Red salvaged a 3-3 draw against visiting Rensselaer, which opened a 3-0 first-period lead. The Engineers dropped a 3-2 decision at Colgate Saturday, extending their current winless streak to five games (0-3-2).
… Orono, Maine (Friday): Ben Bishop made 30 saves as Maine snapped a three-game losing streak with a 3-0 win against visiting Providence.
… Springfield, Mass. (Friday): American International scored four straight goals to open the game and got 28 saves from goalie Tom Fenton as the Yellowjackets beat Mercyhurst, 4-2. It was AIC's first win after opening the season with 12 consecutive losses.