December 11, 2006
THE BIG STORY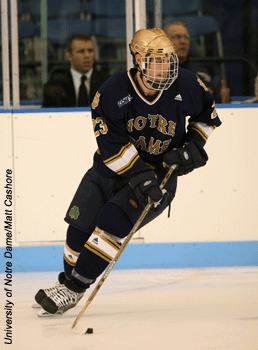 Junior forward Mark Van Guilder and Notre Dame have 14 wins this season, the most prior to Christmas in the program's history.
Finals week at Notre Dame starts today, but the Fighting Irish hockey team got a jump on their classmates this weekend by acing their midterms.
Anyone with lingering doubts regarding the Irish's strong first half likely had them erased this weekend as coach Jeff Jackson's charges swept a home-and-home set from Michigan in impressive fashion. Notre Dame, 14-3-1 overall and 9-2-1 in the CCHA, is in second place in the conference with 19 points, two points behind Miami, but the Irish have two games in hand.
On Friday in Ann Arbor, Notre Dame got goals from seven different skaters in a 7-3 drubbing of the host Wolverines. In Sunday's series finale, the Irish offense picked up goalie David Brown – who struggled through the first two periods in his first less-than-stellar start since losing to Minnesota State in the second game of the regular season – by erasing three one-goal deficits en route to a 4-3 win in front of a frenzied sellout crowd at the Joyce Center.
"[This win] shows the character of this team," said freshman forward Ryan Thang, who scored a third-period power play goal to pull Notre Dame into a 3-all tie with Michigan. "We really believe in each other. Everything has turned around."
""If you had asked me at the beginning of the season I would have never thought that we would be where we are," Jackson said following his team's 14th win, the most prior to the Christmas break in program history. "It was a great first half, but that only makes half a great season."
MAKING WAVES
Since losing in overtime to Bentley on Nov. 17, RIT has won five straight games by an aggregate score of 23-9, all against Atlantic Hockey opponents. The Tigers sit in second place in Atlantic Hockey with an 8-2-1 record in their first year in the league, and are just one point behind Sacred Heart, despite playing two fewer games.
RIT has only played four of its 15 games against non-league teams, all against ECAC Hockey League members, and is 0-3-1 in those contests with losses at St. Lawrence, Clarkson, and Cornell, and a tie at Union.
SAY WHAT?
From the Old Time Hockey Dept.: Who'd have thought the most intriguing part of an overtime hockey game would occur after the home team scored the game-winning goal? When it's a benches-clearing brawl, as was the case in Colorado College's 4-3 overtime win against Alaska Anchorage Saturday, it comes as less of a surprise.
Moments after Scott McCullogh scored a power-play goal with 1:01 left in OT, tempers flared in front of the Seawolves' bench. The fight quickly escalated – when it was finished, six UAA players and five CC skaters had been assessed fighting majors and the one-game suspension the infraction automatically carries.
By rule, the players will serve the disqualifications during their teams' next game. For the Tigers, that's a relatively meaningless Dec. 29 non-conference game against Bemidji State. The Seawolves Six (First Shift would love to hear about "Free the Seawolves Six" signs displayed at Sullivan Arena next week) will miss the first game of an important WCHA series with Denver.
Publicly, neither side will say what sparked the donnybrook. Read between the lines, however, and one wonders if UAA coach Dave Shyiak's frustrations with referee Marco Hunt played a role – the Tigers had 17 power plays during the series compared to the Seawolves' nine, and CC had two man-advantage opportunities in Saturday's overtime.
"We were the best team," Shyiak told the Anchorage Daily News' Andrew Hinkelman, who wrote a terrific article sorting out the messy details of Saturday's affair. "We won the game. I'll take the two points with an asterisk."
MOVING DAY
Wins this past weekend that'll look good in March
Pox on your wins that'll look good in March, say the Wisconsin Badgers. We need a couple that'll look good now.
The Badgers, who ended a 1-9-0 stretch with a Thanksgiving weekend win against Michigan State in the College Hockey Showcase, got a much-needed confidence boost with a pair of solid wins (4-3 Friday, 4-2 Saturday) at North Dakota. And the wins were more than just four points in the WCHA standings, because Bucky actually outscored an opponent. After getting just 13 goals during its 1-9-0 swoon, Mike Eaves' crew has scored 10 goals in its last three outings, and Friday's four-tet marked the first time Wisconsin scored more than thrice in a game since Oct. 21.
Oh, in case you were wondering, Badger goalie Brian Elliott was his All-American self, making 31 saves Friday and 29 saves Saturday.
IT HAPPENED IN ...
... Boston, Mass. (Friday): Boston University beat visiting Providence, 4-2, marking the first time in nearly a month the Terriers tallied more than two goals in a game.
... Duluth, Minn. (Saturday): Blaine Jarvis's overtime goal capped a furious Bemidji State rally as the Beavers beat Minnesota Duluth, 6-5, extending their unbeaten streak to seven games (5-0-2) in the process. BSU trailed 5-2 midway through the second period, but scored three times over the last 8:45 of the frame – the last was a Shane Holman goal 29 seconds prior to the second intermission – which ultimately sent the game into OT.
... Fairbanks, Alaska (Saturday): Jonathan Matsumoto scored a goal and added two assists as Bowling Green snapped a nine-game losing streak with a 6-4 win at Alaska. During that skid, the Falcons registered a total of 11 goals.
... Marquette, Mich.: Michigan State swept host Northern Michigan by identical 3-2 scores. The wins, just the second and third for the Spartans on the road this season, marked the first consecutive victories for MSU since Oct. 28 (vs. Ferris State) and Nov. 3 (vs. Michigan). The Spartans won Saturday's game – Rick Comley's 100th victory behind the MSU bench – without the services of captain Chris Lawrence and forward Matt Schepke, both of whom had the flu and were too sick to leave the team hotel.
... Northford, Conn. (Friday): Taking a page out of George Gwozdecky's coaching manual, Rensselaer coach Seth Appert pulled his goalie with 13:40 left in the third period at Quinnipiac. RPI scored 55 seconds later to reduce the Quinnipiac lead to 4-2, and eventually earned a 4-4 tie.
... North Andover, Mass. (Tuesday): Goaltender Patrick Watson made 37 saves as Merrimack blanked then-No. 14 Massachusetts, 3-0. The triumph ended the Warriors' eight-game losing streak and nine-game winless streak.
... Princeton, N.J. (Friday): Princeton squandered a 3-1 third-period lead against Union, but escaped with the 4-3 win when Brandan Kushniruk scored with 2:08 left in overtime.